By Elias Haddad
My first visit to the Maldives will forever hold a special place in my heart, thanks to the remarkable experience I had at W Maldives. From the moment I arrived, I was captivated by the unparalleled beauty of this tropical paradise. The resort's exquisite beach view villa, impeccable service, delectable dining options, rejuvenating spa, and flawless amenities made it a truly unforgettable journey.
Located only a 25-minute seaplane ride from the archipelago's capital, Male, W Maldives presents a luxury private island playground for those who seek unique experiences found nowhere else. Featuring vibrant colors, materials, and glowing elements, the resort's architecture seamlessly blends into its tropical paradise setting while highlighting the rich surrounding marine life. With 77 private escapes and suites, W Maldives offers a variety of accommodations to suit every guest's preferences.
The island boasts 27 on the beach and 50 overwater. 27 Wonderful Beach Oasis, 25 Fabulous Overwater Oasis, 21 Spectacular Overwater Villa. Additionally, there are three WOW Ocean Escape villas and one Extreme WOW Ocean Haven, which is the W brand's interpretation of the Presidential Suite. Each of these chic and spacious escapes is designed with luxury in mind, featuring a king-sized signature W bed, deluxe Bose® sound system, 42-inch television, wine refrigerator, delightful W MIXBAR (the W brand's reinterpretation of the traditional minibar), sumptuous Bliss® bath amenities, an infinity plunge pool, and a sundeck.
A Beach View Villa Paradise:
As I stepped into my beach view villa, I was immediately swept away by the breathtaking views of the pristine beach and turquoise waters. The villa exuded an air of luxury and comfort, providing the perfect sanctuary for relaxation. Waking up to the sound of gentle waves and basking in the golden sunlight that flooded the villa each morning was a dream come true.
Impeccable Service and Flawless Amenities:
Every aspect of my stay at W Maldives was meticulously taken care of by the attentive and friendly staff. They made me feel like royalty, catering to my every need and ensuring that my stay was nothing short of perfection. The villa itself was equipped with top-notch amenities, including a plush king-sized bed, a luxurious bathroom, and a private outdoor area that allowed me to soak in the mesmerizing views at any time.
Delectable Dining Options:
W Maldives offers an array of dining options to satisfy even the most discerning palate. The overwater specialty restaurant, FISH, tantalizes taste buds with its "Ocean to Table" cuisine, emphasizing the freshness and sustainability of local catch. KITCHEN, the main restaurant, presents a modern reinvention of the bistro, focusing on Pan-Asian dishes with a Southeast Asian flair. For a romantic dining experience under the stars, FIRE offers a casual grill restaurant on the beach. Sip, the sunset and pool bar, serves up refreshing cocktails, and delectable sushi and sashimi.
Unforgettable Experiences and Facilities:
During my stay, I had the opportunity to indulge in a myriad of unforgettable experiences and make use of the resort's exceptional facilities. I spent hours strolling along the pristine beach, feeling the soft sand between my toes and listening to the soothing sound of the waves. The resort's water sports center, WAVE, provided me with endless adventures, from snorkeling in vibrant coral reefs to exhilarating jet skiing.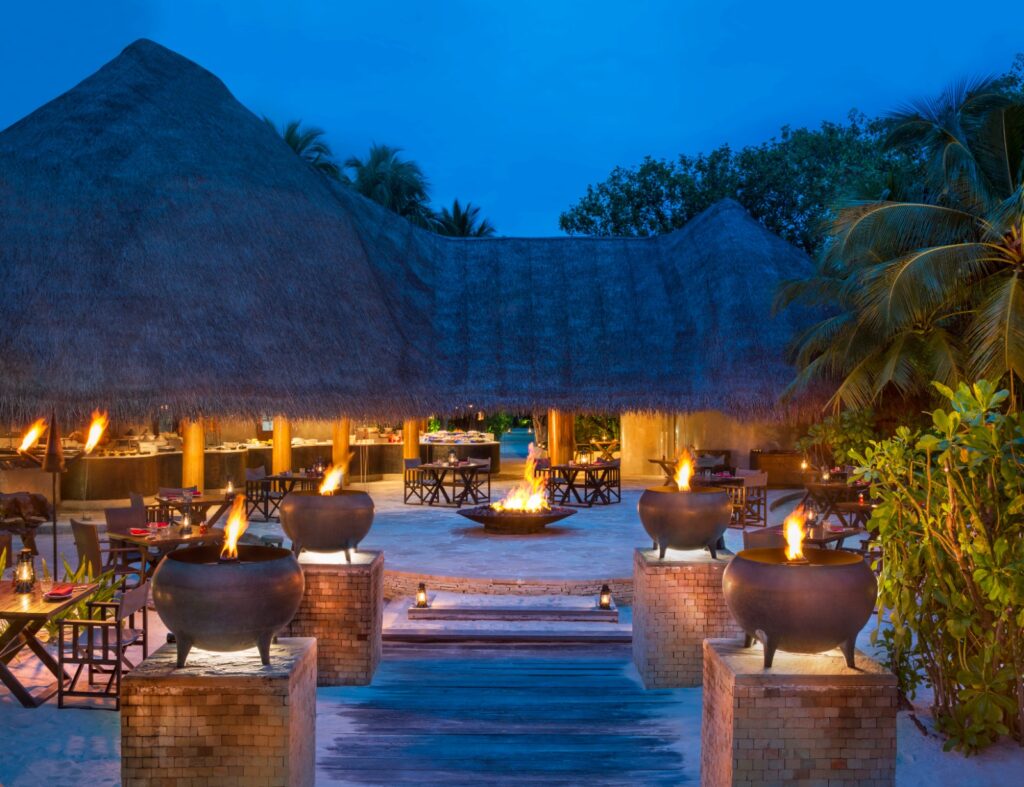 In the evenings, I enjoyed the sophisticated ambiance at WET, the chilled-out outdoor lounge and electrifying pool bar, which offered a large collection of innovative and refreshing bites and drinks. As twilight settled, I found myself at SIP, the sunset bar, indulging delicious cocktails, and a delightful selection of fresh sushi and sashimi.
To rejuvenate and pamper myself, I visited the AWAY Spa. This haven of relaxation promised to cater to my needs, whether I was overworked, under-slept, or in need of a post-party revival. The spa's expert therapists provided a range of treatments designed to revitalize and refresh, allowing me to achieve the desired outcome in the time I had, with the perks I wanted. The tranquil atmosphere of the spa and its luxurious amenities made it a true sanctuary for well-being.
During my stay at W Maldives, I had the incredible opportunity to attend a special event called She Shakes. This event, part of the W Maldives' commitment to providing inspiring experiences for its guests, showcased the talent and creativity of renowned mixologist Laura Prabowo.
Taking place on June 30, 2023, at the vibrant SIP Bar, She Shakes featured Laura Prabowo, the Co-Founder and Managing Director of Hong Kong's renowned Penicillin, voted as one of Asia's 50 Best Sustainable Bars in 2021. Throughout the evening, Laura presented a collection of four cocktails that depicted her remarkable career journey.
The first cocktail was a classic concoction that inspired Laura to become the exceptional mixologist she is today. The second cocktail was her residency cocktail, a signature drink from Penicillin, showcasing her expertise. The third cocktail reflected her personal storytelling, adding a unique touch to the event. Lastly, "Her Legacy," an exclusive creation developed in collaboration with W Maldives, combined Laura's signature style with the captivating beauty of the Maldives, representing the DNA of W's cocktail culture. This special creation would even be available on the menu at SIP Bar for a limited time, allowing guests to savor and indulge in Laura Prabowo's W Maldives special creation.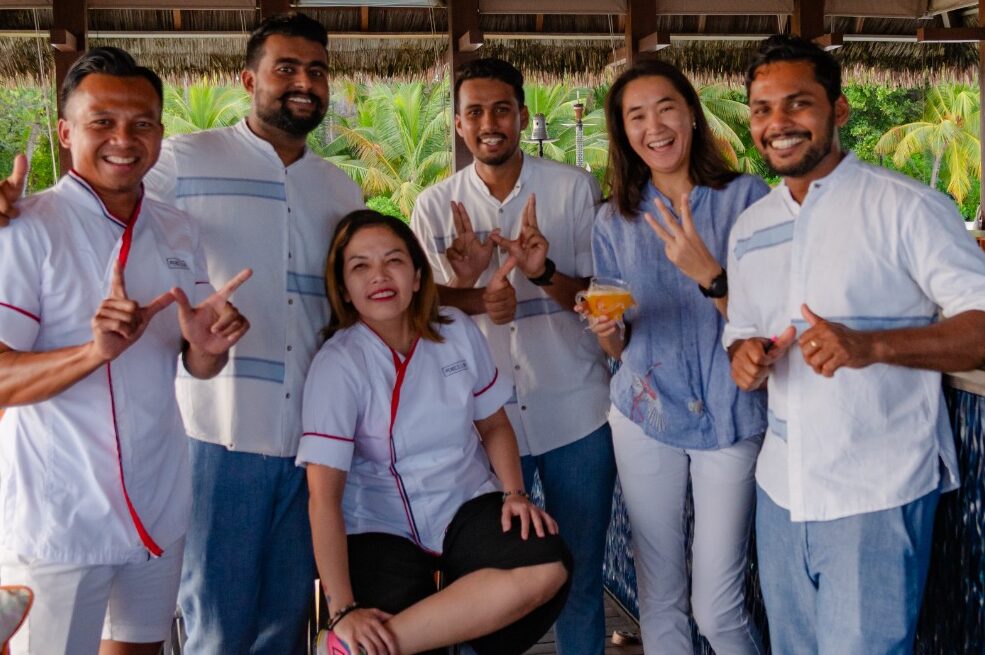 The She Shakes series has become a staple of the W Maldives experience, offering guests the chance to indulge in innovative and exciting cocktails created by some of the world's most talented mixologists. With Laura Prabowo's unique vision and skills leading the way, this year's installment promises to be exceptional, further enhancing the TASTE passion point of W Maldives.
Attending the She Shakes event was a highlight of my stay at W Maldives, as it showcased the hotel's commitment to providing exceptional experiences and its dedication to promoting talent, sustainability, and inspiring cocktail culture.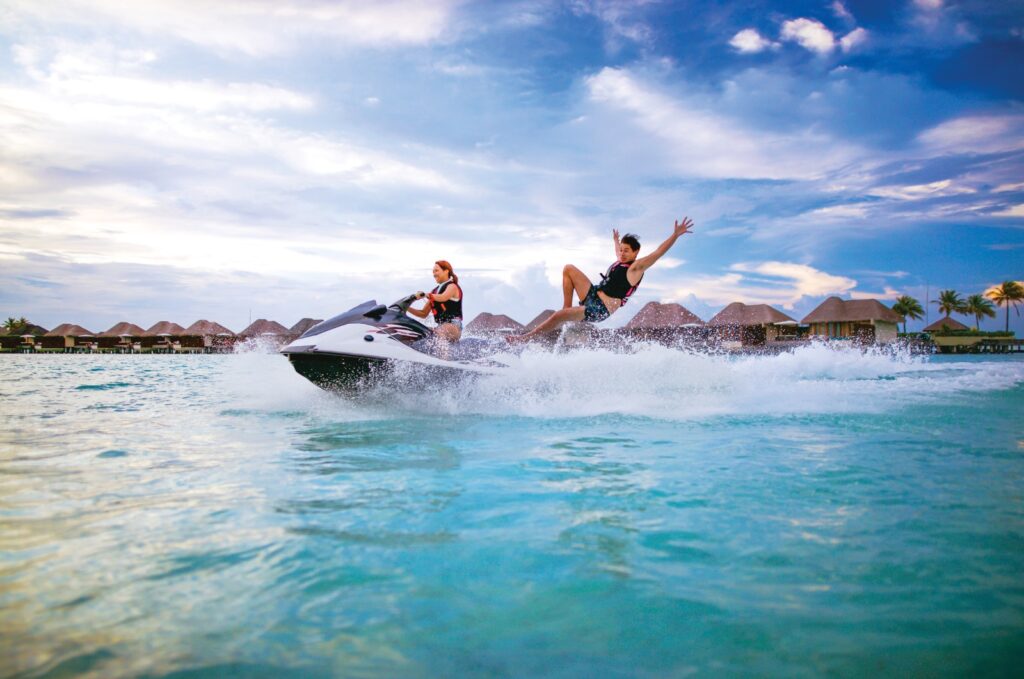 My first visit to the Maldives exceeded all my expectations, thanks to the incredible experience I had at W Maldives. The beach view villa, provided a perfect blend of luxury, comfort, and natural beauty. The impeccable service, flawless amenities, delectable dining options, rejuvenating spa, and unforgettable experiences made it a trip of a lifetime. I am grateful for the memories created and relive the magic once again.