admin
Jun 23, 2021
1676

13 minutes read
Qatar's most trusted jewellery brand Al Darwish Jewellery officially opened a first-of-its-kind jewellery showroom in Doha
Located in Msheireb area, the Al Darwish Jewellery Showroom houses over 10 jewellery brands from Qatar, India, Turkey and Europe with a vast variety of Islamic artistic pieces of jewellery and other global taste.
A number of Qatari dignitaries including Sheikh Abdul Rahman bin Saud bin Fahd Al Thani, Sheikh Suhaim bin Khalid Al Thani, Youssef Jassim Al Darwish, Muhammad Jassim Al Darwish, Badr Abdullah Al Darwish, Saud Abdullah Al Darwish and Ali Hussein Al Sada graced the opening ceremony.
The Turkish Ambassador to Qatar HE Mehmet Mustafa Goksu and senior diplomats including HE Fahd Bu Zuwer, HE Muhammad Ali Al Ansari and HE Hassan Al Naama also visited the showroom.
Abdallah Jassim Al Darwish, the owner of the showroom, received the guests on the occasion and briefed them about the various brands that have set shops in the showroom.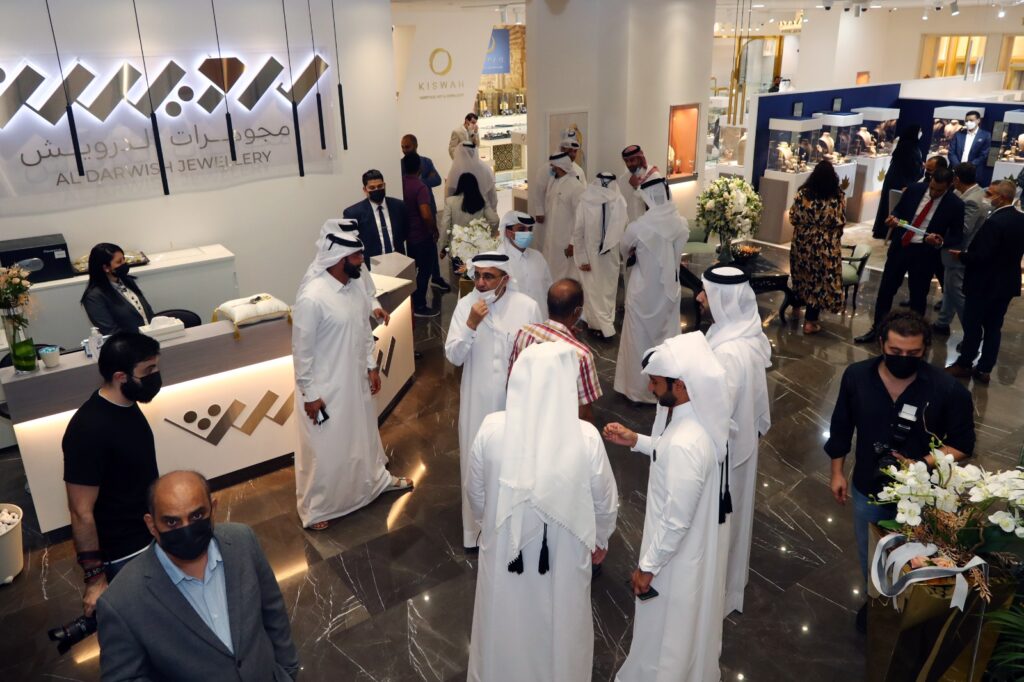 Talking to Qatar Tribune on the sidelines of the event, Abdalla Jassem Al Darwish said, "We got this idea of having famous jewellery brands from across the world under one roof from our participation in jewellery exhibitions in Qatar. Having different brand under one roof makes it easier for people to shop. The idea behind opening this showroom is to give variety and a bigger selection to our clients in Qatar. They can find whatever they are looking for without the need to travel abroad."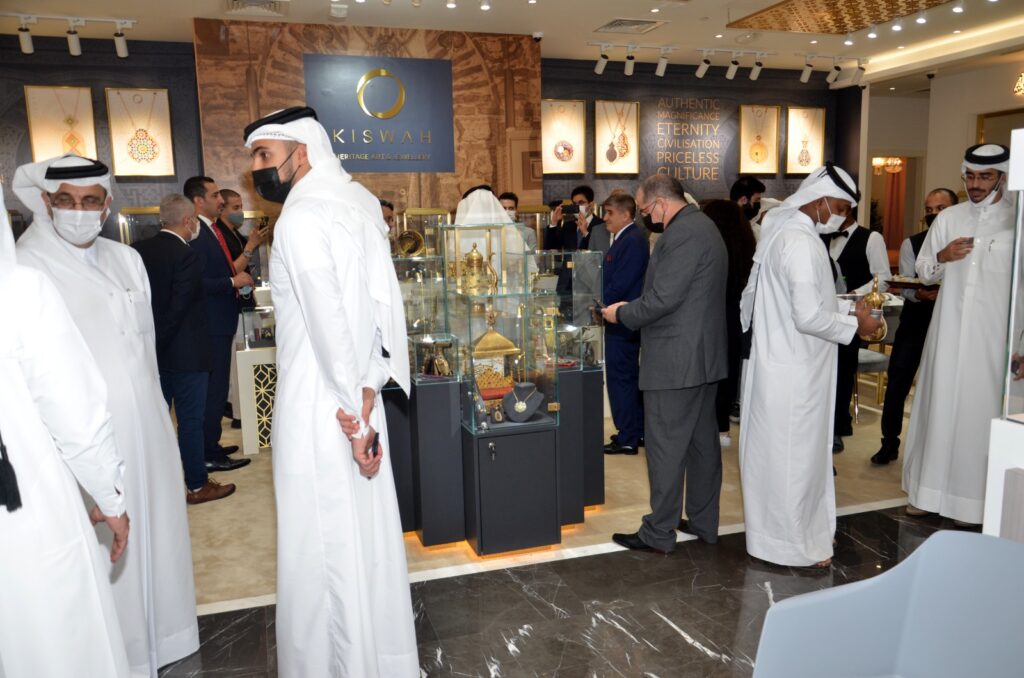 "Different outlets under one roof also make it quite affordable for the brand owners that ultimately results in making luxurious, high-quality jewels, precious stones and ornaments available at very competitive rates," Darwish said.
Through the various exhibitions held in Qatar over the past few years, he said, the Al Darwish Jewellery has fostered trust among Qatari customers due to the quality of its products and its deep commitment to achieving customer satisfaction.
After laying its foundations in Qatar, the brand has become a leading pioneer in jewellery designs with precious gemstones since 2016.
"With new partners in the showroom, Al Darwish Jewellery will continue with the idea of providing a versatile collection of jewellery inspired by different cultures and regions in the Middle East and Europe," he said.
With trade partners all over the globe, Al Darwish Jewellery holds a strong reputation of providing luxurious, high-quality jewels, precious stones and ornaments made with the utmost skill and craftsmanship.
"As we have gained the confidence of our customers through our previous contributions, we pursued our search globally to select the best stones and most attractive designs for the best prices. We guarantee them the most precious collections of jewellery to share their happy occasions," he said.
Al Darwish Jewellery CEO Abeer Abdallah Al Darwish, who is also the spouse of Abdallah Jassim Al Darwish, is instrumental in establishing Al Darwish Jewellery as one of the top jewellery brands in Qatar.
Abeer said, "Having jewellery brands from different countries under one umbrella and one place is a new idea. So when you enter the showroom, the variety gives the feeling of an exhibition but being here with our name and our place on this premise, it also gives you trust of dealing with someone whom you know very well. So this is our competitive advantage or this is what makes us different from others. Our partnership with the brands that are downstairs and our selection for the items that upstairs make this showroom unique in Qatar."
About the idea behind selecting new partners, she said, "We started as customers. We used to buy jewellery from them and they wanted to come to Qatar and wanted our support. We gave them our support and we started with them at various exhibitions. When they got their clients and succeeded in the Qatari market, they asked us to host them in Qatar on a permanent premise. The encouragement and the trust we had from our clients made us take this big step and have a shop here in Qatar."
"Al Darwish Jewellery prides itself on its varied range of jewels and state-of-the-art collection. Our global influences allow us to develop new designs which are attractive and coveted by customers from different regions and cultures. Understanding the needs of the customers and catering to their vast multitude of preferences is the hallmark of our success. Our philosophy is to ensure that all our customers shine with the same beauty and elegance as that of our prized jewels and accessories," she said.
"Al Darwish Jewellery is, and shall always be keen to collect the finest brands and designers that can satisfy all tastes and stands for all occasions. So whatever your budget is and whatever your taste is, Al Darwish Jewellery is your ultimate destination," Darwish said.
Brands that have set shops at Al Darwish Jewellery Showroom
Moratti
Country of origin: Italy
Moratti has now become a point of reference for its extraordinary creations. Each masterpiece is a work of art that comes from an exhilarating journey between multi-ethnic cultures and brought to life by the hands of fine Italian Craftsmen.
Kiswah
Country of origin: Turkey
Believing in the power of our mighty heritage, Kiswah's mission is to sustain the heritage of our cultures and giving inspiration to humankind with stories of heritage art and jewellery objects. The collections of Kiswah are based on the historical eras of 4000 years old civilization and its rich artistic background.
ARAYA
Country of origin: India.
ARAYA invites you into a world of unparalleled opulence with a promise to captivate. Its philosophy aims to capture perfection through creative innovation. ARAYA jewels are meticulously crafted by highly specialized and skilled hand-craftsmanship to be timeless pieces of wearable modern art.
Bishan
Country of origin: India
A journey to the world of fine handicraft jewellery started in 1933 with the magical sparkle of diamond, gold, polki-kundan and platinum… and always with excellent craftsmanship, high-quality standards and an exhaustive range of classic and contemporary designs.
Nafees
Country of origin: India
Nafees has been constantly gratifying the modern fashion enthusiasts with new-fangled luxurious jewellery designs. This was accomplished not only by spectacular design and Indian traditional colours but also by carefully selected precious gems for its jewellery pieces.
Ysabella: Country of origin: India.
Ysabella is a line of fine jewellery that is inspired by modern European architecture and design. It is a young brand for the generation of millennial.
Raaya
Country of origin: India.
Raaya Fine Jewellery is uncompromising on quality, unshakeable with trust, unrivalled in service. It balances the fine art of fantasy with practicality, creating unique, classic, and chic pieces to adorn women with a sublime sense of style.
Chateau Euphorie
Country of origin: France.
The fresh creativity of Château Euphorie draws inspiration from the renowned elegance of Paris and the heritage of indisputable savoir-faire. Craftsmen jewellers breathe life into contemporary designs, creating jewellery pieces that are of rare quality and uniquely original
Lima
Country of origin: Turkey
Lima Jewels brings out flawless works combined with their original designs and quality workmanship. They prepare hand-crafted products which make one feel elegant and confident.
Jwahr
Country of origin: Qatar
Jwahr is striving to express our passion for Islamic Art through fashion. We thought instead of hanging art pieces on walls and easels, why not have people wear them? Thus, the idea was born.
Paolobongia
Country of origin: Lebanon
Paolobongia Company is the result of the work and skills of four generations of jewellers belonging to a single tight-knit family. With their commitment and determination, they have learnt to exploit each and every resource available to produce magnificent pieces, to evoke the universal theme of love, style and elegance that reflects different personalities and lifestyle of each woman.