admin
Oct 2, 2021
963

4 minutes read
A special pink cake has been created in collaboration with Ms. Muna Al Sulaiti, with proceeds going to the Qatar Cancer Society
To mark Breast Cancer Awareness Month in October, Alwadi Doha guests will be able to order a beautifully crafted cake designed in collaboration with noted Qatari designer Ms. Muna Saad Al Sulaiti.
October is internationally recognized as Breast Cancer Awareness Month, an annual campaign to increase awareness of the disease.
Designed in collaboration with the hotel's pastry chef Mangesh Sangpal, the whimsical cake features the internationally recognized Breast Cancer pink ribbon and intricate gold and pink designs to evoke Qatar's famous desert rose strength and femininity.
Ms. Al Sulaiti is the founder of Muna Saad, a luxury fashion brand launched in December 2019 in Doha, Qatar. She is a graduate of Institut Universitaire de Technologie in France, with a Bachelor's degree in International Relations and Affairs. Her designs are inspired to reflect the luxury of being a modern, influential and strong woman.
The cake is also part of Inspired by Her, a selection of products, services, and experiences designed by women for women. Discover thoughtful gestures and touches dedicated to women's wellbeing while traveling in MGallery hotels around the world.
Alwadi Doha – MGallery Hotel Collection General Manager Mr. Hani Akkari said the collaboration with Ms. Al Sulaiti was unique and exciting.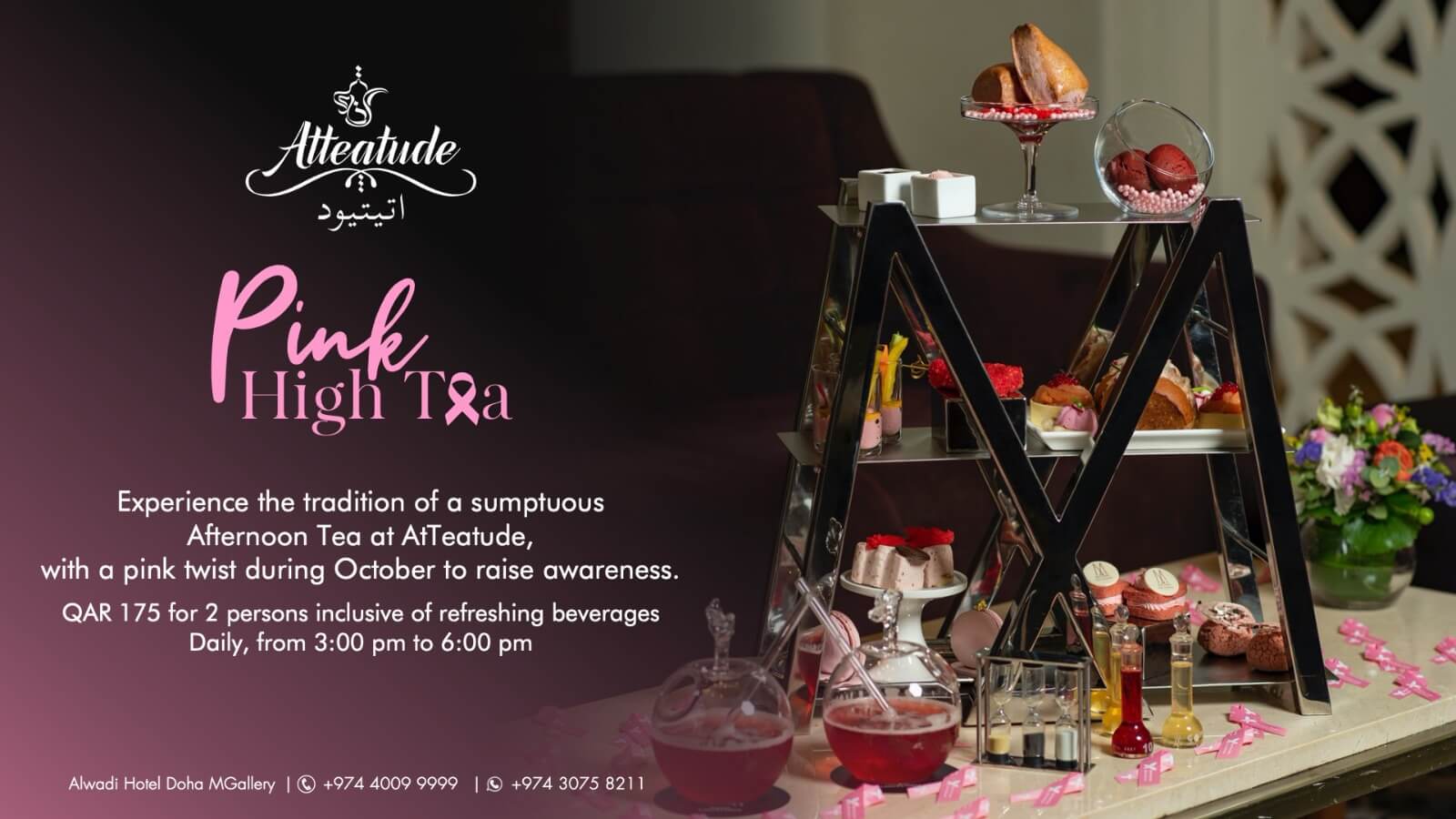 "We are very proud to be collaborating with Ms. Al Sulaiti to offer this stunning cake to our guests during October," Mr. Akkari said. "The cake represents our commitment to our community in a creative way."
"We are inspired by the tremendous effort that has gone into fighting this disease both here in Qatar and internationally. We hope our message of breast cancer awareness reaches as many members of our community as possible."
The Pink Cake will be available to order from the hotel's renowned AtTEAtude tea lounge at QAR 250.