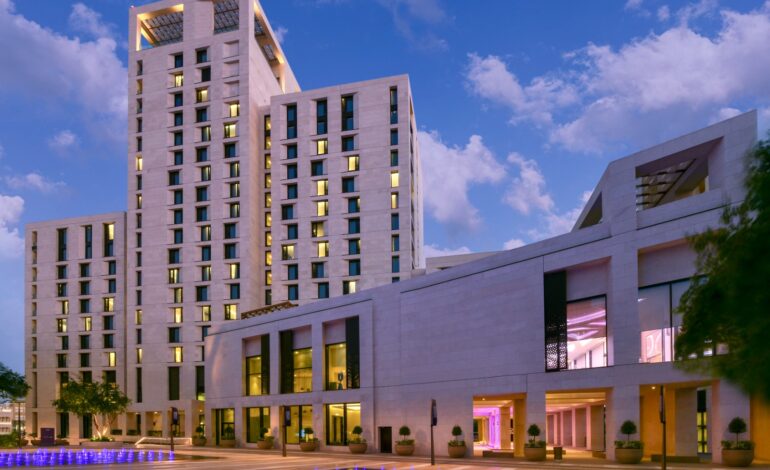 admin
Dec 16, 2020
1028

4 minutes read
Alwadi Hotel MGallery has created special menu and offers to mark Qatar National Day 2020
Alwadi Hotel MGallery is inviting Qatar's citizens and residents to share the glory of Qatar National Day in the historic and cultural heart of Doha.
"Alwadi Hotel MGallery is proudly located in a truly unique location in Doha – between Souq Waqif and the stunning newly developed Msheireb Downtown," said Alwadi Hotel MGallery General Manager Mr. Hani Akkari. "It is the perfect spot to celebrate Qatar National Day with friends and family and bring us all closer to the culture and history of this great nation."
To celebrate Qatar National Day 2020, the hotel is offering a specially crafted menu at its popular Arabic restaurant Sofra. With interiors designed to reflect of a dhow fishing boat – which is inextricably linked with Qatar's history – Sofra will be showcasing Qatari ingredients and flavors and guests can enjoy the special menu on 18 December from 7pm to 11pm for just QR159 per person.
The hotel's tea lounge – AtTEAtude, with its alfresco terrace and menu of bespoke cakes and other treats, is also the perfect location to experience the buzz of Qatar National Day as the sun goes down on this special day. The Winter Delight afternoon tea is just QR175 for two people.
For those wanting to enjoy a family staycation over the Qatar National Day weekend, the hotel is also offering a range of special rates on request including for the stunning 200 square meter Imperial Suite – a penthouse apartment featuring two terraces with panoramic views of the whole city, extending from Souq Waqif to West Bay – perfect for families. You can call the hotel for rates and availability of the rooms and suites to enjoy family staycation in the heart of Doha.
Mr. Akkari said that in keeping with the hotel's boutique and personalized nature, his team is determined to create a memorable Qatar National Day for all their guests.
"Qatar National Day is a chance for us to reflect and celebrate the achievements of this incredible country and its shining future. It carries great significance for citizens and residents," Mr. Akkari said. "This year our Qatar National Day celebrations will be a little different due to the COVID-19 restrictions and precautionary measures, but our team is dedicated to ensuring all of our guests have both a safe and healthy experience on 18 December as well as one they will cherish."