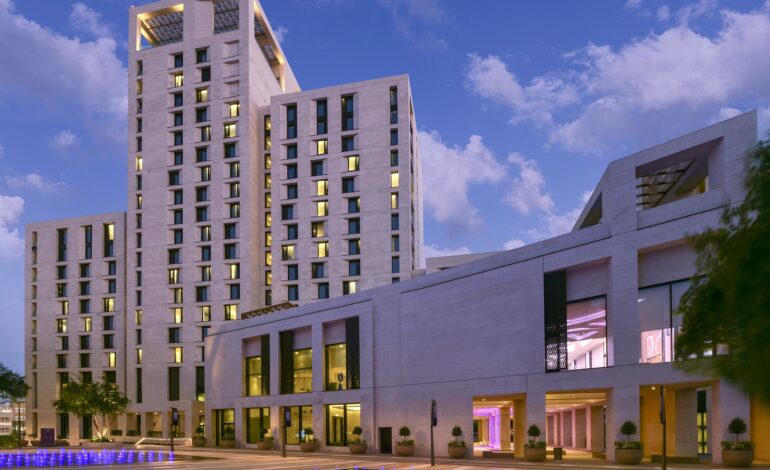 admin
Sep 11, 2020
633

6 minutes read
ALL Safe, Planet 21, inspired by her MGALLERY programs designed to ensure the highest levels of safety and wellbeing for guests
Alwadi Hotel MGallery is setting new standards in personalized hospitality and experiences with a range of programs designed to ensure the safety and wellbeing of their guests.
"It is our priority to ensure each and every one of our guests feel safe and well cared for, which is why we are proudly showcasing three key commitments – ALL Safe, Planet 21, inspired by her MGALLERY – to ensure our guests receive the highest standards of service," said Mr. Hani Akkari, General Manager of Alwadi Hotel MGallery. "Accor, our parent company, has been prioritizing the safety of our guests on a daily basis for more than 50 years and due to COVID-19 we have elevated this commitment."
As part of the Accor group, MGallery has instituted the ALL Safe program which brings with it some of the most stringent cleaning standards and operational protocols. This includes an enhanced in-room cleaning program using hospital grade cleaning materials and regular deep cleaning of the upholstery and bedding which are washed and treated at high temperatures. Staff have also undergone mandatory comprehensive safety and hygiene training programs as well as regular temperature and other health and safety checks.
"These standards have been developed with Bureau Veritas, a world leader in testing inspections and certifications. The ALL Safe label means our guests can be assured of the highest levels of health and safety," said Mr. Akkari. "This is in addition to all restaurants and bars in the hotel adhering to the State of Qatar Government rules and regulations; each guest being provided with individual sanitizer, wipes and masks as well as temperature checks, installation of partitions in appropriate areas and contactless payment options."
While the world is facing unprecedented change, Alwadi Hotel MGallery remains focused on Accor's Planet 21 commitment – which is the group's Community and Social Responsibility program.
"We are committed to providing our guests with a positive and responsible hotel experience – this means guaranteeing quality and sustainable products and services with high environmental and social performance," Mr. Akkari said. "This includes measures such as offering eco-friendly amenities in our rooms, monitoring our food waste and one a wider scale ensuring our staff are also cared for and engaged in the Qatar community and have a positive impact."
This commitment to making guests feel safe and welcomed extends to the hotel's implementation of the unique MGallery Inspired by Her program for its female guests. This is a selection of products, services and experiences designed by women.
"We are very proud of this program that is dedicated to the wellbeing of our female guests," said Mr. Akkari. "Inspired by Her starts from check-in where our female guests will have their stays tailored to their needs – this includes being able to choose the size and location of their room and a range of thoughtful touches such as bathrobes and slippers in women's sizes, a selection of complimentary amenities as well as a special healthy and light menus designed specifically for women."
Mr. Akkari said Alwadi Hotel MGallery is like a second home their visitors and guests and they were dedicated to providing a wholistic experience for each and every one.
"It is important that our guests have a truly personalised and safe experience – attention to detail is the cornerstone of our service at Alwadi Hotel MGallery and makes all the difference," he said. "ALL Safe, Planet 21, inspired by her MGALLERY are all programs designed to ensure safety and wellbeing of guests and demonstrated that we are always willing to go above and beyond."
Location: Alwadi Hotel Doha MGallery
Area: Corner of Wadi Musheireb and Jassim bin Mohammed Street
Contact details for more information: +974 4009 9999 or email to reservations.alwadihotel@accor.com
Website: www.alwadihoteldoha.com
Facebook Page: https://www.facebook.com/alwadihoteldoha/