Billionaire is home to Doha's first and only dinner-show concept that is hosted at the venue's world-class Italian and New Asian restaurant.
World-class cuisine is complemented by show-stopping performances by renowned artists, musicians, dancers, acrobats and more magnificent talents.
Billionaire is the brainchild of Italian entrepreneur and former F1 boss Flavio Briatore.
The Billionaire brand already has venues in Porto Cervo, Dubai, and Riyadh to name but a few destinations where it continues to attract the most exclusive guests.
Hospitality and food service chain, Aura Group, opened the first location of the highly-reputed Billionaire restaurant on Al Maha Island as part of its commitment to enhancing the country's culinary offerings and expanding fine dining options in Qatar.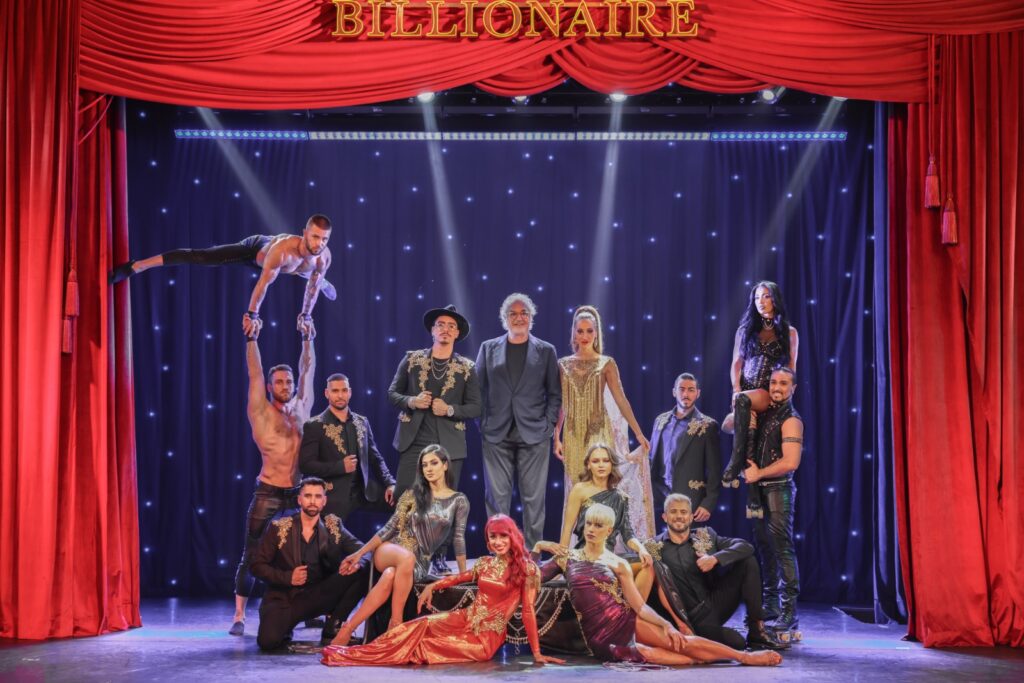 Billionaire Doha, home to Qatar's first and only dinner show concept, continues to elevate the country's dining and entertainment scene, inviting guests to an electrifying and theatrical experience of spectacular performances and masterfully-created food every night.
A stylish location that guarantees variety, bringing you the best of musical, acrobatic, and cultural experiences, and theme nights from around the world, Billionaire Doha has also quickly become a celebrity hotspot and crowd favourite for superstar guests, residents, expats, locals, and tourists alike.
Billionaire has hosted the most prominent icons through its worldwide venues, including supermodel and philanthropist Naomi Campbell, model, TV host and businesswoman Heidi Klum, and luxury fashion designer Valentino Garavani, to name but a few.
In the grandeur surroundings of the venue's signature Italian and contemporary New-Asian restaurant, guests can enjoy breath-taking shows by a world-class cast of skillful artists, musicians, entertainers, dancers, singers, and acrobats – all handpicked and choreographed by Billionaire's Creative Director.
Curated by Executive Chef Batuhan Piatti, a blend of signature Italian and modern New-Asian dishes, and the finest beverages Doha has to offer, light up diners' taste buds. Immersed in the interactive and surreal show that drives this distinct dining experience, Billionaire has fast become the choice of venue for distinct and exclusive celebrations too.
Since 1998, when former F1 supremo Flavio Briatore opened the first Billionaire in Porto Cervo – which celebrates its 25th anniversary this year – the brand has cemented itself as an icon of quality entertainment. With Briatore at the helm, Billionaire has grown exponentially and, today, it is synonymous with glamour, creativity, and exceptional food.
In its conception days, Briatore wished to create a nightclub that could bring back the allure and buzz to Costa Smeralda, tantamount with the Italian dolce vita. With intuition, vision, and sharp business sense, Briatore established a venue that quickly became a favourite destination amongst the international jet setting crowd too.
The bold name chosen by Briatore is because, in his own words: 'even if a bit arrogant… it's a name you don't forget' and the nightclub's fame soon turned Billionaire into a prestigious brand renowned for its outstanding service, excellent music and entertainment in an exhilarating atmosphere. So much so that the world's most legendary names and prominent figures frequent Billionaire venues around the world.
Where delicious food meets thrilling performances, Billionaire Doha is the place to be when the sun goes down. Groups of friends gather to mark monumental occasions in an captivating and opulent setting, whilst tapping into authentic Italian and New-Asian cuisine, receiving world-class service, and enjoying a stunning Billionaire show.
Exclusively on the Billionaire stage, the daily shows are themed on great musicians, including tributes to Elvis, Queen, MJ, Stevie Wonder, and more. For the sophisticated female clientele, there's a dedicated "Billionaire and the City", where ladies get complimentary drinks, selection of bubbles, grape and muddled drinks every Monday.
Furthermore, Billionaire has partnered up with an exclusive designer brand to offer one lucky lady the chance of winning a select piece from one of their collections. In return, there is a showcase of the brand at the main reception at Billionaire Doha on that evening.
Guests are enveloped in an evening that sets the bar high by constantly changing special displays, lighting, and colours, as well as delectable food designed to satisfy everyone.
An easy and natural interaction and flow between Billionaire's food and the extraordinary show, alongside the venue playing host to some of the best and most memorable evenings, is enough reason to recognise that the team at Billionaire really have earned their status as the true Masters of Extravaganza.