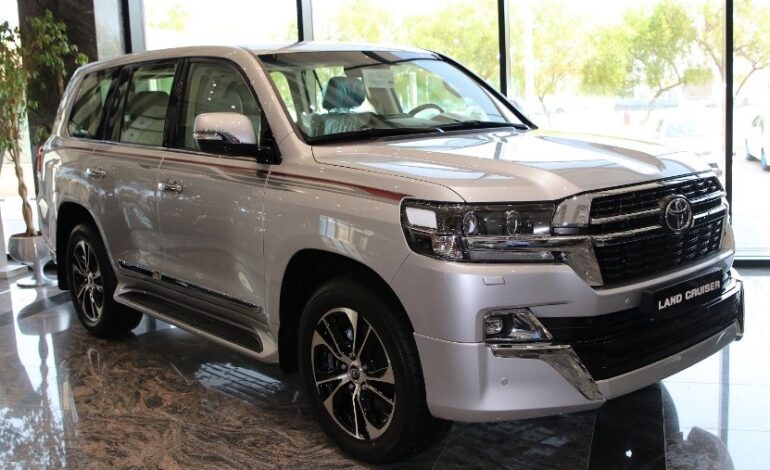 Abdullah Abdulghani & Bros. Co. (AAB), sole agents for Toyota in Qatar offers the largest line-up of SUVs that satisfy every need, be it for City Drive or Off-Road.
Every Toyota vehicle has built a reputation based on value, versatility and reliability. These Toyota sport utility vehicles, which combine off-road ability with on-road comfort, are boasting high levels of reliability and durability. All offer plenty of cargo and passenger carrying capability, good ground clearance and a raised seating position that provides excellent visibility.
Toyota SUV lineup includes
Land Cruiser – Pride of the Land
Toyota Land Cruiser occupies a special position in the heart of every citizen in Qatar as they enjoy an emotional relationship with this amazing model which is why Land Cruiser is called as the "Pride of the Land".
Thanks to its inbuilt quality, durability and reliability, the Land Cruiser to occupy the number 1 position in its segment. Toyota Land Cruiser features elegance and luxury along with strength and practical advantages.
Last Year, the Land Cruiser series global sales surpassed 10 million vehicles. The production of the Land Cruiser started from the year 1951 till present.
Toyota Land Cruiser has surpassed all expectations worldwide for its strength as a multi-purpose vehicle, suitable for all places and roads.
The Toyota Land Cruiser also represents a turning point between luxury and adventure, giving the same feeling of enthusiasm and practical benefits.
The Land Cruiser is available in Qatar with a 6 Cylinder engine,4.0 liter producing 271 HP and 8 Cylinder 4.6 liter (GXR) producing 304 HP and 8 Cylinder 5.7 liter (VXR) producing 362 HP
Toyota Prado
Over the years, Prado has proven its tough, lasting and reliable qualities across different terrains and extreme environments, Prado exceed the expectations of its customers in the region.
The Prado tick all the boxes of consumer interest owing to its outstanding quality, durability and reliability with unrivaled off-road performance and ever-greater levels of comfort and ownership prestige.
Engineers have strengthened the car's safety and comfort features, and these critical enhancements contributed towards making the Prado one of the leading choices amongst families in the region and beyond.
The Prado is available in 2 variants , 2.7 liter, 4 cylinder, producing 164 Hp and 6 Cylinder 4.0 liter producing 271 HP.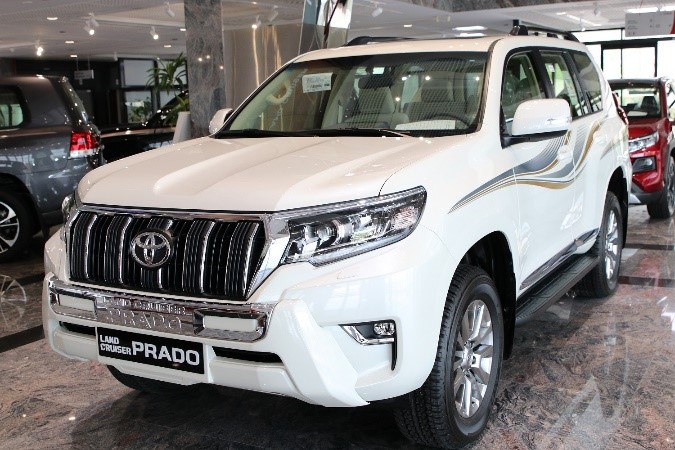 Toyota F.J Cruiser
With a powerful 4 liter, V6 engine producing 268 HP the FJ Cruiser is equipped to take‑on and conquer any terrain, and keep coming back for more. And with cool, retro styling and an amazing sound system, you, your family and friends are sure to have great fun going places. Motoring enthusiasts in Qatar love the FJ Cruiser for being simple and rugged with the ability to traverse tough terrain and deliver full-scale off-road driving performance.
It inherits the DNA and the stylistic themes of the original Land Cruiser FJ40.
The FJ Cruiser's comprehensive standard safety package provides six airbags, including front seat-mounted side airbags and roll-sensing side curtain airbags for both rows of seats, Vehicle Stability Control and Differential lock, A-Trac (Active Traction Control).
Toyota Fortuner
The true SUV with style and confidence. The vehicle is equipped with a 4 cylinder, 2.7 liter engine or a 6 cylinder 4.0 Liter engine.
The large, slanted upper grille is framed by thick chrome plating that extends around the sleek, aggressive headlamps, while the front bumper creates a sense of depth.
The spacious cabin can be quickly managed to accommodate changing combination of people and gear. A one touch tumble function on the second row seats provides easy access to the third row seats.
To expand the luggage space to accommodate big or long loads, the second row seats tumble fold and a space up a function on the third row seats enable them to be folded and stored away using easy to reach fixed hooks.
The Fortuner is equipped with comprehensive safety systems to protect its occupants. These include Anti-lock Braking System (ABS) with Electronic Brake-force Distribution (EBD).
In addition to ABS, which prevents the tyres from locking during braking, EBD is equipped to perform measured brake force distribution between the front and rear wheels according to the vehicle condition.
As a result, the force required to operate the brake pedal is reduced, ensuring strong braking performance.
Back monitor support reversing operations when parking at a 90 degree angle or parallel parking , showing the rear view taken by a camera integrated into the rear of the vehicle on the display. The Fortuner is equipped with SRS driver airbag , SRS front passenger airbag and SRS knee airbag (Driver Seat)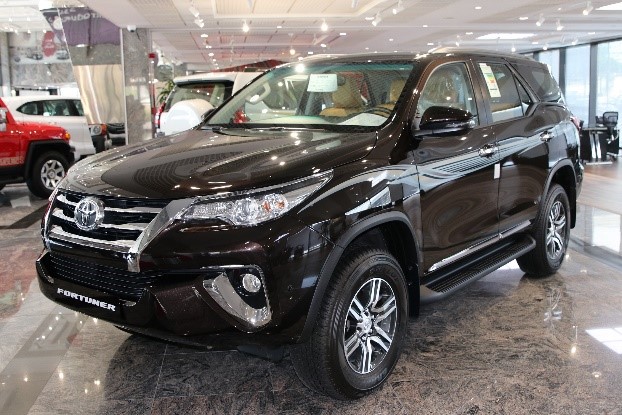 Toyota RAV4
Lead the way in Urban sophistication. The RAV4 radiates elegance when driving in the city. Its dynamic personality frees you to actively pursue life's pleasures. Start living more fully today. Launched newly, and evolving in looks, drive, power and toughness, RAV 4 features enhanced off-road capabilities.
It is designed to greatly stimulate your mind and your curiosity.
Broadening your horizons as you enter a whole new empire of Crossover- SUV driving. Feeling ever bolder and enjoying the journey ahead. The RAV4 is equipped with a 4 cylinder 2.5 liter engine producing 203 HP. It is also available with Hybrid engine.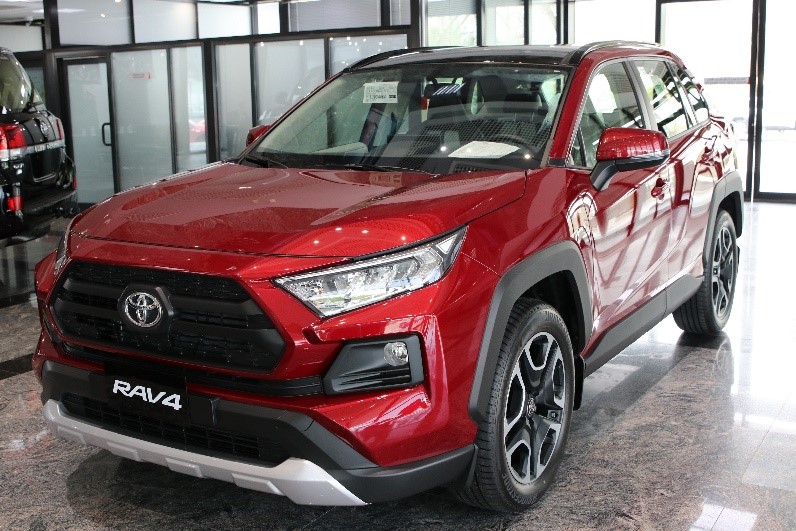 Toyota Rush
Introducing the Toyota multi-talented SUV. The Rush is fusing dynamic energy with sharp elegant styling. Toyota Rush looks great everywhere, at the beach and in the city. The only question is, where do you want to go.
Offering efficient fuel economy and maneuverability, along with ample interior space with three rows of seats that can comfortably accommodate seven passengers, the new vehicle seeks to highlight Toyota's focus on introducing vehicles that are not only equipped with a host of enhanced and functional features but also meet the growing demands of the brand's most discerning consumers.
AAB Toyota is known for its certified and high quality vehicles, enjoy the best after sales services of 11 service centers across Qatar were also some of the locations operate seven days a week.
Toyota service locations include: Toyota Main Service Station in Industrial area, Madinat Khalifa Quick Service Center, Abu Hamour Quick Service Center, Al Nayef Quick Service Center, Airport Road Quick Service Center,
      Al Wakrah Quick Service Center, Aziz Quick Service Center, Shahania Quick Service Center, Al Khor Quick Service Center & Al Watania Petrol Station Quick service center (Al Shammal Road) and a dedicated Commercial Vehicles Workshop in the Industrial Area.