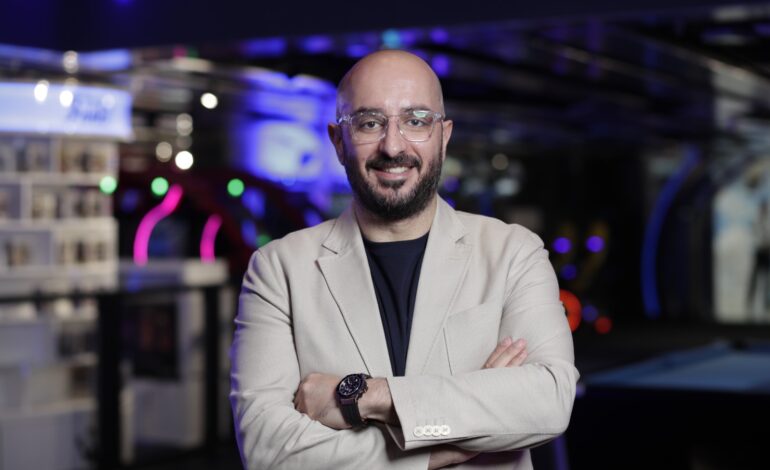 "Revolutionizing Theme Parks Entertainment in Qatar!"
Qatar has the most promising leisure and entertainment industry. People here are always looking for exciting ways to spend quality time. Theme parks, in this regard, are a great source of day-long unlimited entertainment options for families and friends.
CEO eProjects LLC, and Managing Director LEISURE Qatar. Sherif Elbassiouny outlined a vision of blending the company's persuasive digital operations with its thriving theme park business, in order to deliver a more personalized and modified consumer experience.
The launch of LEISURE app in Qatar has revolutionized the entertainment industry making it easier for customers to customize and book their experience while gaining attractive rewards that are just a few clicks away.
LLQ Lifestyle got the details from Sherif Elbassiouny where he spill the beans about the extraordinary success of LEISURE, a company managed and operated by eProjects LLC. Let's get to know about this star entrepreneur and his company!
LLQ Lifestyle: For those of us who don't know you, please tell us a bit about yourself.
"My name is Sherif Elbassiouny, I am an entrepreneur, creative planner, and strategic thinker. I started my career journey in Egypt and expanded my entrepreneurial passion to Qatar in 2011. The wealth of knowledge and expertise gained along the way brought me to the position of Managing Director at LEISURE. I am responsible for overseeing all aspects of the company's operations, from day-to-day management to long-term strategy.
In 2018, Sherif established a project management and consultancy firm eProjects LLC with his partners. The business focused on the leisure and entertainment industry followed by DBIO Limited UK, and eProjects S.A.E Egypt.
With his successful career experiences and through eProjects LLC, Sherif along with his partners has managed to redesign, rebuild, and relaunch the biggest family entertainment complex in Qatar "LEISURE".
The 44,000 sqm entertainment complex located in Doha Festival City consists of the three most popular theme parks; Angry Birds World, Snow Dunes, and Virtuocity, that are making a stir in the Qatar's entertainment industry.
LLQ Lifestyle: Can you tell us more about LEISURE Qatar and its role in the industry?
We asked Sherif about the entertainment complex LEISURE, and here's what we discovered.
LEISURE –A Pioneer in Operating Entertainment Destinations
LEISURE is known for creating a dynamic environment with fun and exciting activities for a memorable family experience. The company has raised the bar of entertainment in Qatar by creating diverse experiences.
Holding a portfolio of multiple projects and providing a wide range of services that include family entertainment centers, theme parks, event management, exhibitions, and conference organizing services –the company's tagline 'Beyond Boundaries' definitely resonates with what they offer.
The first Angry Birds themed park introduced and developed by LEISURE in partnership with Rovio Entertainment brings the real feel of the movie to life through a creative ambiance, 20 rides, and multiple attractions.
It is the one and only Angry Bird themed park in the world with uniquely themed rides, indoor and outdoor fun activities, along with an especially dedicated area for arcades and redemption, and attractions for all ages.
From the little hatchlings to fledgling teens, and the big birds –there's something for everyone with multiple indoor, outdoor, and soft play activities. Enjoy the thrilling rides, attractions, and refreshments all at the same place.
VIRTUOCITY –the Region's First eGaming Hub
Get the real experience of the virtual reality world at the multi-purpose eSports arena! The largest virtual reality setup with escape rooms –an immersive digital experience for gaming enthusiasts of all ages. VIRTUOCITY is a mega digital gaming arena to indulge in the world of virtual reality with state-of-the-art VR, Escape rooms, VIP experience rooms, 1VR1, and much more.
At Virtuocity, there are 200 gaming stations, 7 escape rooms, 10 VR rooms, and 6 VIP rooms.
The gaming arena has everything that comes under the umbrella of modern high tech and high spec gaming. Virtuocity is developed to surpass every gamer's expectations.
The 200 gaming stations covers all platforms including Playstation 5, Nintendo Switch, Xbox Series X, PC, and much more.
SNOWDUNES –the Arabian Themed Snow Park
You've seen the scenic sand dunes in beautiful Arabian nights –LEISURE has brought that legendary Arabian castle set with a twist where sand has been replaced with snow.
The snow park theme has been inspired by the local folklore tale where a cold wave blankets the Arabian land in snow. Created with the world's most advanced snow production technology that creates the real snowfall aura at -4 degrees centigrade.
At Snow Dunes, you can experience the entertainment on a whole new level with 50 meters slides, Snow guns, Wall-climbing, Snowy merry-go-round, Ice skating rink, snow rides, and much more.
The adventures of Snow Dunes proved to be the most safest, and enjoyable amusement park for families and friends to create most fun-filled memories. Enjoy a unique experience below Zero in Qatar at Snow Dunes.
LEISURE Qatar Success Story
Sherif Elbassiouny shared the success strategy of his company that has made LEISURE among the most popular theme parks in Qatar. Let's check out how they did it!
LLQ Lifestyle: What have been the biggest challenges in Leisure's journey to date and how did you deal with them?
Sherif gave us insights about how the company has been successfully dealing with the challenges and paving its way towards the new high. Here's what we've learned about their strategy.
Overcoming Challenges
LEISURE has managed to bring back the fun and excitement in Qatar by adopting a different and most advanced strategy to keep the employees and visitors safe amid pandemic driven challenges –the company continues to focus on future plans.
Safe and Secure Environment
The parks are managed and operated by applying the highest European safety standards EN13814. In the entertainment business, safety is the biggest priority of the company so that the employees and visitors can enjoy and have fun in a safe environment.
To ensure safety, qualified security professionals conduct regular inspections, rides maintenance experts ensure secure and optimal performance, and dedicated squads implement safety protocols across the retreats.
LEISURE employees are constantly provided with updated training and security maintenance certification programs.
Moreover, emergency procedures are always in place to ensure the guests safety.
Creating Sustainable and Engaging Customer Experience
Through adopting advanced technology and innovative strategies, the company is aimed to revolutionize the Qatar's entertainment and leisure industry.
eProjects LLC additionally provides the opportunity to collaborate with other businesses in order to develop eco-friendly practices, minimize waste, and optimize systems that mutually benefit both customers and the participating businesses.
Optimizing Performance and Reducing Carbon Footprint
Through the LEISURE App, the company is providing a paperless system that is designed to facilitate and reward the users on revisiting the parks and taking part in loyalty programs that offer unique experiences.
The company's in-house tech experts are building integrated systems and solutions to simplify the processes for optimal performance.
Leveraging Key Resources to Peers in Industry
Leisure is keen to extend its advanced technology and innovative strategies to other peers in order to revolutionize the region's leisure and entertainment industry. Our aim is to be able to collaborate with other companies and create unique and engaging customer experience that stand out from the competition through adoption of emerging technology.
Another issue we would like to address is that of sustainability in the sector and the ways we can improve it by using our technology to go digital. Companies could collaborate to develop eco-friendlier and sustainable practices, reduce waste and carbon emissions, a system that benefits both businesses and consumers.
LLQ LIFESTYLE: Leisure Qatar is paving the way for the sustainability targets of Qatar National Vision 2030 by using state of the art technology. How is the technology revolutionizing the leisure and entertainment sector?
LEISURE – Empowering the Entertainment Industry with Innovative Technology
Technology is the ultimate part of the company. From systems, operations, to the customer experience –LEISURE offers all its services through the most advanced technology solutions.
The LEISURE Qatar App helps the customer to plan and design their own trip with one click and enjoy the unique experience. This groundbreaking App revolutionizes the market by delivering an unparalleled tech-savvy user experience that prioritizes emotional engagement and ultimate satisfaction. Unleash the power of technology like never before!
The App combines a loyalty program and E-commerce platform in a handy easy-to-use interface.
LLQ Lifestyle: Leisure Qatar App is making quite a stir in Qatar. Can you please share how the app works and what kind of benefits are users getting from it?
Sherif is optimistic with the launch of LEISURE App Qatar – the first digital app in the industry in Qatar that combines e-commerce and loyalty programs on one platform.
"Our in-house technical team has implemented state-of-the-art technological solutions within the app," stated Sherif. "Our objective is to develop a user-friendly app with a wide range of features that cater to our customers' interests, providing them with a highly personalized and customized experience."
Here are some insights about the app.
How LEISURE Qatar App works?
Get Rewarded for Having Fun!
Digital Wallet – The app features a digital wallet where they can check balance, personal details, purchase tickets, and redeem loyalty benefits. Soon, the app users will no longer require a physical card to access rides and attractions.
The app has different payment methods such as debit, credit card, and soon Apple Pay.
Tejory – the loyalty program is the highest rewarding scheme. From entering the Parks to shopping, dining at our restaurants, and taking rides – every Qatari Riyal you spend you will get you earn Tejory points. These points can be exchanged for exciting rewards at any of the parks and participating partners.
Book and Manage Events – there is also a unique feature through which the app users can book and manage their events. The events feature also allows member to create custom invites for their guests and generate QR coded that will give them automatic access to the venue. LEISURE App Qatar members also get to enjoy several perks from discounts to surprise gifts.
Soon a tiering system will be introduced into the app to give our members more privileges.
LLQ Lifestyle: Families are in love with the loyalty program Leisure implemented for Angry Birds World, Virtuocity,Snow Dunes and partners –do you think this strategy is leveling up Qatar to one of the leading entertainment destinations?
Becoming the most Popular Entertainment Destination in Qatar
Since its launch in October 2022, "LEISURE Qatar App" has managed to attract 64,209 members. The app provides personalized, dynamic programs to meet customer needs, improving the purchasing experience in a secure environment, retaining and rewarding customers using the latest technology to fine-tune its offerings and we are proud to claim the title as "Qatar's number 1 entertainment destination".
Today, LEISURE Qatar has become the go-to entertainment destination for people looking to enjoy leisure activities. Undoubtedly, LEISURE is a great example of innovative approach, user-centric design, and effective marketing strategy that have helped it to become a popular choice for leisure and entertainment activities across Qatar.
LLQ Lifestyle celebrates the success of power CEO and entrepreneur Sherif Elbassiouny for his successful venture LEISURE Qatar that continues to innovate and help define the future of the theme park industry in Qatar.