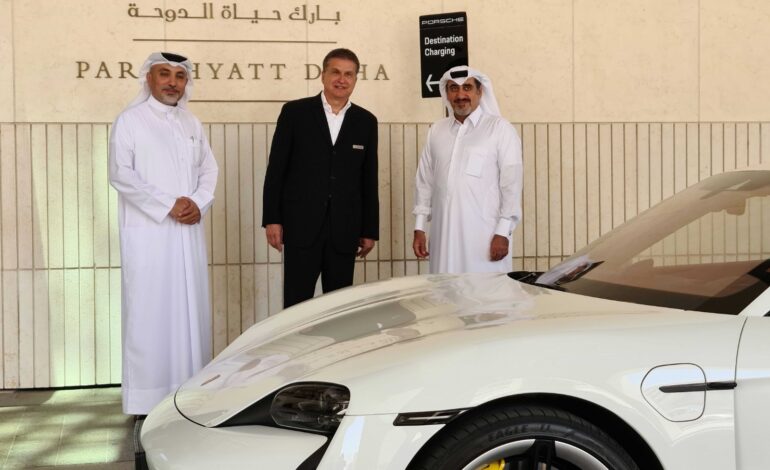 In line with Qatar's push for increased sustainability and reducing CO2 emissions, Porsche Centre Doha has embarked on a partnership with the recently opened Park Hyatt Doha in Msheireb Downtown Doha, to provide a free charging station for Porsche customers and drivers of other electric and hybrid vehicles.
Msheireb Downtown Doha is a QAR20 billion sustainable regeneration project spread across 31 hectares in the heart of Doha. The hotel's central location and proximity to popular attractions means Porsche customers can make use of another convenient charging point while being out.
With the new installation at the Park Hyatt Doha, Porsche Centre Doha is launching its sixth Porsche Destination Charger in the country, ahead of the soon-to-be-launched first fully electric product offering, the Porsche Taycan. The latest introduction is part of a wider plan to provide conveniently located charging points for customers' piece of mind when choosing one of the plug-in hybrid or electric models.
Commenting on the initiative, Salman Jassem Al Darwish, Chairman and CEO of Porsche Centre Doha, said: "As Porsche Centre Doha continues to grow its E-Performance product portfolio, particularly with the launch of our first fully electric Taycan sports saloon by the end of the year, we are proud and honoured to be working with Park Hyatt Doha in Msheireb to play a role in the country's focus on sustainability.
This is in line with Porsche Centre Doha's preparations to follow Porsche's global strategy whereby around 50 percent of all Porsche vehicles could be sold with an electric or hybrid drive by 2025.
"With a range of up to 463 kilometres, the Taycan has little need for charging on the go. However, we want to give our customers the ultimate piece of mind by expanding our charging network in the country. Choosing locations and partners for Porsche Destination Chargers is an intensive process and we are pleased that Park Hyatt Doha shares our vision for a sustainable future for generations to come."
Park Hyatt Doha, General Manager, Stefan Gaessler, commented: "The partnership between Park Hyatt Doha and Porsche is a natural fit. Both are luxury brands with a high focus on personalization and a firm commitment to sustainability. The location of the charging station in Msheireb Downtown Doha is significant given the precinct's globally recognized LEED certification for sustainability, the highest accolade for sustainability in the world. We look forward to being part of this exciting initiative and to welcoming loyal Porsche owners over the coming weeks and months".
Ali Al Kuwari, Acting CEO, Msheireb Properties said: "Sustainability is central to Msheireb Downtown Doha in terms of both the conservation of natural resources and the quality of its design. It is one of the smartest and most sustainable city districts in the world, and we are thrilled to promote sustainability in different aspects of life. We welcome the current initiative of Porsche at Park Hyatt Doha and thank them for encouraging environmental practices that would leave positive impact on our lives".
The 11kW AC charger is located in the basement carpark of the Park Hyatt Doha with signage from the main entrance guiding drivers. It is available to use now and free for all owners of hybrid and electric vehicles.
Porsche Centre Doha will continue the expansion of its Porsche Destination Charger network. Current locations include the Qatar National Bank as well as Porsche Centre Doha's showroom and service centres.