Porsche's ultimate expression of performance wrapped in luxurious, four-seat motoring, the 2021 Panamera has arrived at Porsche Centre Doha, Al Boraq Automobiles Co. w.l.l. with prices from QAR 336,400. The latest range delivers more power, state-of-the-art technology, enhanced driving dynamics and new design features that visually connect it to the full Porsche range with trademark cues front and rear.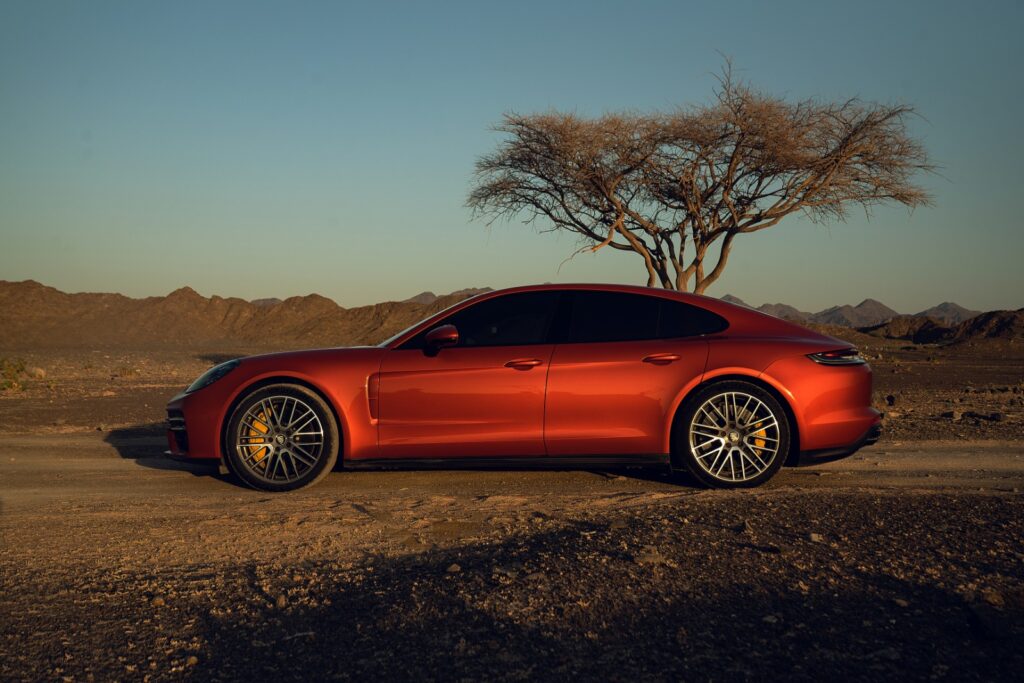 A car that links the performance of a sports coupe with the comfort of an executive saloon, the Panamera has been a staple of the Porsche range since 2009 and features even more performance, courtesy of the new 700 PS (514kW), four-litre, biturbo V8 Turbo S E-Hybrid, the most powerful variant in the range.
Commenting on the arrival of the first units, Salman Jassem Al Darwish, Chairman and CEO, said: "The Panamera is the quintessential executive express that set the trend for performance saloons and has played a big part in Porsche's family from the day it was launched over a decade ago. With the 2021 range, the new Panamera covers an even wider spectrum of variants comprising biturbo V6 and V8 engine options, hybrid efficiency as well as all-wheel drive or rear-wheel drive. It is a car that's just as rewarding for the driver as it is for its passengers."
Powerful drive systems
The new 870 Nm Panamera Turbo S E-Hybrid is the most powerful model in the range, combining a 571 PS, four-litre, biturbo V8 with a 136 PS electric motor integrated into an eight-speed, dual-clutch transmission (PDK) and a 17.9 kWh battery. It returns a combined fuel consumption figure of 2.7l/100kms and accelerates from zero to 100 km/h in 3.2 seconds with a top speed of 315 km/h.
The 630 PS (463 kW) four-litre V8 biturbo engine used in the Panamera Turbo S was initially developed in Weissach and was comprehensively overhauled in Zuffenhausen. It allows accelerations from 0 – 100 km/h in 3.1 seconds and achieves the same top speed as the Turbo S E-Hybrid.
Its power is transferred to the road via the latest Porsche Active Suspension Management (PASM) system which controls its three-chamber air suspension along with improvements made to the roll stabilisation system Porsche Dynamic Chassis Control Sport (PDCC Sport) and Porsche Torque Vectoring Plus (PTV Plus).
The V8 biturbo engine in the Panamera GTS was optimised to focus on power delivery, with 480 PS (353 kW) and 620 Nm which equates to an extra 20 PS (15 kW) over its predecessor.
The new Panamera and Panamera 4 are now equipped with the familiar 2.9-litre V6 biturbo engine, delivering 330 PS (243 kW) and 450 Nm.
State-of-the-art connectivity
Using the latest version of Porsche Communication Management (PCM) system, the latest Panamera incorporates an upgraded voice control system and wireless Apple® CarPlay in addition to the now standard Lane Keeping Assist. Furthermore, customers can opt for various features like the Adaptive Cruise Control, Night Vision Assist, Lane Change Assist, LED matrix headlights with PDLS Plus, Park Assist with Surround View and a head-up display.
Sportier visual appearance
The new Panamera models share a sportier visual appearance that highlights the family connection with Porsche's performance coupes. The previously optional Sport Design front end is now standard across the range with striking air intake grilles, larger side cooling openings and a single-bar front light module, while the Turbo S welcomes enhanced side air intakes and easy-to-spot dual front lights. The rear of the new Panamera is easily identified with a light strip that runs seamlessly over the luggage compartment lid to give a continuous, flowing line between the two newly designed LED tail light clusters. GTS models incorporate new darkened Exclusive Design tail light clusters as standard
Salman Jassem Al Darwish, Chairman and CEO: "There is nothing like the new Panamera on the road, it's unmistakably Porsche in its design and engineering which makes it an exciting car to drive but also supremely comfortable for the whole family to enjoy at the same time. It's a true sports car for four."