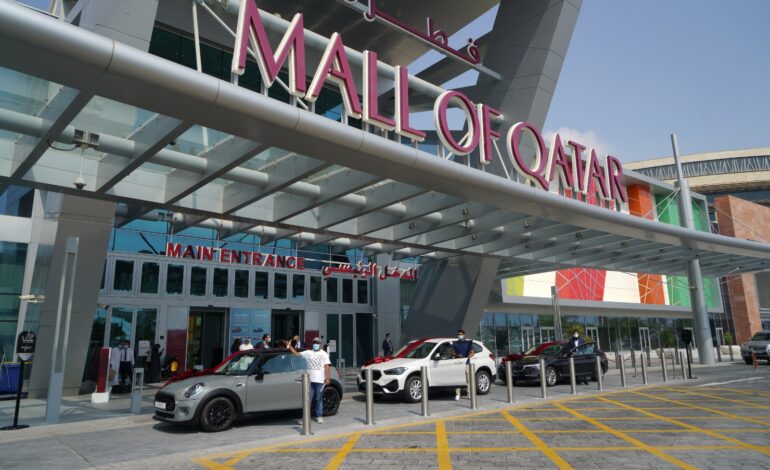 Shop and Win continues until January 14,2021
The cars' winners in the first three weekly raffle draws of the "Shop and Win' festival at Mall of Qatar received their cars today.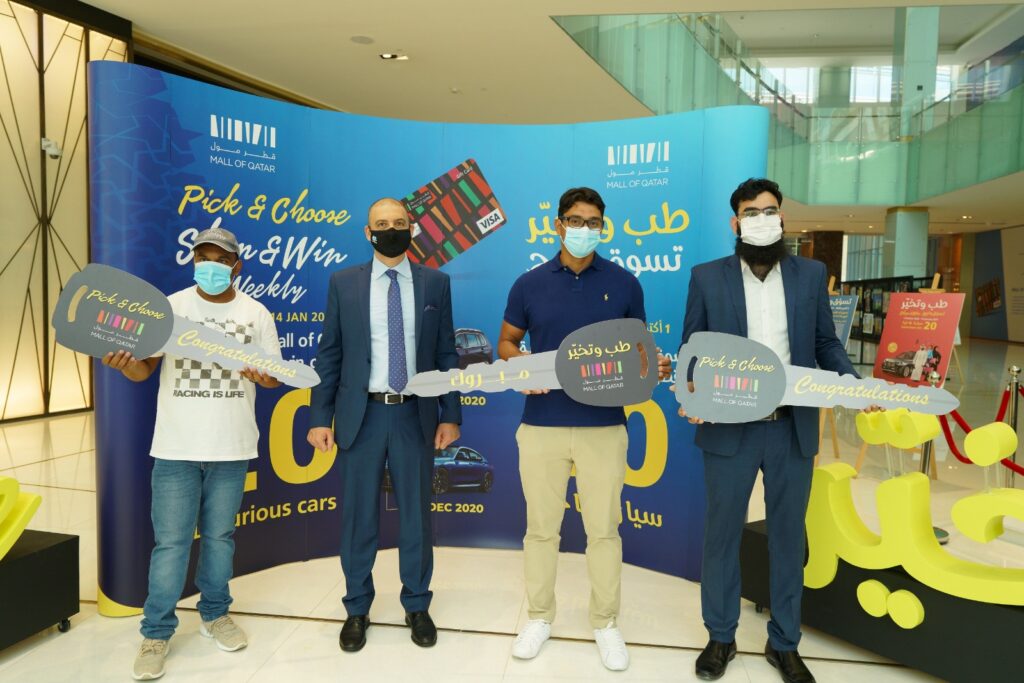 The car handover took place at the Mall of Qatar and was attended by Emile Sarkis, the General Manager, Mr. Nasr Jairoudi Alfardan Automobiles Generel Manager, and Mall of Qatar's management. The three winners received their prizes where Ramishwar Raut got a Mini cooper, Mohammed Abo Ouda got a BMW X1, and and Sharrukh Khan received the BMW 520i.
The Shop and Win Festival at Mall of Qatar, which comes under the theme "Pick and Choose," continues to give customers new hope to get a new luxury car. The winners' stories are inspiring; each of them expressed the importance of the prize to them.
Three coupons were enough for Ramishwar Raut to win the first car, a mini cooper brand one.
Ramishwar is a house driver and has been in Qatar for ten years. He expressed his extreme happiness stating, "This car has given me new hope for a better life. My wife gave birth to twin girls one night prior to the draw. I didn't expect that my happiness will be doubled with this new car. It will change my life. I can now think of a better future for my family, whom I am supporting. I thank God for this gift and thank Mall of Qatar for this great opportunity that helped me to start a new life".
Mahmoud Abo Ouda, the winner of BMW X1, never expected to win a car in his life. He stated, "It was a big surprise, but a happy one. This is the only spark of hope in this challenging world and during these difficult times. I thank Mall of Qatar for this initiative that implanted joy and hope and gave me new motivation to continue".
He added, "I was thinking of changing my old car, but with this new luxury one, I am not concerned anymore. It just came at the perfect time".
The story of the third winner is not less motivating. Sharukh Khan was pleased with the luxurious BMW 520i. He stated, "It is a dream that became true. No words can describe my happiness. Thank you, Mall of Qatar, for making this dream come true and for giving my family a better life."
Putting only two coupons in the dedicated box, Sharukh Khan didn't have much hope to win. He added, "It was the call from Mall of Qatar that turned my life. This is incredible, and having such a luxurious car was not something I expected at all. I urge everyone to try their luck, keeping in mind that shopping in the Mall of Qatar is comfortable and amazing. This festival is also a great added value to our spendings, something that is not available in any other mall".
Emile Sarkis, General Manager of Mall of Qatar, congratulated the winners he stated, "On behalf of Mall of Qatar, I extend my deep congratulations to the winners and wish them a safe driving experience with their new cars. This is part of our social responsibility, and our priority is to please and satisfy our loyal customers. We appreciate their confidence and loyalty towards the Mall of Qatar. The chance is still there for everyone to win one of the 17 remaining luxury cars until January 14, 2021".
He added, "On this occasion, I would like to thank relevant authorities, especially the Ministry of Commerce and Industry, for their collaboration and support. We appreciate their effort to supervise the weekly raffle draws."
The current 'Pick and Choose" festival is the biggest shop and win festival in Qatar, allowing customers to win twenty fascinating cars during the festival months. It offers customers more flexible options to choose their favourite car and the date of the weekly draw till the end of the campaign on January 14, 2021. Three cars have been won so far, with 17 cars are still available in the weekly draws or the grand prize draws.
Mall of Qatar visitors will need to buy a gift card of a minimum value of QAR300 and shop later or spend QAR 300 or more in any of the Mall outlets to be eligible for the weekly raffle draw. Also, customers who buy Gifts Card's worth QAR 500 or spend QAR500 or more will be entitled to participate in the grand prize raffle draw to win one of the two luxury cars in December. Customers can redeem their receipts with coupons from the Mall customer service desks and will have the opportunity to select the car and the week of the raffle drawing they wish to participate in to win through the "Pick and Choose." Designated raffle draw boxes have been installed at all the customer service. Customers can track the number of raffle participants in each box to have better information for making their decision.
Pick & Choose festival includes twenty BMW's and Mini Cooper's. The weekly raffle draw will occur every Thursday at the Oasis stage. The two grand prize draws for the two luxury BMWs will take place on December 10 on the Mall's anniversary, and on December 18 on the occasion of Qatar National Day.
For more information, terms and conditions of the Pick & Choose festival campaign, please visit: www.mallofqatar.com.qa or follow Mall of Qatar social media channels.