The 296 GTB, the latest evolution of Maranello's mid-rear-engined two-seater Berlinetta, premiered last week in Qatar, just a few short days after its global reveal in Maranello. The event was held at the luxurious showroom of Alfardan Sports Motors, the official Ferrari importer in Qatar, from Monday the 5th of July until Wednesday the 7th of July 2021, attended by Ferrari enthusiasts and clients. To honor the occasion, Alfardan Sports Motors brought Qatar and Ferrari together under one roof with a display of iconic Doha photography. The images perfectly complimented the model and celebrated both the beauty of Doha and Ferrari's natural home amongst the discerning residents of Qatar.
The event was hosted by Alfardan's top management, headed by Mr. Omar Alfardan, President and CEO of Alfardan Group.  Guests were invited to discover the all new V6 Hybrid model during a series of private preview sessions, that maintained stringent health and safety procedures.  The showroom also featured the distinctive 488 Challenge Evo model branded with the Qatari flag to emphasise the spirit of the event.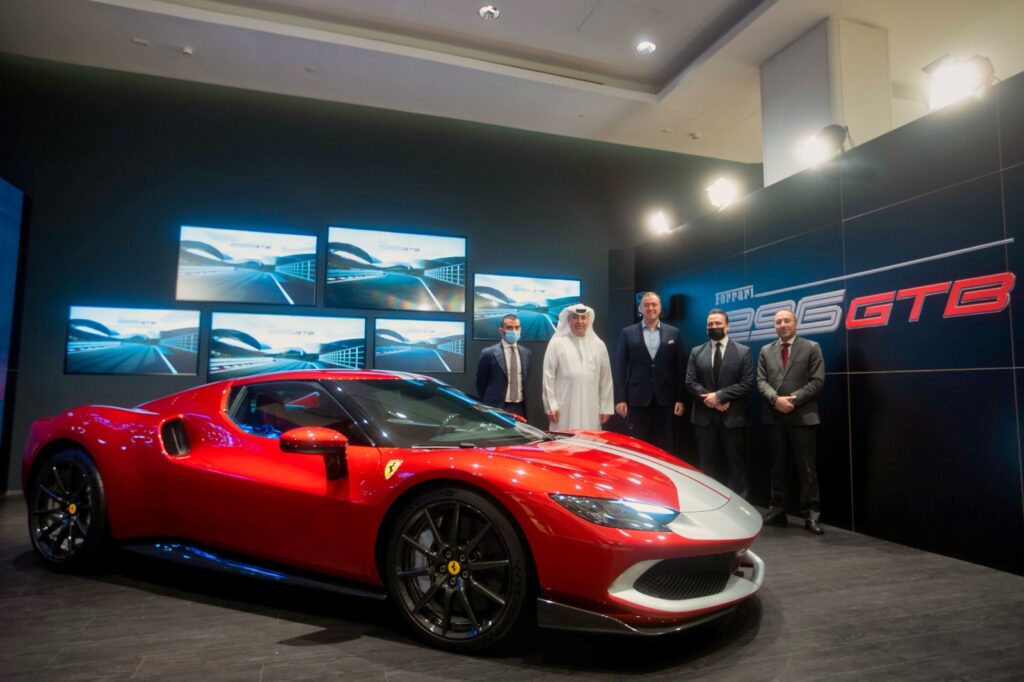 Mr. Omar Alfardan commented, "Alfardan Sports Motors has been the exclusive importer of Ferrari in Qatar since 1999 and is proud of the successful nature of its ongoing relationship with the Ferrari family. The latest reveal of the Ferrari 296 GTB, enhanced with the breathtaking photography of our home city, Doha, encapsulates the depth of the bond that unites us."
Mr. Steeve Bou Abdou, General Manager of Ferrari Qatar, commented: "It feels great to see Qatar as one of the first countries to launch the all-new Ferrari 296 GTB. This event shows that we are fulfilling our promise to offer the best Ferrari experiences to our customers in the state of Qatar. Alfardan Sports Motors family is delighted to host this activity and to extend the exhilarating Ferrari experience to its clients and to re-ignite the energy in our outstanding state-of-the-art renovated showroom".
The 296 GTB ushers in an authentic revolution for Ferrari as it introduces a new engine type to flank the marque's multi-award-winning 8- and 12-cylinder power units. This is the first 6-cylinder engine installed on a road car sporting the Prancing Horse badge: it unleashes its massive 830 cv total power output to deliver previously unthinkable performance levels and an innovative, exhilarating and unique soundtrack. The Ferrari 296 GTB is available only through Alfardan Sports Motors, the official Ferrari importer in Qatar.