admin
Feb 10, 2022
3785

4 minutes read
Banana Island Resort Doha celebrated the National Sport Day with a series of events and activities aimed at encouraging guests and visitors of the resort to engage in sports activities, restore their vitality and energy, revitalize and refresh their bodies, and add an atmosphere of pleasure and entertainment during their visit to the resort.
On the National Sport Day, guests and visitors enjoyed many sporting and recreational activities hosted by the resort, such as the Family Olympics event which took place at the beach area, including a family fun race of 1.6 km. The race started from the Water Sports center to the swimming pool of the Q Lounge restaurant and back to the starting point. In addition, a Family Relay Bike Ride was also held to engage all family members. The Family Olympics concluded with a bowling competition, where the family with the highest points in the competition won.
Intensive exercise enthusiasts also enjoyed participating in the Circuit Training including relay exercises using advanced equipment provided by the resort at the beach area, where attendees trained on these machines at an accelerated pace and moved between them every 30 seconds without a break. For the Circuit challenge, which included groups of 10 people, participants sweated out in intensive exercise on training machines for thirty seconds and rest for the same period while moving between different machines.
In the fitness studio, yoga classes were held by a certified trainer to teach participants how to increase the flexibility and strength of the body and how important it is for daily life, with the aim of eliminating bad sitting habits and muscle tension, relieving pressure on joints, and providing relief for the neck and back muscles.
Moreover, specialized trainers at the tennis court gave tips on 12 basic exercises and drills for adults and children, which included warm-up, concepts of the game in addition to running the lines, simple forehands and backhands, and several other techniques to enhance their game.
The organizers of the National Sport Day activities at Banana Island Resort Doha made special arrangements for children as well at the beach area to have fun with their families. Activities such as football, beach ball, badminton, table tennis, baby foot, bouncy castle and many more games added an atmosphere of joy and fun.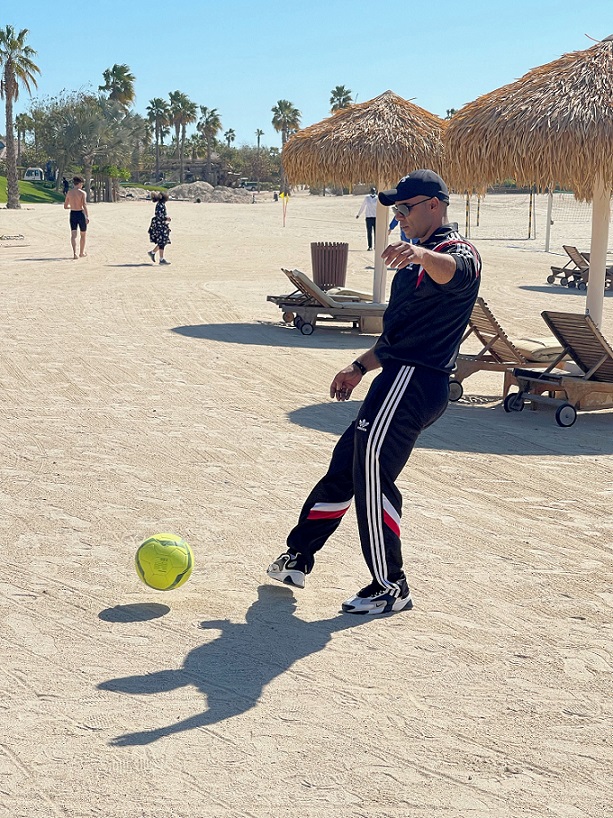 To add a distinct value to the experience of the National Sport Day activities, the resort's international restaurant Azraq provided a scrumptious selection of dishes carefully selected by the resort's chefs for the National Sport Day buffet. The buffet included a variety of cold and hot appetizers, different types of soup, vast options of main dishes, live cooking stations, in addition to mouth-watering desserts.