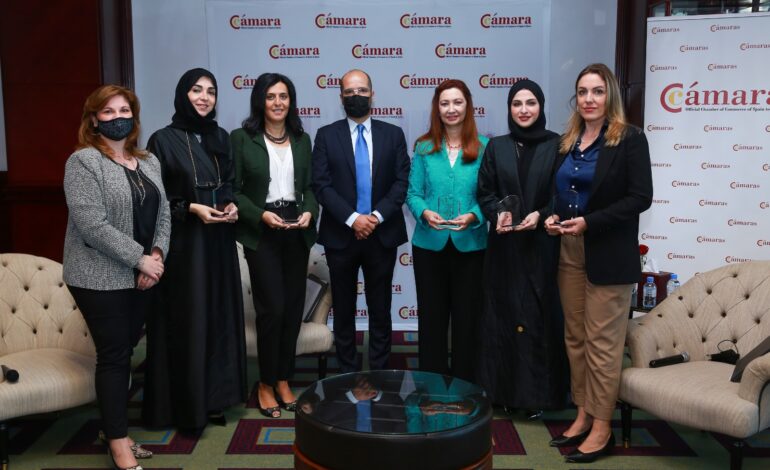 The Chamber of Commerce of Spain in Qatar (Camara) organized an online forum entitled "Women in Business: Challenges and ideas for future trade between Qatar and Spain."
The online forum counted with prestigious panelists like HE Belen Alfaro, Ambassador of Spain in Qatar,
Sheikha Alanoud Bint Hamad Al-Thani, Managing Director of Business Development for Qatar Financial Centre, Mrs. Ibtihaj Al Ahmandani, President of Qatari Businesswomen Forum, and Eng. Irene Vidal, Chief Executive Officer of FMM Company, coordinated by Samar Abou Farah General Manager of Dooha Media as moderator.
Her Excellency Belen Alfaro explained how the platform called 'Women and Internationalization' and the ICEX, promote greater participation in international activity and women can have access to training, counseling, and various resources in order to support their international projects. "This platform enables to share experiences, best practices and networking in a community of women that would like to go further and to increase their presence in the market and create alliances in the international economic arena."
Meanwhile, Sheikha Alanoud Bint Hamad Al-Thani takes a stand in promoting gender equality which is embedded in Qatar National Vision 2030. She said, "Gender equality is embedded in our Qatar national vision 2030 to allow both men and women in Qatar achieve their full potential whether in business, economics or education. And I think that education is the basis for all of these, and it is reflected by the numbers as over 60% of graduates are women not only in Qatar foundation but also in public institutions."
Mrs. Ibtihaj Ahmandani highlighted that 36% of Qatari women that are economically active and Qatari businesswomen that manage their own businesses reached 21%. She further explained, "The percentage of Qatari females that hold leadership positions has reached 21%, while those who hold specialized jobs are 54% of the total number of Qataris. Qatari women that are working in technical and professional positions represent 31% of Qatari nationals."
Ms. Irene Vidal, on the other hand, provided some insights on how to promote women participation in a male-dominated industry. She pointed out that women need to generate more opportunities by choosing strong technical backgrounds and being well-prepared. She advised on different strategies to increase the presence of women in executive positions by acting from Governments and requesting a minimum quorum in the Board of listed companies in the securities market.
The Women in Business Forum was made possible with the joint collaboration of Doha Women Forum, La Difference, The Ritz-Carlton, Future 318, and Facilities Management and Maintenance Company, LLC (FMM).