admin
Mar 13, 2021
1126

8 minutes read
By Juliana Heide
Are you in constant guilt of overloading your jewelry boxes and not justly using them? Even though you want to, but you are not sure where to start from? Perhaps, you aren't confident enough about which pieces to pair up without going over the board.
Trust me! We have all been there.
It's time to take your jewelry stash out and revamp your style to get a balanced and purposeful look! I have the most simple and useful styling tips to mix and match your jewelry.
Let's dive in!
5 Styling Tips to Bring Up Your Jewelry Game
Define a Center of Attention
While accessorizing your looks, start with a focal piece of jewelry that you want to highlight – and go from there. It will work as an eye-catcher and will draw attention to the point you want the eyes to rest on. This focal piece can be anything. A statement jewelry piece such as a chunky necklace, a stoned bracelet, a large ring, or a bold dial watch. Whatever you choose as your focal accessory, the other pieces should complement it and be smaller in size. Keep them subtle and less flashy than your main piece. This will create a balance and prevent a distracting appearance.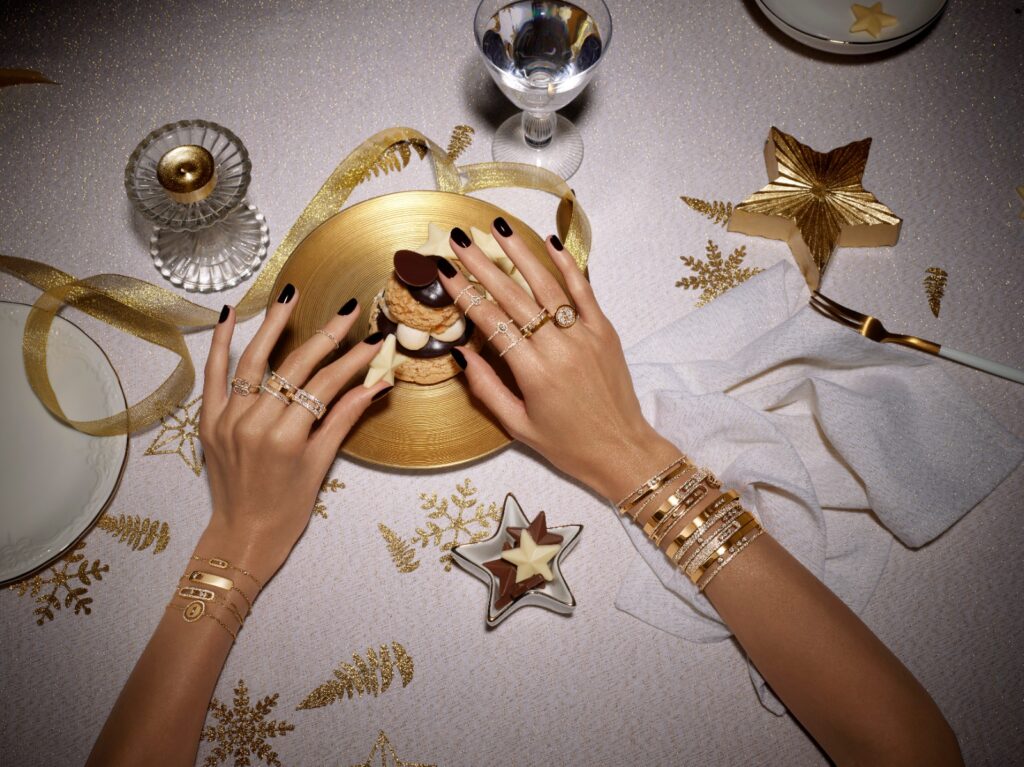 Balance is everything
The key is to maintain a balance. Adding too much jewelry is never ideal for creating that poised look. Try incorporating one heavier piece with smaller complementing ones. And, if you've got a full stash of standouts, then try to mix and match according to size, dimensions, and designs. For instance, if you want to draw attention to your face with a layered necklace, then adding an arm full of bangles or long bold earrings can be too overwhelming. Likewise, if you choose to wear a layered or bold choker necklace, go with smaller stud earrings and a single bracelet. Or if you'd be rocking your style with a choker ring, dial it back with delicate hand jewelry like minimalist bracelets. Another option is balancing an oversized pair of hoop earrings with a delicate necklace or – even better – skip everything else. Keeping it low makes a huge difference!
Keep it within one theme
There must be an aesthetical consistency in your look to keep it easy, light and put together. It's important that your pieces connect and work with each other and have a sense of relativity between them. Sticking to one style family is visually appealing. So, take out your jewelry stash and identify a theme between them. It can be either a color, a metal, a shape, a style, or a texture that forms this connectivity. For example, you can create jewelry sets from pieces with similar angles or gemstones, or try combining minimalist jewelry or vintage pieces, but avoiding mixing styles.
Blend the Metals
Silver, bronze, diamond, rose gold, or white gold can be mixed and matched easily if they fall in similar themes and keep a balance. First, you can try playing with texture or shape in your assortment to keep it from being too boring or plain. Mix different kinds of weights and shapes: chain bracelets, leather bands, studded rings, crystal bangles – you name it! Just keep in mind that if you opt for a choker ring, for example, or a mix of a rose gold bracelet with gold rings, the rest of the jewelry should be relatively simple and delicate to avoid a messy look.
If you are a bracelet lover, try wearing two bracelets of each metal. This would look far better than opting for four pairs of gold or silver bracelets. An even mix of a gold necklace with silver studs can create a standout look without going over the board.
Lastly, look out for the tones that each jewelry piece resonates with. Delicate pendants with thin necklaces bring femininity and elegant vibes while a bold necklace and choker bracelets give young and playful feels. You must determine what tone goes with your style and then pair up the pieces accordingly.
Opt for timeless jewelry
If you are looking to revamp your jewelry stash, it's better to opt for pieces that are timeless and outclassed, not trendy. Besides the fact that quality pieces are better for sensitive skin and last longer, trendy items would fade away with time and become outdated soon. And when investing in jewelry, it's safer to invest in something that will go in the long run and that has proven already its worth. A good idea, for example, is to choose pieces that can easily transition from your everyday wear to an evening event or a meeting with a client, like hoops, studs, and pearls.
Mixing and matching jewelry could be intimidating, but once you start playing around with it, it can be fun! Just make sure it complements your sense of style, personality, and wardrobe!
With those tips in mind and your jewelry pieces gathered, the combinations can be endless. And choosing anything that truly feels like you, it gets much easier to look and feel amazing!