Amidst 2021, face masks and gloves have become a new norm. They aren't just limited to healthcare professionals anymore. It's Pandemic and we all are doing our part to stay safe and care for others while keeping our sanity.
Speaking of sanity, the lifestyle shift has also changed the way we used to style ourselves. Although, travel resumes and businesses are now slowly reopening after vaccination availability. Still, we need to continue to keep our safety on top.
LLQ Lifestyle reached out to the styling experts to answer the questions regarding staying safe and stylish during the pandemic. We want that looking good and dressing up isn't just kept for occasions but become an important part of your regular style during social distancing.
From masks made out of unique fabrics to upgrading home casuals to casual chic for the sake of WFH –we have found multiple ways to adjust to the new normal and have improved style trends to make the pandemic fashion a unified, comfortable, and productive experience. LLQ Lifestyle has gathered trending styling ideas to help you upscale your style game and keeping you safe at the same time.
Stay Stylish and Safe with your Casual Chic Looks during Pandemic
Become Trendy with Sustainable Fashion
During the pandemic, we've seen many home-grown fashion brands that changed the trends to more sustainable and comfortable notes. You can experiment with more comfortable clothing that includes athleisure, loungewear, and casual chic. Using relaxed fabrics in your tops, bottoms, abayas, and scarves is a trend lately. You can style them to look smart for work, hangouts, dinners, zoom meetings, and basically everything.
While huge celebrations and parties were still muted this year, people tend to ditched all the fancy clothes during festivities and dressed up in more 'comfortable ethnic outfits' to celebrate and enjoy.
There are unlimited ways to style comfortably and look presentable, just think outside the box.
Experiment with Beautiful Scarves
Scarves are an asset that Qatari women preserved over the years. You can experiment with scarves to make your fashion game strong as ever. You can style your scarves in multiple ways by checking tutorials on social media. With innovative scarf styling ideas, you can be experimental, fusion, and festive at the same time.
Keep it Basic
It's pandemic and you shouldn't be investing in dresses that are short-termed fashion trends. While 30% of middle-eastern women's wardrobes are derived from what they see in magazines and in social media –it's about time to switch to slightly classic.
Chic fashion is much more reasonable. Flared pants, jeans, and classic middle-eastern dresses are much more trending that not only look stylish but keep you safe from expending more on clothes.
Fashion experts advise people not to go for fast fashion. You can style few good pieces in your wardrobe and the right styling is all you need to look fab.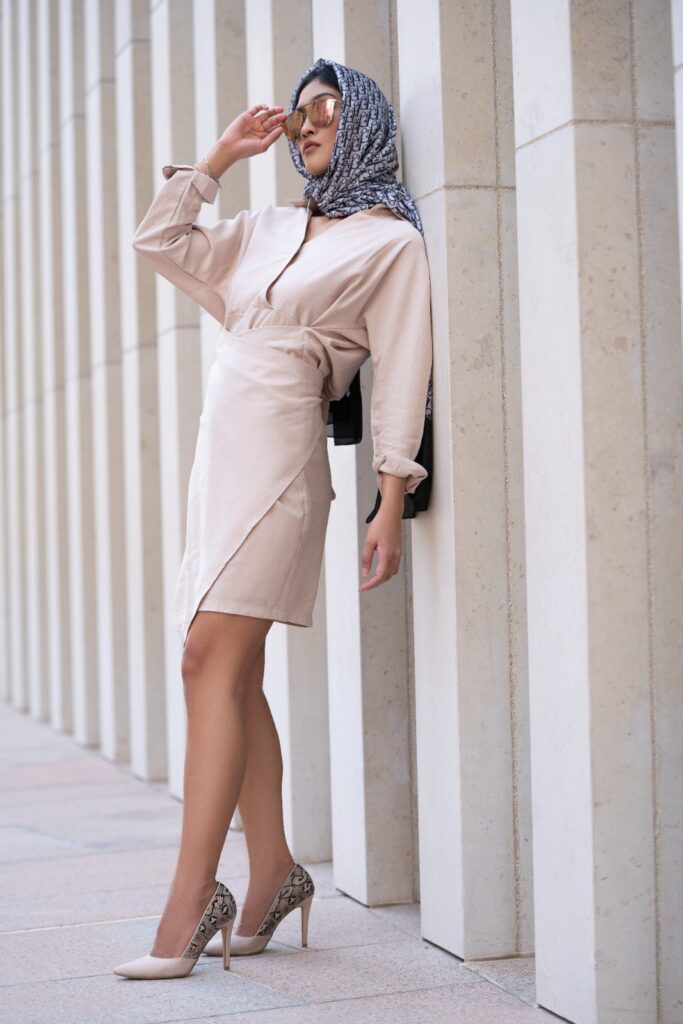 Fabric Masks for the Chic Look
Masks are the essential code for going out in the pandemic. Since we'd be likely to wear masks for the near future, why not opt to coordinate them with your outfits.
You can invest in some basic colored reusable masks that come in quality fabrics. You can upgrade your pandemic style by mixed and matching colorful masks with your outfits. You can also opt to add custom initials to elevate your looks.
There are some denim and neon-hued masks that are too making a stir. Qatari influencers are in love with animal themes and fauna prints on their masks. Quilted prints, patchwork, and multicolored stripes are a big hit these days.
You can team up your fav sporting brand masks with activewear while going out to the gym. It's all about looking chic and staying safe at the same time!
Mask Chains are a Must-have
Since masks are a mandatory item to wear while leaving your house these days –we still didn't get used to carrying them everywhere. To avoid the risk and keeping safe –here's a stylish solution. Mask chains! This chic accessory makes it effortless to carry your mask around and instantly upgrades your social-distant look.
The best thing is, you can double your mask chain as a sunglass holder, making them a multipurpose accessory. There are plenty of styles available online to find the ones that suit your style.
Wristlets and Waist Pouches are Trendy
Going outside means gearing up for everything that keeps you safe from the Corona virus. And that's why designer wristlets and waist pouches are best to stay trendy and safe during these times. You can keep spare masks, sanitizers, other belongings, and mobile safely inside your waist pouch without touching them numerous times.
There are so many options available from designer waist pouches and wristlets, athleisure styles, embroidered numbers, and leather ones to opt for. Pick your style and keep your hands free from holding things while going out.
PHOTOGRAPHY: FARHAT NAWEED  MODEL: NICA JENNER