One day Qatar can be another capital in fashion
Italian Designer Marco Castelli Speaks About His Experience Creating Iconic Bicolor Coats for the Qatari Clients.
By Natalia – Perfect Look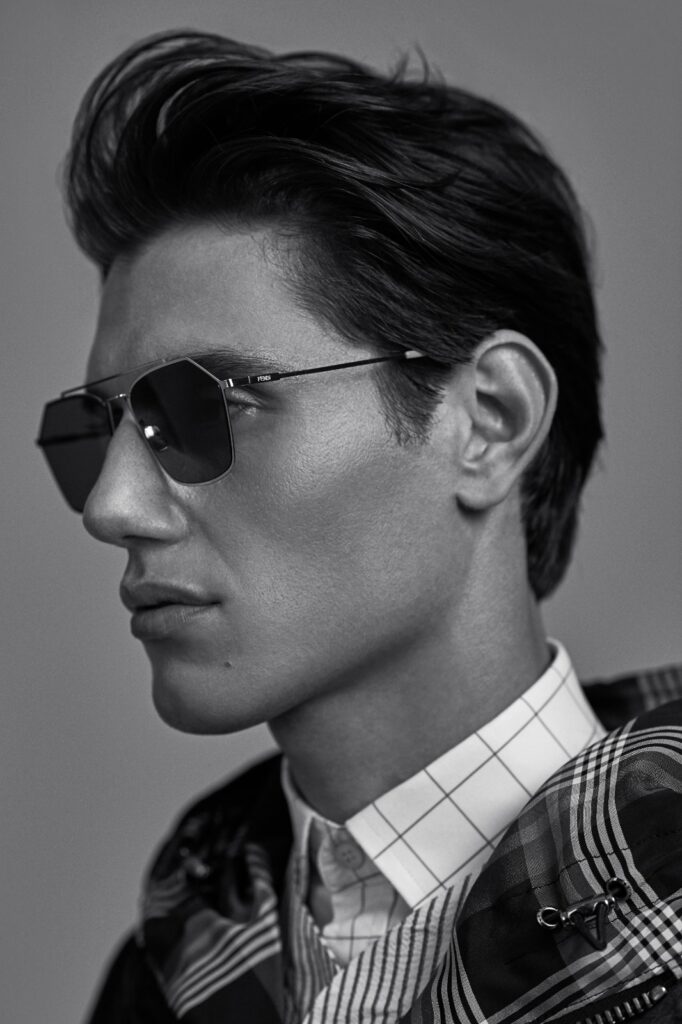 It was winter in 2016, Marco was wearing his camel-black coat for the first time. He was ready for the photoshoot for the new collection.
A group of men passing by the streets of Milano when suddenly they stopped and start asking about the coat. The designer shared its details – it's a normal scene for him during a shoot and it happening very often. As it turned out, those people became his first customers from Doha.
That's how Marco Castelli opened his new destination and got absolutely in love with the pearl of the Middle East – Qatar.
What makes you think that Qatar will be another capital of fashion?
Fashion in Qatar is a big potential. Many talented designers are "hungry of knowledge" in international fashion. They are very creative, thinking out of the box and open for new challenges and ideas.
I was challenged as well in helping and assisting them in their journey while sharing my experiences and knowledge in arranging events and pop ups in the last year VCU conference.
I was grateful to be one of the Jury in VCU 20th Annual Fashion Show held in Mall of Qatar.
Sharing my opinion of the outfits which to be shown during the event, was a great pleasure and contentment and it was an amazing performance.
When was your journey started in the fashion field?  When you think that you want to be a designer?
During my younger years, I was dreaming to be a Superhero in my own capacity. Creating things with my own hands, like for instance, new motorbike out of spare parts and new sculpture out from iron. I was surrounded by arts during my childhood. I remembered my grandpa had a metal sculpture workshop and my family were all involved in creating different things from iron.  That inspiration gave me the courage what I will be come in the future.
You are well-travelled and a model of the best brands in the world. How those experiences motivates you to become a designer?
When you work as model, you are surrounded by talented people and beautiful clothes. You travel, networking, always in this creative flow. I've been modeling for 10 years, traveled the globe and showcase different brands. My first trip out of Italy was New York, USA,  worked in France, China, Japan, UK, Sweden, Russia. Each countries was a source of inspiration. I started to sketch my own pieces and was wearing it during my trips as model. Every time I showed my designs, the feedbacks was fantastic, so I made a step forward and opened a brand "Marco Castelli".
As you celebrated your 5th year anniversary, do you still remember your first client?
It was a funny story of my first ever jacket that we sold. I was modeling in Asia and received a call from the Manager of my company. He was very excited to tell me that my design was bought by Adam Lambert. I said – Oh, Great, Who is he? I was informed then that Adam is a famous American singer and song writer.
What is your inspiration? Some says inspired person is unpredictable, unstoppable and very creative. Competition is very stiff in the fashion world, how do you cope up with this challenges? In terms of new ideas and sales wise.
My recipe of perfect inspiration: 1 hour walking in any place with beautiful nature or interesting arts exhibition plus some workout and good warm chat with my family members. These are the sources of my creative vibes and moments in my daily routine.
I believe inspiration can be enforced if you need new ideas at any given time. Just find my comfy spot, concentrate and start inscription. Write in a piece of paper and everything is possible. That's how I survived the 40 days quarantine in Milano. When I literary locked in the house, the best thing I did – look deeper inside myself and think of new ideas and be productive. As of to date, one of the ideas I created was already a product – mask with a symbol of Acacia and successfully sold in many countries all over the world.
Nowadays, its very trendy to use natural fabrics, recycling materials, what about "Marco Castelli" – is it sustainable brand?
I would say that the ideas of my brand is already sustainable – you cannot find in any of my showrooms 2 similar pieces – with each uniqueness and single pieces, its incomparable.
The materials I used are only organic fabrics like cashmere, silk and jersey. Sometimes, I manually drawn on my shirts and I used parts of other existing items as a details for the new pieces, giving it a new look and new life. Most importantly the production of all collections must be done in Italy.
During your stay in Qatar, what is your experiences? As you mentioned, cultural heritage is one of your interest and you are a nature loving individual. Have you been to the desert and explore its beauty?
It was a very funny story happened to me in the desert. My friend Adam and I had a photoshoot on the top of sand dunes. Adam asked me to go a bit wild and slide on the dune barefooted. As I removed my shoes, we saw a snake coming out from the sand. It was just few seconds and it disappeared in the dunes. It was bit scary and surprising and I'll never forget that moment. From that day till now, I decided not take off my shoes in the desert again.
What are the advices and words of inspiration you can share to the new aspiring designers of the generation?
There will be enough market for everyone, follow your dreams, have a good plan and move forward with clear ideas. Where you want to be and what you want to achieve, don't be afraid of mistakes – learn from it, as learning is a continuous process in life. Divert it into experience and through then you will see that everything is possible as long as you believe in yourself.