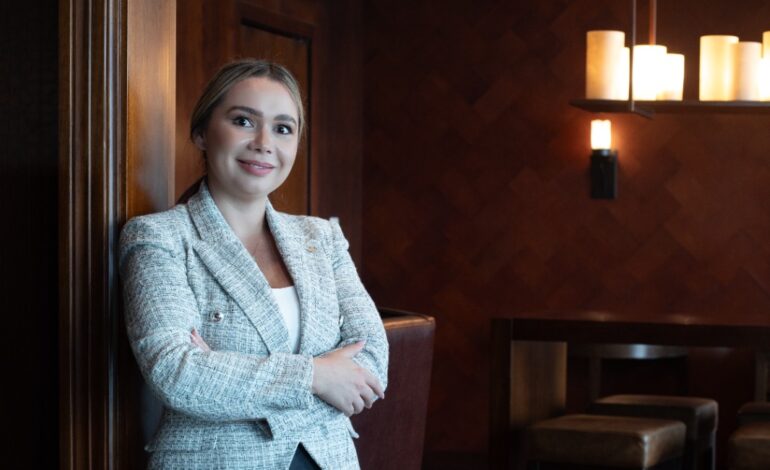 admin
Oct 30, 2023
1394

4 minutes read
JW Marriott Marquis City Center Doha Proudly Welcomes Bianca Budai as Director of Food and Beverage
We are thrilled to introduce Bianca Budai as our newly appointed Director of Food and Beverage, an extraordinary addition to our team. In this influential role, Bianca will lead the management of our upscale establishment's exquisite restaurants and lounges. With her extensive background and expertise in the hospitality industry, we are supremely confident that Bianca will introduce fresh, innovative culinary concepts, enrich our brand's identity, and elevate the guest experience within all our dining venues.
Originating from Romania, Bianca brings an impressive 11-year career in the Qatari hospitality sector to our esteemed establishment. Her vast experience profoundly enriches our Food and Beverage team's capabilities, reinforcing our unwavering commitment to delivering exceptional culinary experiences.
Bianca's illustrious journey encompasses esteemed positions with renowned international hotel chains, including Grand Hyatt, Intercontinental, and, most recently, Waldorf Astoria Lusail, where she played a pivotal role in their pre-opening team. Her diverse career has finely honed her exceptional abilities in crafting inventive dining concepts and orchestrating successful events.
Remarkably, Bianca has earned prestigious accolades, having been honored with the Fact Dining Awards in both 2015 and 2022. These awards serve as a resounding testament to her unwavering dedication and excellence in the industry. She enjoys a sterling reputation in the market, supported by an extensive client database and a loyal customer following.
At JW Marriott Marquis City Center Doha, Bianca will spearhead efforts to enhance the dining experiences for our cherished guests. Her arrival marks the beginning of an exhilarating new chapter in the hotel's culinary journey, promising fresh and captivating gastronomic adventures for our loyal patrons.
Orhun Denizoglu, General Manager of JW Marriott Marquis City Center Doha, expressed his profound excitement, stating, "I have complete confidence in Bianca's ability to introduce novel and innovative approaches that will elevate our culinary offerings, firmly establishing her as a valuable addition to our esteemed team."
JW Marriott Marquis City Center Doha was the first JW branded hotel in Qatar launched in 2019. This luxury Hotel is five minutes from the Doha Exhibition and Convention Center and connected to the City Center Mall. Six dining venues offer a variety of dining, from Cantonese cuisine to Latin American flavors. Luxuriously furnished rooms and suites provide stunning views of the Arabian Gulf and Doha City's skyline. Quan Spa and wellness facilities offer the ultimate in relaxation and well-being. For those planning an event in downtown Doha, the hotel offers an 840 square meter ballroom with 500 square meters of pre-function area with a separate entrance.