WRITTEN INTERVIEW WITH JOHANNA ORTIZ
ABOUT Coffee
What is Johanna Ortiz' favourite Nespresso coffee?
Answer: My favourite coffee is Master Origin Colombia, as it evokes the flavors of home, with its fruity and sweet notes and red berry aromas.
How does Johanna Ortiz enjoy drinking her coffee?
Answer: Coffee is a part of my morning ritual; I take a moment for me over a cup of coffee before meditating and working out, and always before my three boys wake up and the busy morning really begins.
What is special about Colombian coffee to Johanna?
Answer: Colombian coffee is so special because it enables me to support the coffee farmers of my native country. I also love the flavor of it!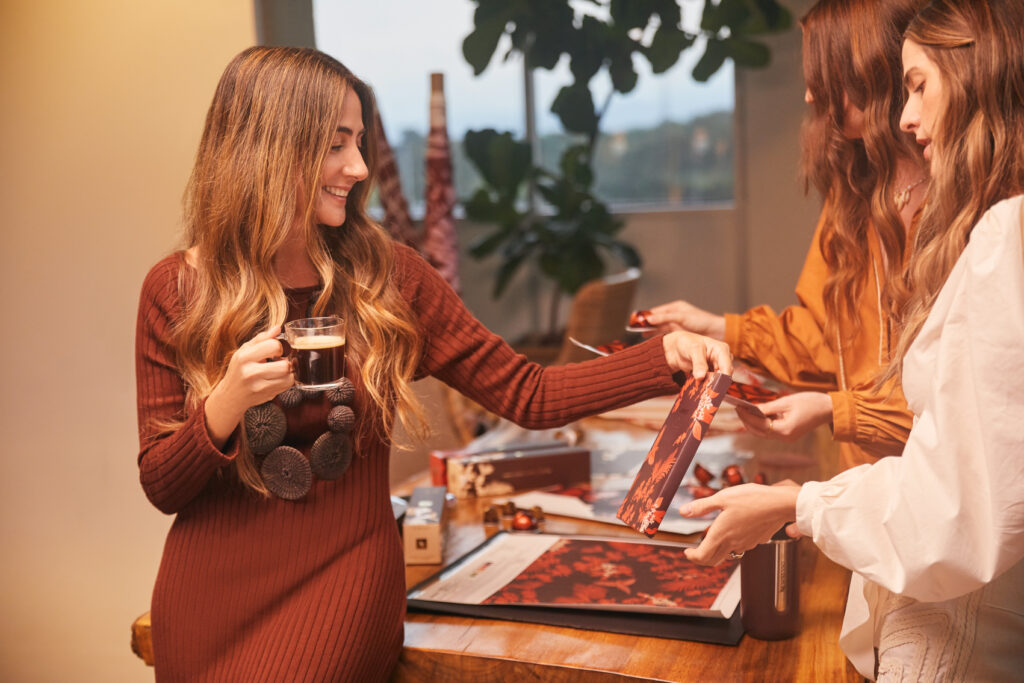 Which is Johanna's favorite coffee from the festive range?
Answer: My favorite coffee from the Festive range is Forest Black, a spicy espresso that celebrates shade-grown Arabica coffees from Colombia and beyond.


ABOUT THE Collaboration
What is Johanna Ortiz favorite thing about the festive season?
Answer: The festive season for me is all about being with loved ones and that feeling of gratitude for a year well spent.

What trends does Johanna think will be big this festive season?
Answer: After this last year, we've really learnt to appreciate quality time at home and with family, I think we all need to remind loved ones how important they are to us and the festive season is the perfect time to do that. Gifts that give back are the perfect way to do that.
What are Johanna's typical festive traditions?
Answer: We usually spend the holidays in Cartagena with my mother, my sister, my husband and the kids. We have beautiful memories in that house over the years.
Why did Johanna decide to partner with Nespresso?
Answer: I have always been a huge fan and customer of Nespresso, and as we both hold the same values in sustainability and giving back to the community, it's been a really natural collaboration and I can't wait for you all to see what we have in store.
What was Johanna's inspiration for the collection?
Answer: My design process always starts with a color palette for inspiration, once we had some lush, magical earthy and Festive color hues, we added nature and the beauty and richness of the forest canopy to create a truly magical design.
How does this collection merge her passion for design with her love of coffee?
Answer: The collection represents the beauty and the importance of staying close to your roots, appreciating the beauty that surrounds us while honoring coffee makers in Colombia – it's a true expression of my love for design, coffee and my home.
What is Johanna's favorite piece from the collaboration?
Answer: I love the advent calendar because it becomes a part of your daily life. It also represents the festive season so well – a time of unity, family and giving back.
ABOUT Sustainability
What does sustainability mean to Johanna?
Answer: Sustainability has so many meanings to me. Through many efforts, large and small, we need to protect these natural beauties and support our global and local communities for generations to come.
What small changes has Johanna made to her life to become more sustainable?
Answer: Sustainability is embedded in all our actions and processes, it is part of our business model around making the right decisions and choices.
We are making a big effort to increase the percentage of upcycled and certified materials in our collections, but I think our main differentiator relies on the social dimension of sustainability by producing locally, creating jobs, investing in women's development and rising with our artisans.
Finally, we believe in the value of making our products at home in Colombia, caring for every detail, while generating social inclusion and recognizing the importance of growing hand in hand with our people.
Social Answer: Sustainability is embedded in all our actions and processes, from increasing the percentage of upcycled and certified materials we use, to producing our items locally and supporting the local community.
How does Johanna educate her children on the importance of sustainability?
Answer: I want them to have a strong ideal when it comes to caring for the planet, we talk everyday about small acts that start at home in our day-to-day lives that will create a difference in the long term.
How does Johanna bring sustainability into her fashion designs?
Answer: We strive to put suitability first and foremost in everything we do at Johanna Ortiz. We collaborate seasonally with local artisans to support their trades and craftsmanship, as well as the community.
How does Johanna incorporate sustainability into her business?
Answer: Through our Escuela, we offer local women from my hometown Cali, embroidery and seamstress courses free of charge. We offer the skills necessary to dignify and professionalize their careers while receiving emotional, mental and psycho-social support since they come from vulnerable areas, positively impacting our community.
What are Johanna's tips on the steps consumers can take to become more sustainable?
Answer: Educate yourself when purchasing, do a little research regarding where it came from, what it is made of and who made it. If it is something that resonates with what you stand for, go for it. There's a lot we can do as conscious consumers.