By Farhat Naweed
Don Grant is a self-taught artist and philanthropist based in Manchester, UK. He creates bright and colorful visual images on canvas. He loves art and makes people happy with his artwork.
How did you choose a career as an artist?
I have been involved in art and graphics for over 40 years after studying at an art college for 2 years. When I got my first job, I became a graphic designer and worked in an excellent, busy advertising agency in Manchester. I now work for myself and, at present, my one-man artwork business has been running for nearly 5 years. I have a stall and I work and sell my artwork at Altrincham Craft Market every week. I also sell online at www.dongrantwallart.co.uk.
What motivates you?
Art has always been my first love and has been a great passion in my life. Ever since I can remember, I have been drawing and painting things since I was a child. I love to produce portraits or northern images of where I live. My style is individual with a strong pop art influence on some of my works. I produce a lot of commissioned works and I can do that for you, so please feel free to contact me if you would like some of my original bespoke artwork to hang on your walls. "
What inspires you?
I have been drawing and painting ever since I can remember. I was inspired as a child by watching art and craft programmes (Vision on). I would sit in front of the TV, drawing cartoon characters. My love for art has grown from those very early days and has been just a way of life for me ever since. It still gives me great pleasure to create something different and new.
"I like modern art, e.g., brightly colored pop art images. The images and colors just pour out of the pictures."
Is there an artist you look up to?
"I wouldn't say I have a favorite artist in particular, but I will look at any artist's work."
What do you think are the benefits and drawbacks of being an artist?
I don't see any drawbacks to being an artist. If there was one drawback, I would say there is definitely not enough time in a day/s to create all the ideas and images that come into my head. I never stop thinking about art and painting.
"I am very fortunate to be able to do what I am doing, because my work is also my hobby."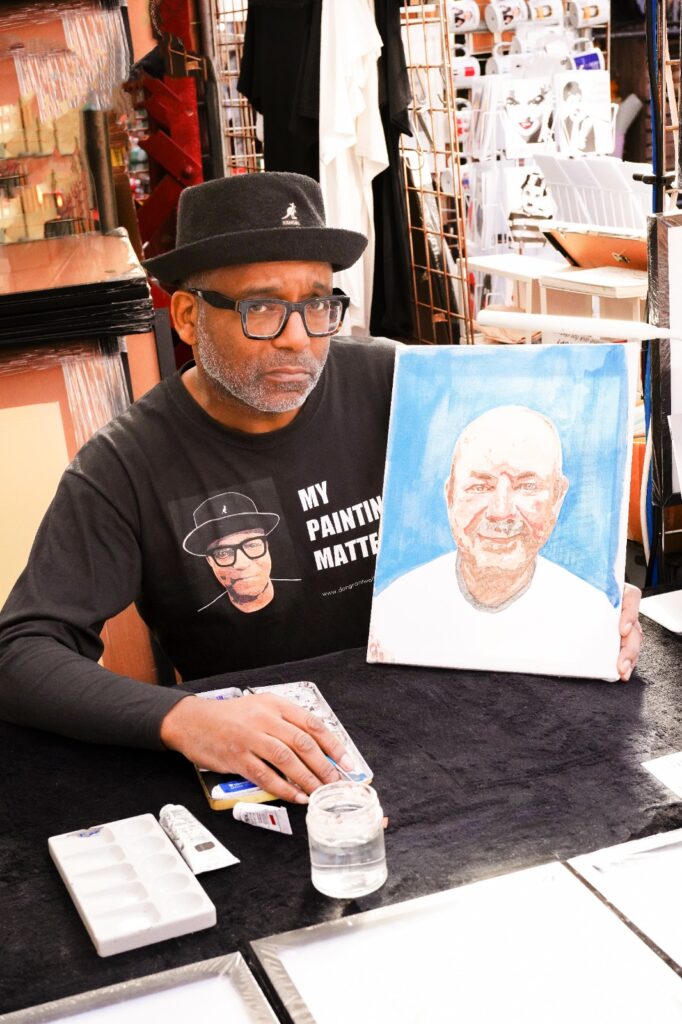 Would you like to say something about your "homeless project" in Manchester?
In my spare time, I am heavily involved with the Homeless Project Manchester. This is a group of likeminded volunteers whose objective is to help any homeless people we find living on the "walkabout route" we take in the City Centre. We have been operating under our own steam for nearly ten years. We are not a charity, and we depend and survive on donations from the public and various supermarket chains to help us clothe and feed any of those unfortunate people we meet living on the streets.
My homeless work is sad but very rewarding, and as I always tell everybody, "I'm just giving a bit back."
You can find Don's work online at: www.dongrantwallart.co.uk.
Or alternatively, email him at: dongrant2003@hotmail.com.
Photography: Farhat Naweed