admin
Oct 27, 2021
550

8 minutes read

I am sure there are days when the desire to enjoy a juicy steak meal seems to be all that your tastebuds strive for, and I certainly have had a few of them days myself. So, with my mind tinkering on finding a good steakhouse, it was inevitable that we came across Marriott Marquis City Center Doha's New York Steakhouse – located right in the heart of the city.
To us, New York Steakhouse in Marriott Marquis City Center Doha hotel epitomizes what a steakhouse should be. It feels sophisticated. The atmosphere is formal, yet cozy, the lighting dim and ambient, and with lots of dark wood it certainly adds up to it being the perfect backdrop for a great dining experience. With my urge to find a hearty steak, promising of high-grade quality meat, the New York Steakhouse certainly delivered on that promise.
Just when we were in awe of the rustic ambiance, taking in the design of the restaurant with many of its seating being booths to allow a larger party to talk comfortably, we sat down and eager to survey all the offerings, we hopped straight on to the menu.
After skimming through everything, we landed on ordering the following dishes:
Tomahawk Steak
1.5KG Australian Wagyu Tomahawk, house-smoked butter
Raclette cheese, foie gras, pickled onion, wagyu beef
Herb Crusted Colorado Lamb Rack
Rosemary/thyme and parsley crust, herb jus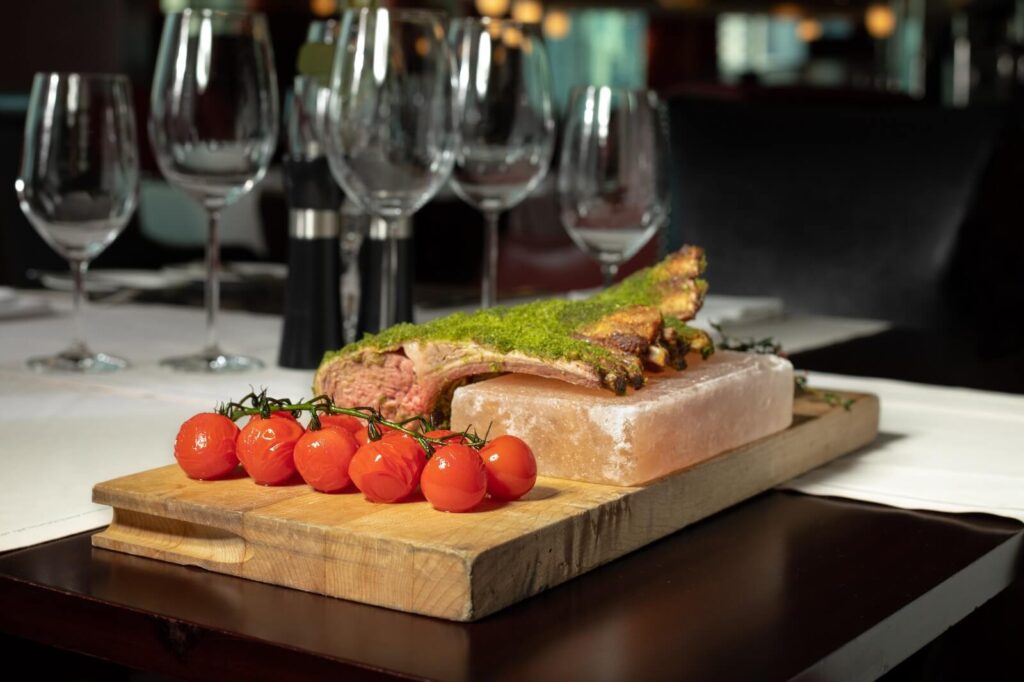 Delving right into the main attraction of the Tomahawk Steak, the first thing to hit us was the scent of the sissling smoked butter that comes off the beautiful prime meat. The steak itself is one of the most visually impressive steaks money can buy, featuring a thick tender chunk of ribeye at one end and the rib bone handle at the other; quite simply the joy of the Tomahawk Steak was all in the presentation. Such an impressive steak and exquisitely tender, this flavorful cut of meat was certainly made for dropping jaws and licking lips!
The New York Steakhouse name itself denotes that it is a big deal for steaks but to my surprise, their burger option was equally as satisfying. The NYSH Burger, made with wagyu beef is just the right mix of fatty, succulent and melt-in-the-mouth marbled meat that rests under flavorsome relish, and when taking the first bite, I got a tasty burst of juices that I always hoped for with a good thick burger.
We paired The NYSH Burger with truffle fries, which overall made for an exceptionally satisfying dish.
Lastly, we had the Herb Crusted Colorado Lamb Rack that was made with an array of rich spices that induced an aroma full of flavor, aiding to the tenderness of this tasty cut of meat. The lamb was impressive indeed and an exceptional choice, perfectly cooked it certainly demanded our attention.
Our experience with New York Steakhouse was beyond amazing. The service genuine and friendly, the restaurant neat and impeccable and our heads still spinning from the crescendo of flavor that reached its peak with the steaks and lamb.
To top it off we got the chance to meet the chef to personally thank him for the fine-dining experience. James Warnica, Chef de Cuisine at New York Steakhouse who leads an experienced culinary team, with over 16 years of experience in various kitchens and a fierce passion for food and hospitality, Chef Warnica is constantly reimagining classics with his unique unparalleled style.
All that is left to say is, after such a long lockdown in Qatar, if you are after a hearty steakhouse dining experience – whether it be for a business lunch or a date night, with the choicest meats, New York Steakhouse, Marriott Marquis City Center Doha is by far an easy recommendation to satisfy your cravings.
Trust me, you will thank us later.
PHOTOGRAPHY: PHOTO PHACTORY BY PRADEEP