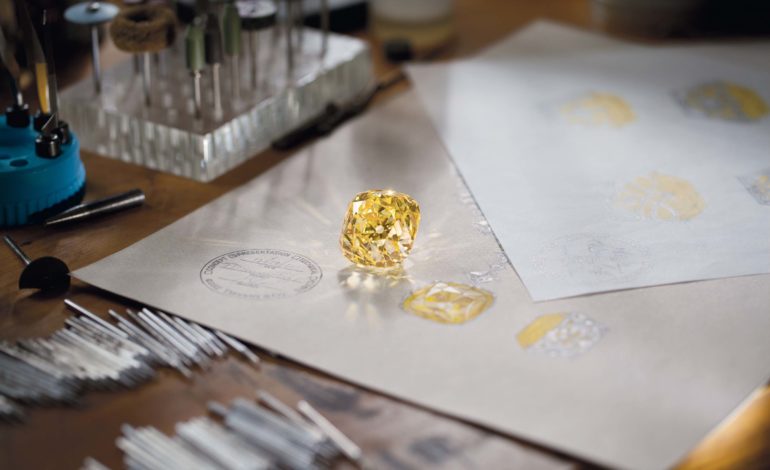 admin
Jun 3, 2020
362

4 minutes read
RAREST OF THE RARE: YELLOW DIAMONDS FROM TIFFANY & CO. Renowned Jeweler Highlights a Brilliant Heritage with Exquisite Fancy Color Diamonds
Tiffany & Co., the world's premier jeweler, introduces the rarest of the rare: fancy yellow diamonds of radiant color and charisma. The collection captures every facet of Tiffany's heritage, from its founding in New York in 1837 to its reputation for quality and dazzling jewels, including the famous 128.54-carat Tiffany Diamond that inspired the cuts and shapes of these extraordinary yellow diamonds.
The stones are distinguished by a color that is as pure as sunlight, with a level of saturation and intensity that places them among the world's finest and most sought-after diamonds. Tiffany stonecutters have tailored the Tiffany Diamond's cushion cut to maximize the stones' natural color, and Tiffany designers have set the diamonds in modern, must-have jewelry for connoisseurs and fashion loyalists alike.
Tiffany Bezet, a contoured ring design based on the traditional bezel setting sparkles with hand-set yellow diamonds of pear, heart, oval and cushion shapes in 18 karat gold. The rings may be worn alone or stacked for looks that grow richer and more luxurious with every ring.
Jewels in the Tiffany archives are the basis for gem-encrusted pendants, rings and ravishing bracelets with yellow diamonds framed by white diamonds in platinum and 18 karat gold. These masterpieces of nature and Tiffany craftsmanship may be mixed or layered, unleashing an electrifying magnetism that strikes a deep emotional chord.
Elsa Peretti's Diamonds by the Yard® forever changed the role of diamonds in fashion. When the collection launched over 30 years ago, women all over the world immediately embraced this fresh, new approach to jewelry design. Now, everyone passionate about Elsa Peretti's revolutionary design has a new option, a pear-shaped yellow diamond pendant in platinum or 18 karat yellow gold. With its organic shape and elegant simplicity, the pendant works beautifully for day or night.
The diamonds are procured through an agreement with Gem Diamonds' Ellendale mine in Western Australia which is world-renowned for the quality of its rough stones. The agreement gives Tiffany & Co. exclusive rights to the mine's production of fancy color yellow diamonds over its full economic life.
"The agreement gives us a unique opportunity to extend our diamond authority with exceedingly rare fancy yellow diamonds," said Jon King, executive vice president of Tiffany & Co. "The collection underscores our design heritage with settings that fully reveal the stones' natural beauty and warm yellow color."
Only about one in 10,000 diamonds is a fancy color and very few meet Tiffany's standards. Diamonds of such captivating beauty are among nature's greatest treasures. These newest yellow diamonds to make the grade will become part of the jeweler's rarefied legacy.
Tiffany maintains its diamond authority with total dedication to the trust and integrity that established its legacy as a celebrated jeweler. It is from this honored place that the next design revelation comes to life in brilliant, incomparable diamonds.
The yellow diamonds collection is available at Tiffany & Co. locations worldwide.