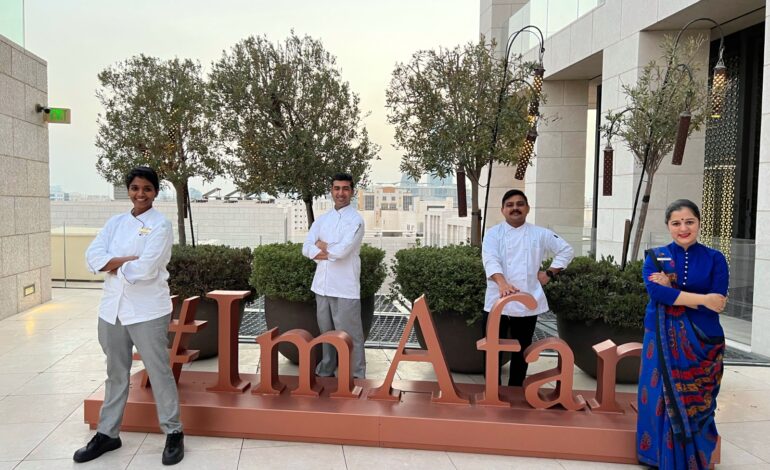 admin
Sep 21, 2022
1231

3 minutes read
Visit Mosaic restaurant at Mandarin Oriental, Doha for a "Tour of India" experience in a culinary collaboration with The Oberoi Group. From 20 to 24 September 2022, three chefs and food & beverage service team from The Oberoi Group will showcase and serve their signature dishes of unique flavours that originate from the regional kitchens of the Indian Subcontinent.
The dishes are prepared using traditional techniques, regional produce and highlighted by the use of spices and herbs unique to each location. Dishes include Keema Kulcha and Curry Leaf Laccha Paratha, Dal Makhani Soup for starters, Murgh Butter Masala, Alleppey Lobster Curry and Awadhi Nalli Nihari for main courses and Khubani Ka Meetha made of dried apricots and Coconut Ice Cream Gud Nariyal for desserts.
Fitting to the teams theme of travel and cultural exchange, Mandarin Oriental, Doha is set to welcome Chef Vijay Sahi, celebrated master chef and his team Chef Nimisha Verghese and Chef Bhavin Chhatwani, with service by Neelakshi bringing the Oberoi Service Excellence to Mosaic restaurant to provides guests with an experiential dining experience with dishes from the Silk Route region in the Indian Subcontinent for a truly unforgettable journey of diverse culinary flavours.
Don't miss this memorable journey from 20 to 24 September from 11am to 11pm. Reservations are required, please call +974 4008 8888 or email modoh-reservations@mohg.com.