By Juliana Heide
Tell me if this sounds familiar to you: You finally get excited to go shopping and look for new clothing pieces to update your wardrobe to look fashionable and stylish. You visit some cool stores, and find all kinds of miniskirts, cropped tops, V-neck shirts, cami dresses, jogger shorts and strappy tops as the latest trends. And you just love them all. However, you are into modest fashion styles and those pieces do not cover enough. Oh no! You get frustrated with those countless immodest clothes that "are not for you" and end up purchasing the very same items you always buy to create your modest outfits.
Well, no worries, ladies! If you don't know which skimpy pieces to get to pull off a stylish, modern, and confident look, here are 10 perfect tricks and hints to help you bring your modest outfit to life and still manage to rock all the trendy clothes you might have seen as a hindrance or something that was just not possible to wear. With these tips, you can easily transform the outfits you love.
Let's jump right in?!
1. Sleeveless and cami dresses: They are perfect layering pieces for a fashionable outfit and there are different ways to style them. First tip is to throw on a chunky sweater over a satin silky cami dress and it will look like you are wearing two separate pieces: a satin skirt with a sweater on top. Super cool! Second hint is to wear turtlenecks and long sleeve blouses underneath them. It is a great way to hide your shoulders or modify a dress without being clumsy. You can also belt your dress to create shape when wearing multiple layers.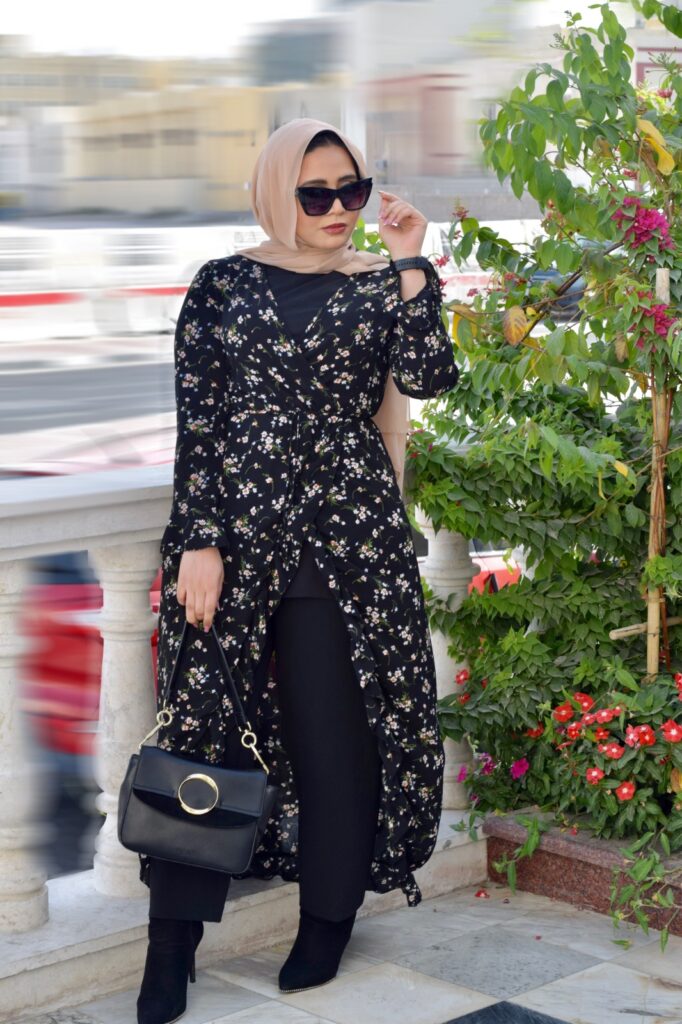 2. Mini and shorter dresses: They can be worn as the "perfect blouse" when styled as a top, instead of just pairing them with your ordinary leggings underneath. Combine the mini dresses with different styles of pants. You can also try a skirt extender or a slip to wear under them and blend to the dresses. There are great options decorated with ruffles or lace at the bottom which will definitely make you look more stylish. Buy a skirt extender in a color that can be paired with various shorter dresses in your wardrobe.
3. Flowy and full summer dresses: Add a proper belt to accentuate and cinch the waist. Belt and sash are great strategies to give shape to loosen fits.
4. V-neck or scoop neck t-shirts: Just turn the t-shirts around, use them backwards and layer with a blazer or a cardigan to cover the back. Then, you will have a higher neckline. If you want to avoid too much layering, opt for stretching tank tops underneath, also wore them backwards.
5. Cropped and off the shoulder tops: Both can be worn as a layering stylish item. You can wear cropped tops over shirts and bodysuits, paired with high waisted maxi skirts; and combine off the shoulder tops with a plain turtleneck underneath, made of a thin and not sheer fabric. Another option is wearing a lightweight and thin camisole underneath.
6. Lace, cutouts, and keyhole back tops: Invest in long sleeves high neck undershirts in neutral colors and nice fabrics (silky ones) that can go under these tops. You can also try to combine a contrasting color instead of the same tone of the top to bring more interest to the look.
7. Baggy or oversized blazers: They are usually seen as an office wear; however, they are key pieces to bring more modernity and interest to a look, especially if they are long blazers and fitted to the body, which you can get by using a belt and playing around with where you cinch it to give you the most flattering look.
8. Midi skirts and cropped pants: Wear them with boots in fall or wintertime to cover up the skin you want to, and if you buy shorter or midi skirts, try to pair with high knee boots.
9. White pants: To make them non sheer, wear them with thin white leggings, pant liners or shapewears underneath.
10. Sporty or short shorts: Throw them over tights and voilà! You can style your jogger shorts to work out or style a formal and structured one to go out with friends.
Just allow yourself to have fun! Don't be afraid to try everything that is new and see if it works for you. Put yourself to test, bring your own creativity to the clothes you wear, and don't be afraid of looking different. Confidence is the most important trick on how to dress – and not only modestly! Explore how different cuts, colors, textures, layering, and shapes work together. Be the trendsetter. You might be surprised!