Abdullah Abdulghani & Bros. Co. (AAB) unveiled the new Toyota Hilux 2021 YM in Qatar where it enjoys a stellar reputation over the years for its quality, durability and reliability. The new Hilux is the 8th generation of this legendary pickup. The key highlight is the introduction of Adventure grade which is powered by a 4.0L gasoline engine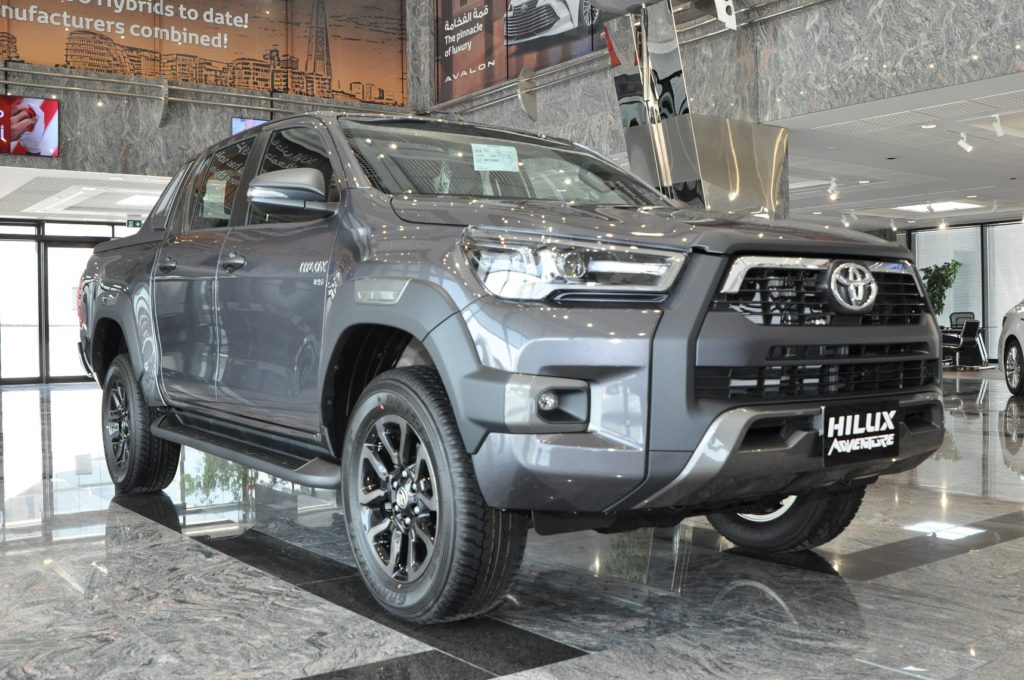 The event held in Toyota main Showroom, Al Abdulghani Tower was attended by Mr. R.K. Murugan, AAB Acting CEO, Mr. Firas Mufti, Senior Marketing Manager, Mr. Awwad Mohamed, Senior Manager, Toyota National Sales along with AAB Senior Managers of AAB.
Mr. R.K. Murugan stated "The new Hilux has a striking design with a powerful performance, enhanced technology and an improved on and off-road experience which will make customers ready to explore with this beast". Mr. Firas Mufti said "Get ready to off-road in style as the new Hilux just got stronger and more capable on-road and off-road". It is more advanced featuring enhanced technology with an 8 inch connected display audio screen which supports Apple Car Play and Android Auto which is now available in select grades. Mr. Awwad Mohamed added, the On-board device allows you to connect your smartphone to receive vehicle information such as Navigation, Driving range , Mileage and Driving time , as well as warning Notification.
Since the introduction of the first Hilux in 1968, Hilux is sold in more than 180 countries. Faced with the challenge of creating the 9th generation Hilux, Toyota realized that toughness doesn't just come from the vehicle; it comes from the people inside. Whether you are battling your way up a muddy track or stuck in traffic, reducing the stress of driving is just as important as withstanding the elements. That's why the new Hilux, while improving on the model's characteristic toughness and performance, redefines toughness by being more occupant-focused and providing a stress-free driving experience.
The new Hilux has been designed to give a sophisticated and sporty look that is suitable for a wide range of usages from a business purpose to leisure. Spacious and inviting the refined comfort and smart functionality of cabin enrich the quality of life the driver as well as the passengers. Unique to Adventure grade model is the blue door trim illumination that contrast the black colour theme giving a luxury interior ambience.
Hilux is available in single and double cab variants, the new Hilux comes in 2.0L, 2.7L & 4.0L petrol engines, or a 2.4L diesel engine, and in 4×4 or 4×2 configurations. The pickup is available in 5-speed manual transmission and a super intelligent six-speed automatic transmission that produces outstanding driving performance and fuel efficiency. In addition, the drive mode switch allows the driver to select between Eco or power mode to suit driving condition. The power mode allows for responsive driving by increasing driving force for acceleration while the eco mode switch remains to provide fuel efficiency.
An independent coil suspension is equipped on the front and a rigid leaf suspension on the rear for a comfortable ride. The absorbers are optimally tuned to achieve pleasant ride comfort. The Hilux uses a rigid frame structure that is able to absorb strong impact from the road. This contributes to not only durability in tough environments, but also better stability and comfort during driving.
According to Hiroki Nakajima, Executive Chief engineer behind the Hilux (and also a Managing Officer of Toyota Motor Corporation): "Our entire development concept was centred on 'redefining toughness'. We aimed to make the new Hilux 'tougher' based on a much broader interpretation of that word. The message we want to deliver to our customers is embodied in our slogan for the vehicle: A New Era for Pickup. Every Inch a Hilux".