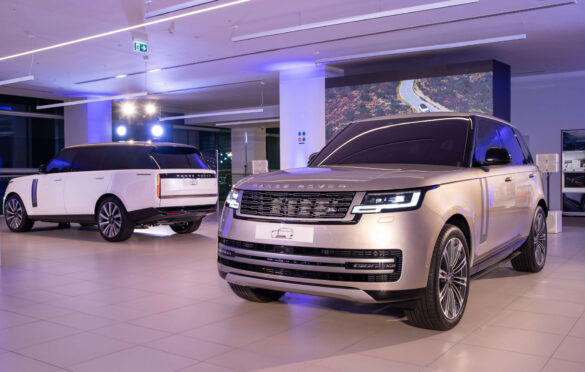 Breath Taking Modernity, Peerless Refinement, and Unmatched Capability
Alfardan Premier Motors Co., the official retailer of Jaguar Land Rover in the State of Qatar, has announced the introduction of the New Range Rover.
The elegant New Range Rover defines modern luxury, providing more refinement, customer choice, and scope for personalization than ever before.
Range Rover is the original luxury SUV and has led by example for 50 years, combining serene comfort and composure with all-conquering capability. The New Range Rover is the most desirable yet, mixing breathtaking modernity and aesthetic grace with technological sophistication and seamless connectivity.
With a suite of efficient mild-hybrid and plug-in hybrid powertrains – and a pure-electric Range Rover set to join the line-up in 2024 – plus a choice of four, five, or seven-seat2 interiors available across Standard and Long Wheelbase body designs, the New Range Rover is at home in any environment.
Samer Bou Dargham, General Manager for Alfardan Premier Motors, said: "We are very delighted to add the new Range Rover to our showroom's family of world-class vehicles, introducing to our valuable customers and prospects in Qatar to yet another impressive work of Land Rover engineering. The New Range Rover brings new levels of wellbeing, combining advanced technology with modern luxury to provide an exciting experience in every journey, and to establish a confident example of the luxury SUVs. It introduces more options than ever before to create an effortless driving experience."
Bruce Robertson, Managing Director of Jaguar Land Rover MENA, added: "The latest and much anticipated Range Rover has undergone 50 years of evolution to transform into its best current version and it continuously strives to provide an even greater luxurious and personalized driving experience for customers. Injecting further scope through its leading-edge technology, every single driver can indulge in the supreme refinement, comfort, and wellbeing that is offered with every trip taken. This is just the beginning of the next chapter, which redefines the meaning of effortless convenience, efficiency, and safety for all."  
Land Rover's new flexible Modular Longitudinal Architecture, MLA-Flex, underpins every aspect of this luxury SUV, from its unmatched capability and agile handling to its peerless refinement. By combining state-of-the-art engineering techniques with new levels of virtual development and Land Rover's punishing development programme, the New Range Rover will deliver new levels of quality.
A pair of innovative Extended Range plug-in hybrid electric vehicle (PHEV) 2  powertrains provide CO2 emissions below 30g/km, with a pure-electric driving range of up to 100km (62 miles),1 delivering an expected real-world range of up to 80km (50 miles) – enough for typical Range Rover customers to complete up to 75 percent of trips using electric power only7.
The new luxury SUV is available in SE, HSE, and Autobiography models. A First Edition will be available throughout the first year of production, based on the Autobiography and featuring a unique specification. It is exclusively available in a Sunset Gold Satin finish, among a choice of five exterior colors. Both Standard (SWB) or Long Wheelbase (LWB) body designs are available with five seats, while the New Range Rover LWB model is available with a third row for extended comfort for up to seven adults2.
The New Range Rover SV is an exquisite interpretation of Range Rover luxury and personalization from the experts at Special Vehicle Operations. The SV model is available in both SWB and LWB body designs, with exclusive features including new SV Serenity and SV Intrepid design themes and a four-seat SV Signature Suite configuration.