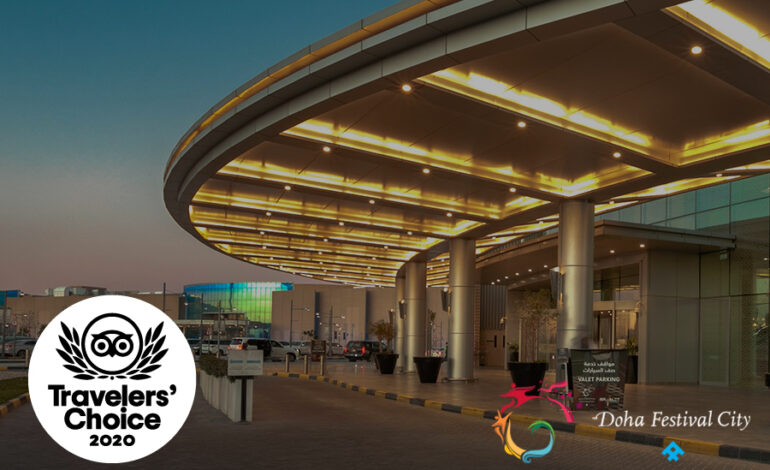 Doha Festival City Wins 2020 Tripadvisor Travelers' Choice Award in Recognition of being amongst the Top 10% of Travel and Hospitality Attractions across the Globe
Doha Festival City recognized among Best in Qatar and the world, based on outstanding 2019 Traveler Reviews
Doha Festival City, Qatar's one and only choice for shopping, dining, and entertainment, wins Tripadvisor's 2020 Travelers' Choice award-winner for being amongst the top 10% of travel and hospitality attractions as announced today.
Based on a full year of Tripadvisor reviews, prior to any changes caused by the pandemic, award winners are known for consistently receiving great traveler feedback, placing them in the top 10% of travel hospitality businesses around the globe.
Robert Hall, General Manager of Doha Festival City, commented: "We are honored to be recognized by Tripadvisor amongst the 2020 Travelers' Choice award winners. Providing our customers and visitors with top level services remains at the heart of our mission. We are delighted to having received such amazing reviews throughout the past year, and to win such a highly esteemed industry title."
"Doha Festival City's recognition is also a tribute to Qatar's outstanding travel and hospitality sector. We are proud to support Qatar's 2030 vision to achieve a worldwide recognition as a reputed tourist destination," emphasized Robert.
"We would also like to thank Tripadvisor for enabling us to better understand our guests' needs and feedback, in order to constantly improve our offering to meet their expectations," Robert concluded.
"Winners of the 2020 Travelers' Choice Awards should be proud of this distinguished recognition," said Kanika Soni, Chief Commercial Officer at Tripadvisor. "Although it's been a challenging year for travel and hospitality, we want to celebrate our partners' achievements. Award winners are beloved for their exceptional service and quality. Not only are these winners well deserving, they are also a great source of inspiration for travelers as the world begins to venture out again".
Doha Festival City opening hours are Saturday to Wednesday from 10am to 10 pm, and Thursday to Friday from 10am to 11pm. Children of all ages are now allowed to enter the mall.
To see traveler reviews and popular features of Doha Festival City, please visit: https://bit.ly/33Sw1Ro