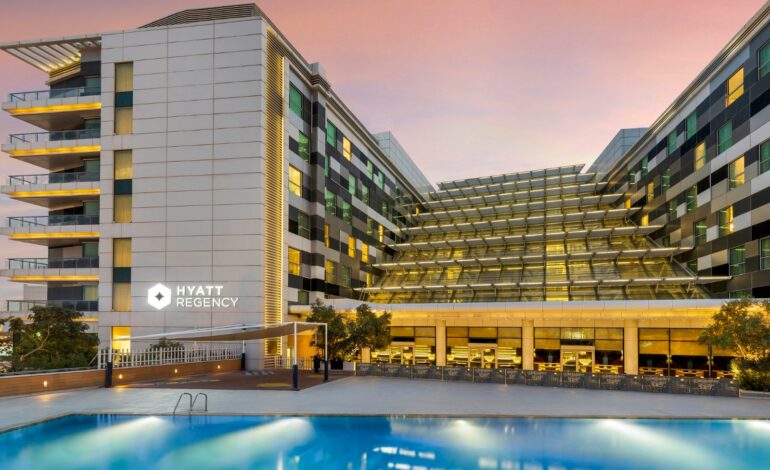 admin
Jun 8, 2021
1367

3 minutes read
Hyatt Regency Oryx Doha, the first Hyatt Regency brand in Qatar located on old airport, is inviting Qatar's football fans to watch the live broadcast of Euro Cup football matches in the cozy ambiance of Jazz Club and Al Nafourah Garden.
The live broadcast of the most awaited football match of the year will kick-start on the 11th of June from 4:00 PM onwards all the way to 11th of July. Guests can choose to enjoy the action indoor through Jazz Club or to relax under the stars at Al Nafourah Garden.
During the match months, Jazz Club will serve as a sports lounge where football fans can enjoy a laid back atmosphere whilst cheering for their favorite team. A large 3×2 meter LED screen will stage the tournament making the matches visible all over the area. Football fans will not only revel in the atmosphere of Jazz Club, but our Chefs have put together a bespoke menu to perfectly complement the whole experience during this season. A wide array of nibbles from salads to hot bites such as short rib beef sliders, fish & chips, calamari, fries and so much more!
Games are always on at Al Nafourah Garden outdoor setting with multiple big screens around, a picturesque garden and diners' favorite Middle Eastern/Lebanese dishes.
With the launch of the first phase of gradual lifting of restrictions imposed due to Covid-19, Hyatt Regency Oryx Doha is making sure that all its dining outlets as well as its clientele are adhering to the protocol communicated by the Qatar National Tourism Council. Football fans who wishes to watch the matches at Jazz Club must be fully vaccinated alternatively, Al Nafourah Garden is open for families with kids to dine and watch the game.
Julien Gonzalvez, General Manager of Hyatt Regency Oryx Doha commented: "We are very excited to be streaming the most awaited football matches of the year. We always strive to offer energizing and refreshing experiences at Hyatt Regency Oryx Doha."