H&M is proud to announce a collaboration with the luxury Italian brand Giuliva Heritage. Family-owned and known for their flawless tailoring, Giuliva Heritage take classic menswear silhouettes into the world of womenswear. Margherita Cardelli and husband Gerardo Cavaliere, Giuliva Heritage's founders, are passionate about long lasting fashion in great fabrics. Together with H&M, the couple created a modern take on Italian heritage with a collection made from materials from more sustainable sources and in line with both brands' journey to circularity, recycled fabrics have been used throughout.
The collection will be available in selected stores worldwide, as well as on hm.com from the 3rd of September.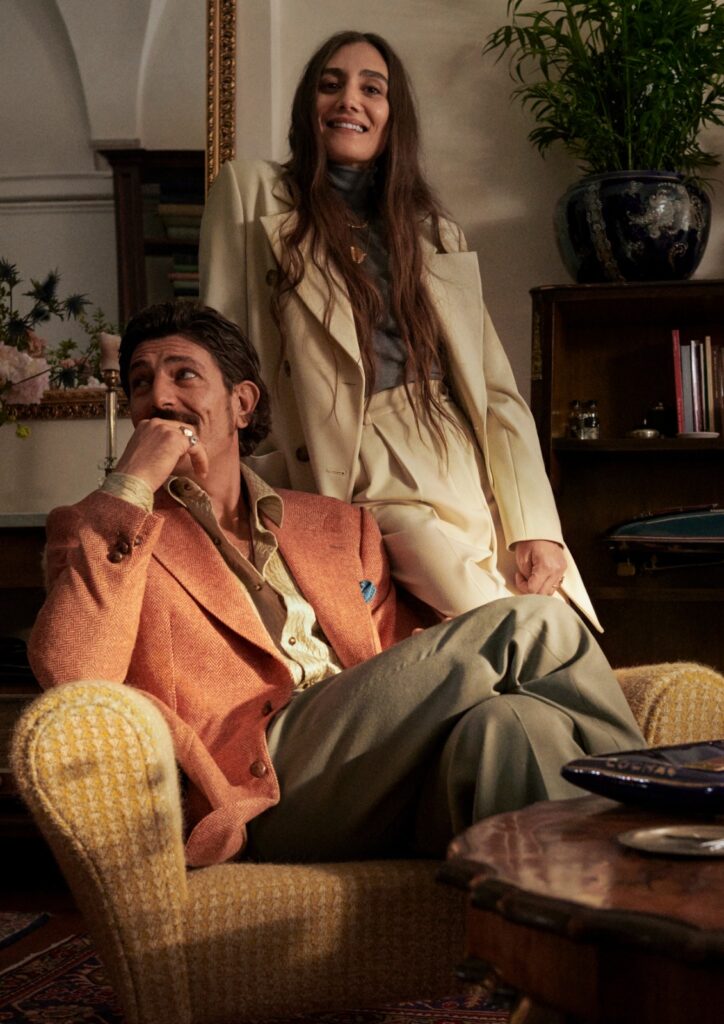 What was the inspiration for this collection?
Main inspiration has been the one to build a complete closet of classic pieces. A collection made of timeless designs, to make people close to tailoring. All the pieces have their specific fit, the one we give to our Giuliva heritage pieces. The blazers have wide lapels, the typical lining the tailored blazers have in their sleeves, the French pences on the very high waist trousers.
2. What kind of clientele is this collection made for?
Women that are fully in control of their character and personality. Women that feel at ease with their own vision and fully trust their choices. Women aware of their charm that don't need to flaunt it.
3. What are your favourite pieces from the collection?
Gerardo and Margherita: The white double-breasted suit and the long coat. Once on, they immediately stand out and tell the story of Giuliva Heritage and our personal tailoring.
4. What words would you choose to describe your collection?
Statement and timeless design pieces that will fit any wardrobe made with recycled materials.
5. How do you want women to feel when wearing your clothes?
We would like them to feel at their ease meaning that they can express their personality and enhance their character through our designs. They can feel empowered and most importantly satisfied when they look at themselves in the mirror.
Maria Östblom, H&M's head of womenswear design
1. What do you think makes this collection stand out?
 Giuliva Heritage got our attention with their well-made classics from Italian tailoring tradition and gaining power trough wear ability and balance that we love & share. How they take inspiration directly from men's tailoring into the realm of womenswear with sophisticated and timeless pieces. Together with H&M long-term experience and progressive sustainable goals, we have together created a fashionable yet timeless, more sustainable collection.
2. What are your favourite pieces from the collection?
I personally share their obsessions about classic tailoring and in this collection, I can find so many beautiful, useful and flattering pieces to share with my 21 years old daughter, so it's also ageless. Hard to select one piece that stands out, but the off- white double-breasted relax blazer & wide high-waist trousers together with the cool midnight blue sleeveless coat with belt it's a must have for me.
3. Who do you think is the target market for this collection?
This is a collection for all women that appreciate high quality design and easy fashion classics to combine with your existing wardrobe for personal style. These are pieces that will save your wardrobe for seasons to come.
4. What role do you think social media plays in fashion today?
Social media is how we communicate in these new times. Social media has reframed this structure, allowing users to not only see how we find inspiration, but also how to consume fashion. Social media is a powerful tool to communicate with friends and family, engage, share, learn and grow with, so it affects how we take decisions and create the designs in the end.
Giuliva Heritage x H&M collection will be available in selected stores and online from 3rd September.