admin
Mar 15, 2023
1479

17 minutes read
February sun is calming. After having the coldest winters in the Middle-Eastern region, I wanted guaranteed sunshine. Especially as keeping too busy with work lately.
Yes, this is my workaholic self! As much as I'd like to get indulge in my work routine, there always came a point where I want some timeout, get a break, get away from my usual routine, and spend quality time with my family.
And what's better than building lifelong memories with a family staycation? It is also proven that it's even good for your health as people return from staycations happier and more relaxed. No surprise there, but study also found these same folks get more productive and maintain closer family bonding.
Good enough to convince me for a family staycation, I started searching for exclusive and luxury escapes in Doha and Maysan Doha ended my search with its bespoke concierge services and immersive 5-star experiences.
I booked a 2 bedroom villa for my family staycation at this luxurious resort. Here's what my experience with Maysan Doha was so far.
An Exotic Location Nestled in Doha
We packed our stuff and drove to Maysan within just minutes. I love the convenience of having it at the heart of Doha, surrounded by scenic views of Al Rayyan area.
The majestic exterior of Maysan left us in awe as soon as we stepped in. The gorgeous all white and dark wood styles are so flawlessly infused with Mediterranean theme.
The Mediterranean Décor with Luxury Fusion
As we entered the lobby, the interiors of Maysan Doha inspired me with all its power.
The comfortable yet luxurious emphasis on outdoor-indoor living while maximizing natural light and the views of outdoors created the most stimulating interiors of this beautiful resort.
Wall-length windows, vaulted doors, arched casings with warm lights, and roof with exposed beams brought natural light making it breezy interior space.
This is exactly what I wanted to spend my next days, soaking in good amount of February sun and enjoying the comfortable weather under a highly luxurious vicinity.
I booked the 2-bedroom villa for my staycation, we checked in swiftly as the staff was extremely helpful and provided complete in-detail guidance.
The Luxurious 2 Bedroom Villa
My 2 bedroom villa is a spacious 230 sq.m entity. Besides large cozy bedrooms, it also featured a living room, a garden with comfy seating, and sunbeds. The suite also has access to the patio covered with pavilion and pool from both bedrooms.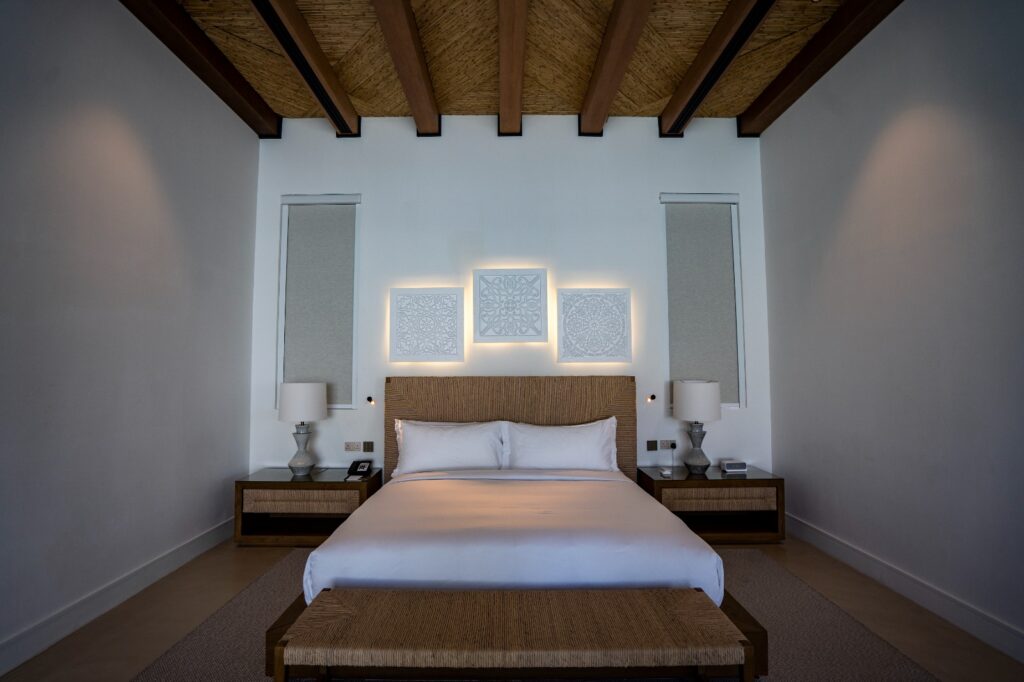 The living room is a stylish open social unit that thoughtfully combines dining table with chairs, lounge with king-sized pullout sofa bed right in front of a 65 inches HDTV. My kids are addicted to lounging and watching their favorite movie, so they loved it!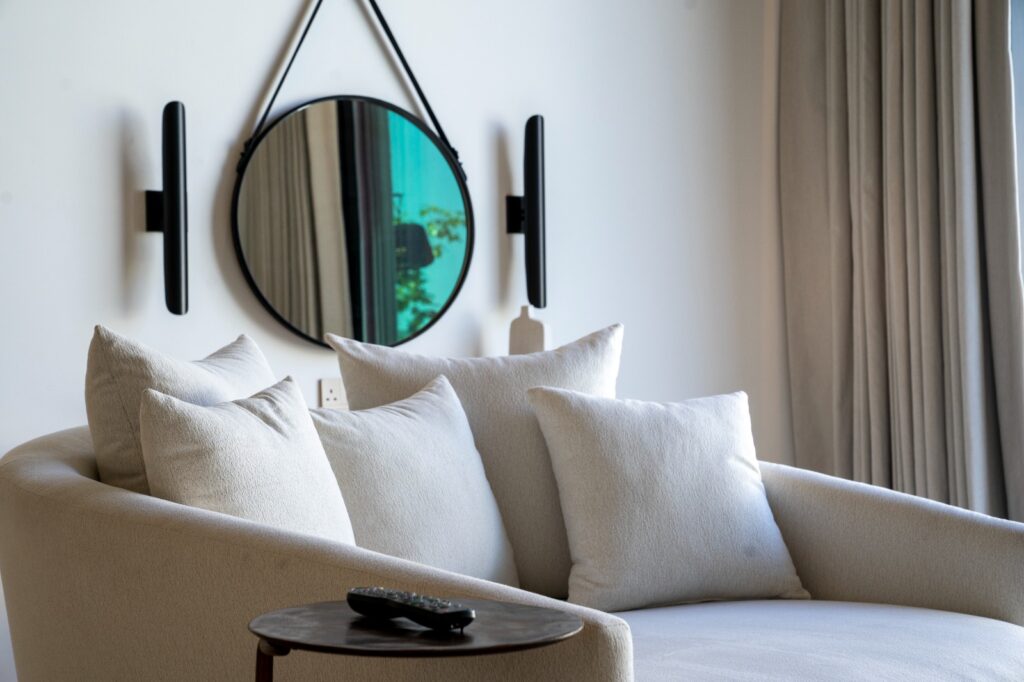 Moreover, to my delightful surprise, there was also a kitchenette with microwave, minibar, and coffee/tea corner with an expresso machine and tea kettle.
The 2 bedrooms are perfect for a couple and their kids. One king-sized bed with complimentary drink was waiting for us. We took the advantage to sip in while kids were lounging in watching TV.
The other bedroom featured 2 double beds where kids kept their stuff and luggage. There is a separate bath tub, shower and toilet area. There are high-quality amenities provided that include bathrobes, slippers, hair dryer, blackout curtains, and night lights.
This ultra-luxurious Maysan villa is also equipped with complimentary Wi-Fi, USB ports, a security safe, and iron with board.
With all these amenities, it can easily accommodate 6 people.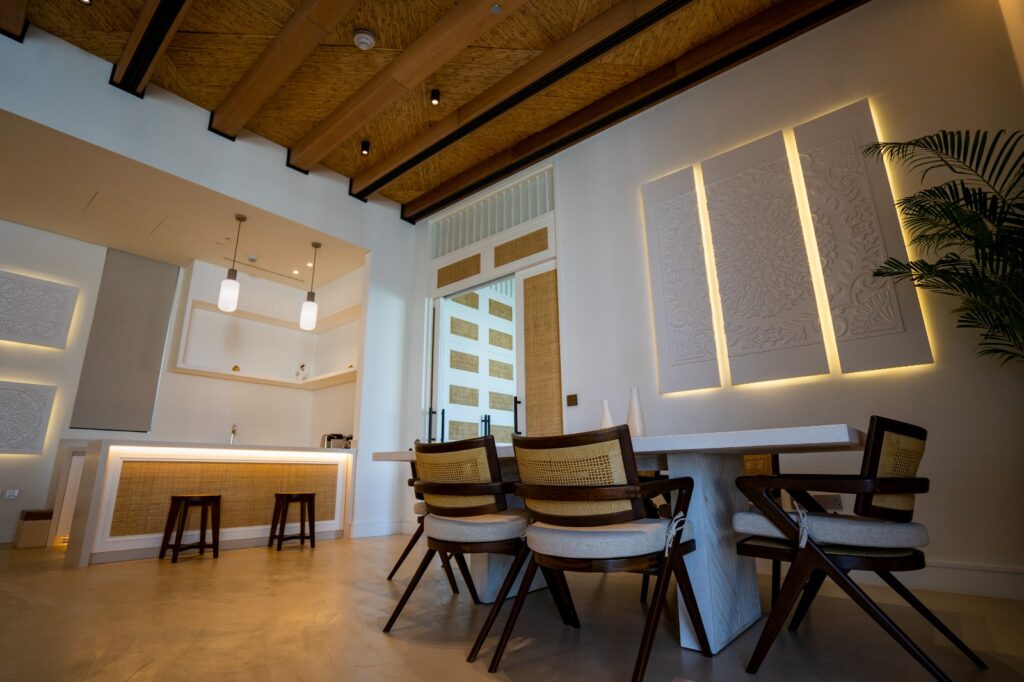 Zero Privacy Concerns
One of the best features of Maysan at Hilton Hotel is having utter privacy throughout the staycation. You can fully enjoy with your family and never need a "do not disturb" card to hang on your door. Your privacy is taken care of by the hotel staff and management.
The audible alarms, electronic locks, emergency call on phone, security safe, and thumb dead bolt –all of these confidence amenities were provided to ensure security along with privacy.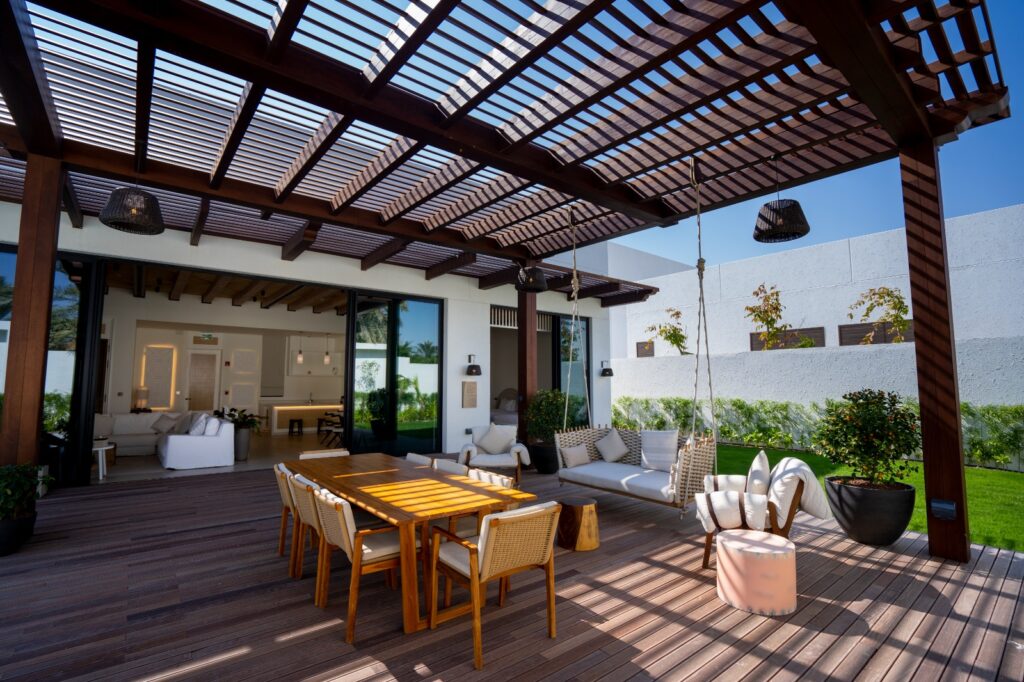 Highly Dedicated Customer Service
I and my family were astounded at how genuinely caring the staff at Maysan Doha is. From considerate greetings upon entering the lobby and checking in to personally following up on custom requests like activities recommendations –the Maysan staff feel more like warm friends than just employees.
The Lip-smacking Food at La Casa
We have been provided with all-day dining facility at La Casa. And yes, we availed that opportunity to the full and kept enjoying late hour brunches at La Casa and also in-room dining on other days.
Our experience at La Casa was the best. We were always greeted by friendly staff. The atmosphere was comfy and filled with live music, and happy chirps of the people enjoying their food. We stick around for a while after having our meals just to enjoy the music. (Yes, it was that good!)
If you are a foodie and like to have Italian cuisine more often –then La Casa is the go-to place for you. Well, all that fits me in so I thoroughly enjoyed their Italian food that was served with on-point presentation.
We ordered Black Angus Tomahawk Steak at first –it was served with baked potatoes with a dip. Next we ordered Red Tangliolini Pasta with spicy pepperoncino and fresh burrata cheese.
The drops of Italian spices encased in olive oil breaks open in my mouth superficially to delight me up. Desserts showed off delightful effects of temperature and weightlessness that would only be achievable through mastery of Italian desserts.
For drinks, we selected their wellness juices and they did compliment well with our meal.
And of course, who can miss the original oven fresh Italian pizza? Kids ordered one smoked pepperoni for themselves -and we were all good to dig in.
We also had their breakfast and that freshly baked croissant and coffee is just out of this world. From breakfast to dinner, the La Casa menu is novel enough to fill our staycation with new flavors every time. We will be their curious diners for several upcoming months.
Leisure We Tried
Apart from having a full pool day at Maysan's outdoor swimming pools, my wife and I also enjoyed luxury spa treatments while our kids had a fun-filled blast at the fully supervised kids club. We also tried their Hammam treatment, it was an ultimately relaxing experience.
While my wife enjoyed spa day and kids at the club, The Cigar lounge was for me to unwind from my work stress and get some dopamine boost.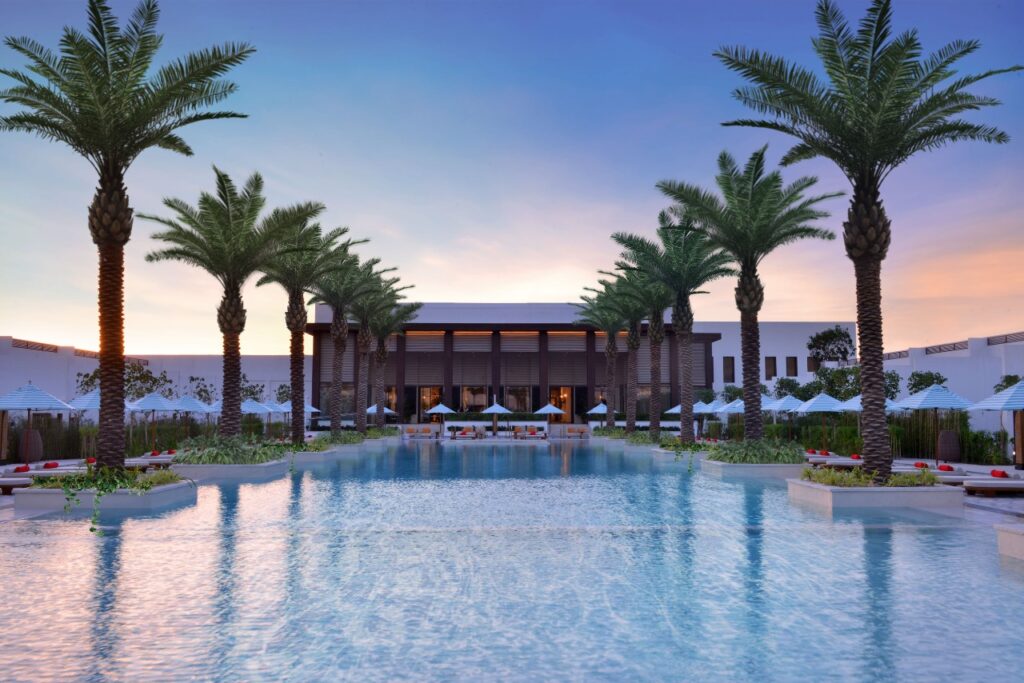 Pool Day is a MUST at Maysan Staycation
The most appealing attraction of Maysan Doha is the private pool for each villa. So, the next day we got our sunscreen on for full pool day. The pool deck at Maysan is designed to perfection. It's really refreshing and indulging for a perfect pool picnic. My kids didn't wait for us and just dived in to the kids' pool. We were served with refreshing drinks, fresh juices, and fruits. The hygiene, privacy, and service –all were worth 5-stars, to be honest.
The Verdict
The staycation at Maysan totally refreshed me up for my upcoming projects. It was one of the best experiences to have with my family to just relax, unwind, and enjoy quality time. From checking in to checking out, there wasn't a single moment where my wife and kids were not cheering up. And you know that's the first priority of a family man –keeping your tribe happy!
My experience was 10/10 overall.
I'll definitely recommend my LLQ Lifestyle family to blindly pick Maysan for your next family staycation –and yes, thank me later!