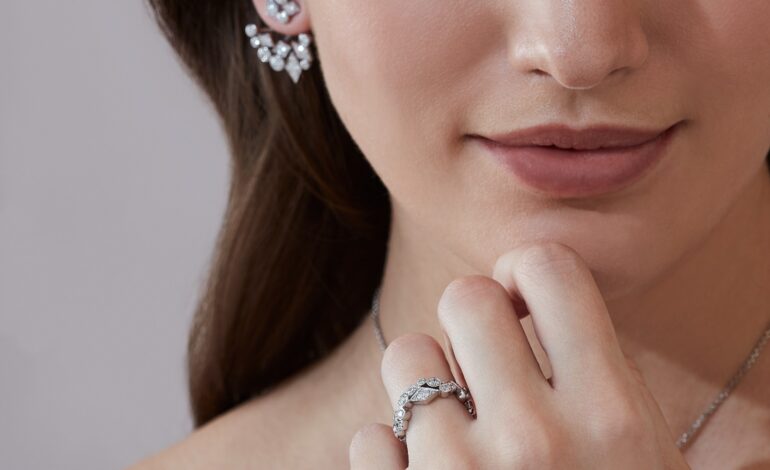 admin
Jun 26, 2021
1019

4 minutes read
The Windsor motif has been reimagined by playing with size and proportion in graphic compositions. Like abstract art, the unique asymmetry is beautifully balanced yet highly individual. Alongside pendants, rings and earrings, the eight new Albemarle jewels include ear climbers, ear jackets and – a first for Garrard – a diamond ear cuff.
The diamonds are set in contrasting angular formations displaying a flash of avant-garde, while the soft edges create an effortless and elegant feel. Designed with adaptability and versatility in mind, the pieces showcase Garrard's expertise in crafting transformable jewels. "The reimagined Windsor motif incorporates abstract clusters of round and geometric shapes, bringing a contemporary edge to the collection, while the soft, asymmetric silhouettes ensure the pieces are perfectly suited to every occasion. The creative process was driven by the desire to craft truly versatile jewellery." – Creative director, Sara Prentice
The Albemarle collection takes its inspiration from one of the most iconic tiara commissions ever created by Garrard – The Girls of Great Britain and Ireland Tiara – one of Her Majesty The Queen's most recognisable pieces of jewellery. Each creation bears the hallmark of Garrard's meticulous attention to detail and is beautiful and exciting to wear.
About Garrard
The House of Garrard, in the heart of London's Mayfair, is where every item of Garrard jewellery begins its journey to creation.
Here, we welcome our clients to browse our jewels and experience Garrard
– present, past and future – first-hand. Garrard's origins can be traced back to 1735, when master silversmith George Wicks opened a store on Panton Street in the heart of London's West End – and promptly received his first royal commission, from Frederick, Prince of Wales. Garrard was appointed the first official Crown Jeweller in 1843 and, ever since, we have proudly played our part in British history through the creation of jewellery that has captured imaginations throughout the world.
From Queen Mary's consort crown in 1911 to the engagement rings of both the Princess of Wales and the Duchess of Cambridge, Garrard has crafted some of the
most famous jewels in history, with each new commission today adding a new chapter to the story. With Garrard's future continuing to unfold, great jewellery traditions evolving in fresh designs that move the heart and empower the soul – now, and forever.