JOURNALIST, WRITER AND CERTIFIED TRAINER
By Elias Haddad
Journalism is a watchdog for the injustice and corruption that prevails in society. With the growing power imbalance and brutality in society, an honest journalist is a ray of hope.
In the digital world, now responsible journalism is an immense responsibility. Paving the way in a sea of click-baits and unverified news, the journalists have to make an extra effort to establish their identity.
It requires a certain level of determination to float in such circumstances. However, Mr Hassan owned it like a king.
Mr Hassan is one of the pioneers of journalism and he has dedicated his life relentlessly for the welfare of his country.
After excelling in his career, he is now working as a writer and pursuing his passion for reading.
So, without further ado, let's find out, who is he?
Early life and Education
Hailing from a humble background, Mr Hassan completed his bachelors in Arabic from the University of Qatar. Soon after his degree, he landed his first job as Office director of the editor in chief of Al-Raya newspaper.
From a young age, he was keen to learn about the different subjects therefore, he started to work as a teacher of research and office skills in the ministry of Education.
However, soon he moved back to journalism and started working with the Al-Sharq newspaper.
Over years, he worked in different departments including the Department of Journalistic Investigations, then-Secretary Editing on the Al Sharq Gate website, then as Director of Public Relations at Al Raya Newspaper, and currently, he is working as Director of Advertising and Marketing at Al Raya and Gulf Times newspapers.
Is Mr Hassan an avid reader?
Mr Hassan interests have always been indifferent to others. Unlike others, books were his friend and he used to spend a fair share of time with them. He recalled how he used to borrow books from his friends and used to read them quickly.
His interest was mostly in Literature and History and therefore, he would always read those books as a hobby.
His passion for reading grew when he joined Qatar University and he shared that most of his time was spent in the library reading books of different disciplines.
Mr Hassan's journey as a Writer.
Reading and Writing gets along well.
A writer translates emotions into words. It requires a set of skills and practice to do it which is why Mr Hassan always worked towards his writing.
He had a deep passion for writing as a child. He recalled writing poetry and stories as a child and upon his arrival at Qatar University, he started to take this hobby seriously.
Since he was majoring in Arabic, writing was a major aspect of his discipline. He used to put his efforts and time into it and then while working in journalism he refined his skills to an extent that now he has written his book, The Smell of Books.
It's fascinating to see how the journalist juggled between so many roles and aced at all.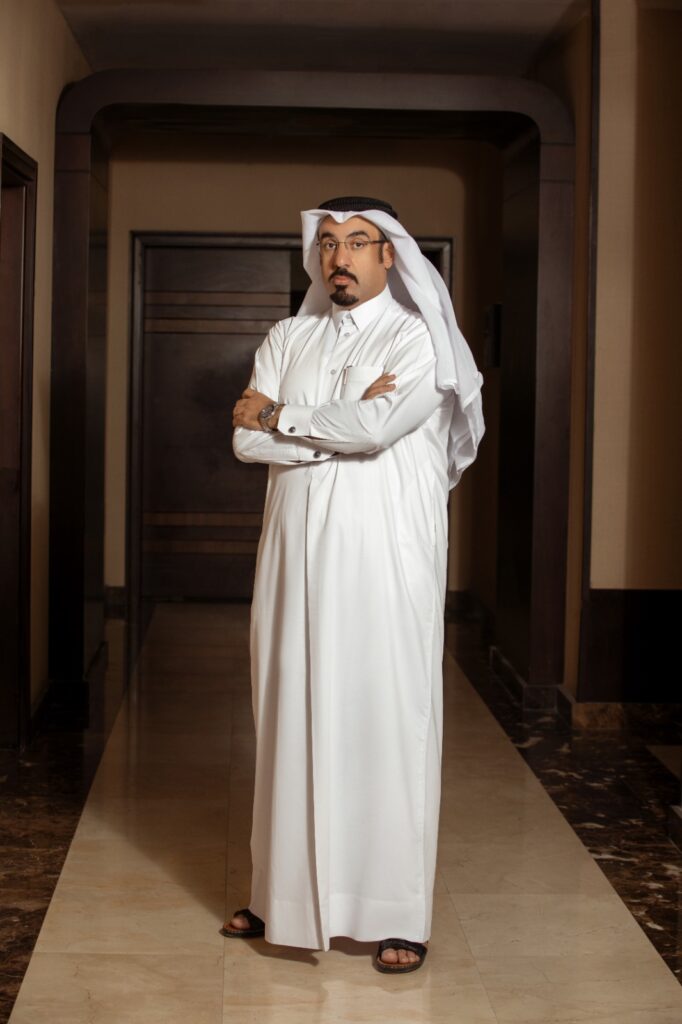 The Smell of Books : Mr. Hassan's dream
The journalist has an intangible bond with the books. He clung to them tightly and don't ever want to miss on them.
This growing love for it made him a brilliant writer. He decided to publish the books and his ever project was The Smell of Books.
In this book, he has shared the importance of reading books and how it feeds the soul and calm the mind. He shared his process of making his own library where he has his 20 years of collection and how it has benefitted him in numerous ways.
Despite having an interest in all disciplines, his primary focus lies in Politics, Philosophy, History and Literature
He spoke about his future projects as well. He is writing his second book on the history of the book which will be launched by the end of this year. It will be easily available and readable for general public.
The Argentine writer Alberto Manguel is the journalist inspiration. He believes if you are a passionate book lover, then you must read about him.
With a vast library of 40,000 thousand books, the writer has a global image of being the true book lover.
Although, the journalist did not have Manguel's book but upon hearing from his friends, he rushed and stocked his books.
Mr Hassan is a member of Qatari Forum for Authors. He has hosted many conferences, lectures and talk show to explain the importance of reading and writing. His prominent program is the (Between the Shelves) program with his colleague Reem Daibes, where they presented to the public the most prominent international works translated in the field of literature, whether international novels or biographies of international writers.
To ask a reader about his favorite book is equivalent to a mother asking about her favorite child.
Mr. Hassan do not have any single favorite book. Instead, there's a bunch of books he would read all over again. However, Alberto Manguel books holds a special place in his hear considering, it's a source of inspiration from him.
The journalist encouraged the youth to keep the quest of learning alive. He said the process of learning is never ending and one should always look and learn to develop and grow.
PHOTOGRAPHER: PHOTO PHACTORY BY PRADEEP