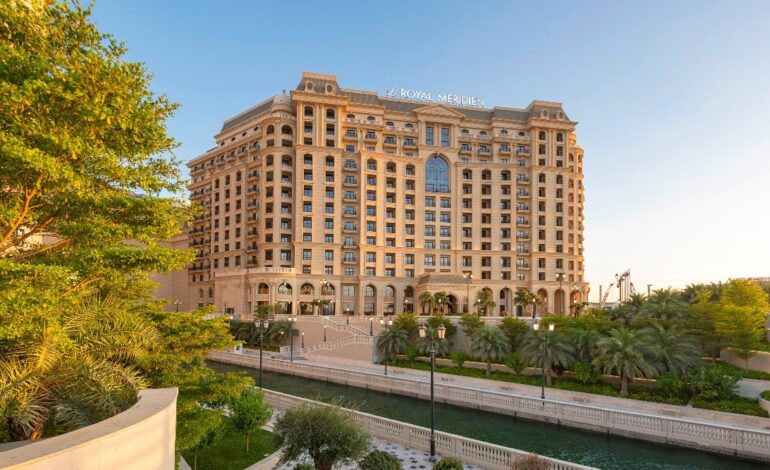 admin
Jun 8, 2023
1613

7 minutes read
Le Royal Méridien Doha is celebrating its first anniversary with a month-long showcase of tailor-made experiential offers for guests to indulge in starting 6th of June. Perfectly attuned for the momentous occasion, you can enjoy a range of exciting experiences, from gastronomic delights to relaxing staycation packages.
The first anniversary revelries began last Tuesday evening with a special invitation-only event whereguests enjoyed a delectable culinary experience, savouring the hotel's various epicurean creations. Attended by the hotel's top corporate clientele as well as select media representatives and social influencers, the kickoff event was the perfect introduction to what guests can expect this month.
Commenting about the hotel's milestone celebration, Gerrit Gräf, Multi-Property General Manager said: "I'm elated to celebrate our hotel's first anniversary with our valued clientele, media representatives, and influencers alongside some of our Marriott Bonvoy members, through a meaningful event. This is also our way to thank them for being a wonderful partner, and for contributing to our success for the past year."
Gerrit also mentioned "This year, we are happy to launch some of the most innovative food and beverage experiences at Le Royal Méridien Doha which upholds our vision to remain a dining destination especially in Lusail."
Italian food lovers can indulge in two mouthwatering experiences at celebrity chef David Myers' ADRIFT Anda. The first is Pausa Pranzo, a lunchtime escape to Italy with a palatable menu featuring artisanal cheeses, cured meats, pizzas, and pasta dishes. Available from 12pm to 3:30pm, Sunday to Thursday, Pausa Pranzo offers a perfect combination of flavours, textures, and aromas for QAR 85 per person.
Then, the Aperitivo Classico, a perfect way to unwind and chill out with friends after a long day. Featuring an irresistible mix board of cold cuts, cheese, bread, and olives, complemented by two signature cocktails. Available daily from 5pm to 7pm, for QAR 95 per person.
Other highlights in the celebratory offers include the Bubbly Sunset, where you can witness the breathtaking dusk from The Terrace. Whether you're accompanied by friends, a special someone, or enjoying some quality me-time, the mesmerising sunset views of Lusail will captivate you. Treat yourself to an array of tantalising small bites perfectly paired with two complimentary refreshing drinks. To add an extra touch of excitement, indulge in some hubbly bubbly, adding a playful twist to your evening. Available daily from 5pm to 10pm until June 14 for QAR 180 per person.
For an exquisite afternoon tea experience, where elegance and flavours come together in perfect harmony, guests can relish in our Afternoon Bliss offer, featuring a delightful selection of freshly baked scones, sandwiches, pastries, and aromatic herbal teas whilst being immersed in an atmosphere of luxury and relaxation. Available daily from 1pm to 7pm for QAR 110 per person.
Experience the ultimate midweek delight at The G.O.A.T Sports Lounge with our newest dining experiences. Introducing Wing It every Wednesday starting June 7, from 7pm to 9pm. Prepare for a wing-filled evening where you can indulge in unlimited wings of your choice: the fiery Devils Pit wings or the favourite Classic Wings, expertly paired with selected hops. For QAR 180 per person, enjoy two hours of wing-filled bliss that will satisfy both wings enthusiasts and foodies alike. Join us for this epic Wing It experience, where flavour, fun, and unlimited wings collide in the most scrumptious way possible.
Elevate your Tuesday nights with Chic Chat at The G.O.A.T Sports Lounge. Join your girlfriends for an unforgettable evening of non-stop fun and lively socialising. Starting June 13, every Tuesday from 8pm to 12 midnight, this is the ultimate girls' night out. Enjoy the VIP treatment with three complimentary drinks and a 25% savings on food items. Dress to impress and create lasting memories in a vibrant atmosphere perfect for catching up with your closest friends. Let Chic Chat take your Tuesday nights to a whole new level of excitement.
In addition, treat yourself to an innovative and interactive Butcher's Block at Yedi by Chef Esat, perfect for brunch lovers. Every Friday from 1pm to 4pm, experience a culinary adventure with your family and friends. Enjoy a variety of cold and hot appetisers, meats, and fish, while our chef presents the blocks. Select your favourite piece, cooked to perfection by our talented chefs, and served tableside for an engaging experience. Accompanied by the tunes from our DJ, this brunch is a feast for the senses. Kids under six years of age dine complimentary, whilst adults can delight in this exquisite dining experience for QAR 185 per person.
For an intimate dinner, Le Royal Méridien Doha introduces its private dining experience called Epicurean Escape by Chef Esat. Guests will be treated to a chef's table tailored menu of seven courses. This culinary journey caters to a minimum of six and a maximum of eight people. Pairing experience is available, and guests can choose from a la carte beverage options. Available any day of the week from 6pm until 12am for QAR 350 per person inclusive of The Herball mocktails or QAR 400 per person inclusive of signature cocktails or grape. Advanced booking with prepayment is required.
In addition to these exciting gastronomic experiences, guests may also book our ONEderful Anniversary room package featuring a two-night stay with breakfast buffet for two at Yedi by Chef Esat, late checkout until 3pm, QAR 100 F&B credit, and 10,000 Marriott Bonvoy bonus points. Rates start from QAR 860 per night. Available until June 30. Also, available is our Stay & Play room package that includes breakfast buffet for 2 adults and 2 children and Trocadero Entertainment Centre access cards. Rates start from QAR 1720. Terms and conditions apply. To reserve our room packages, call +974 4141 6060 or email dohmd.reservations@lemeridien.com.
To experience any of our culinary offers, call +974 4141 6000, email dohmd.fbreservation@lemeridien.com or WhatsApp +974 3100 3370.