Event Alert: LLQ Lifestyle organized the most Mindful Affair of 2020
Shout out to all beauty enthusiasts! Just when you thought that you witnessed all the mega-events before New Year's Eve –L'Occitane-en-Provence is here with its exclusive event of the year that's too good to miss. Especially for those who loved holistic and natural beauty products.
Mindful beauty is a way to treat yourself with positive energies and improve your well-being while following your beauty regime. To bring this dream to a reality, L'Occitane-en-Provence celebrates a weaving affair of its 2020 Holiday collection. It's an imagery experience of a trio of gracefully presented, limited edition gift boxes.
Lucky Allure, the LLQ Associate Editor opened the ceremony with her lively speech that warmly welcomed the guests and energized the environment.
The Stylish Venue with the natural imagery
The event held at The Ritz-Carlton Hotel' was elegantly organized at the Lagoon Garden. A relaxing sitting arrangement where the soothing décor amidst a natural setting made the guests enjoy the whole event to the full.
The excitement and enthusiasm were at the highest level throughout the event. There were early-bird winner, Bring Me game and the Favorite Attire during the relaxing afternoon.
Proper breathing to bring out your healthy within with the Yoga
LLQ Lifestyle has also arranged a yoga session for their guests. The Yoga therapist Julian from The Yoga Therapy Qatar taught some extremely helpful breathing that can enhance mindfulness.
Furthermore, the guests were also educated about mindful meditation practice. They learned how it can help in relieving stress and anxiety, enhances focus, and improves your appearance and feel.
Mindful Beauty advice delivered by the L'Occitane Consultant
The guests were provided with some helpful beauty advice from the brand's exclusive beauty consultant. The awareness was given about the significance of using organic and mindful beauty products and how the brand is providing value to its customers through the wholesome and genuine beauty range.
The Main Course –The Scrumptiously Delicious Cuisine by Sel and Miel
Just after some entertaining activities, the guests were served with delectable food that is enriched with wholesome goodness, healthy, and matches perfectly with the event's theme. The guests enjoyed the tasteful venture amidst the fresh air of the beautiful, The Ritz-Carlton Hotel-Lagoon Garden.
The Closing Speech
The final words of this event were delivered by yours truly. The giveaways were distributed amongst the guests and group photos were taken to end the most happening evening of 2020 at The Ritz-Carlton Hotel Doha.
2020 was a tough year indeed! That is why the international brand L'Occitane-en-Provence launched something really exciting yet mindful to help you cope with all the negativities of the Pandemic. The launching of the much-awaited festivity offering that inspired by nature and the act of giving is its own joy and that it really is the thought that counts. They believe in an essential link in their story, one that begins with a seed and ends with you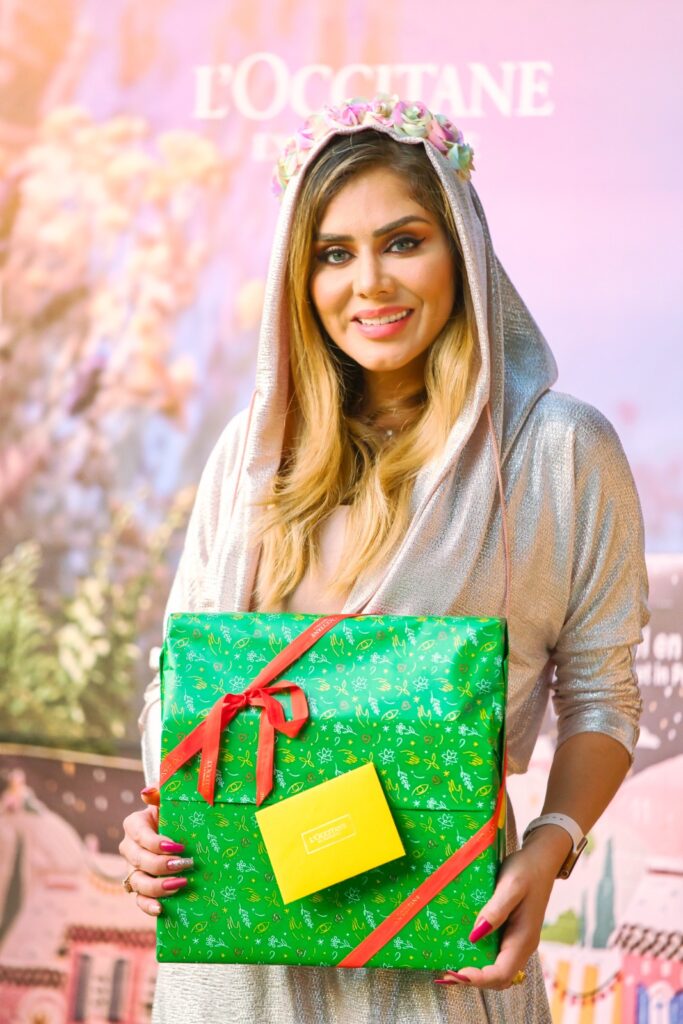 Photography: Farhat Naweed