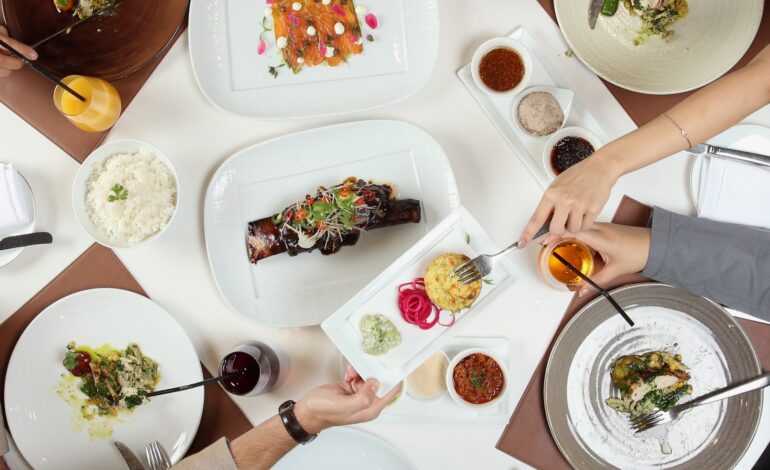 admin
Nov 2, 2020
726

7 minutes read
After a long wait, the iconic and avant-garde CUT restaurant reopened its doors, disrupting the gastronomic experience through layers of new flavors and new menu items
Mondrian Doha, managed by leading international lifestyle hospitality group, sbe, is excited to announce the much-anticipated reopening of CUT. Founded by world-famous Austrian-American celebrity chef Wolfgang Puck, CUT Doha has revamped its identity under the leadership of Executive Chef Justin Yu, well known by Qatar's community, particularly for his mastership in ribs and steaks.
Reflecting the individuality of Doha, CUT's new menu now includes a wider variety of dishes, as well as incorporating more shared plates for a family style meal. Local flavors were added to the menu including fresh seafood, labneh, zaatar spiced almonds and saffron beurre blanc. The new menu gives guests a sense of place by using local ingredients which then takes you on a journey driven by the emotional connection through food and drink, revealing the multicultural aspect of Doha.
One of the main novelties to the menu adopted by Chef Justin is the scaling down of the steaks in favour for more seafood and vegetable-centric dishes, catering to the growing clientele of the restaurant with different gastronomic preferences. The Tomahawk, Wagyu Short Rib and Wagyu Filet remain highlighted on the menu, and other cuts of streak can be prepared, should a guest have a special request. The menu layout has also been adjusted to the new style, with clear and organized sections.
Chef Justin has also unveiled two new signature dishes: Glazed Whole Short Rib and Beef Cheek Pastrami. The Glazed Whole Short Rib will layer in various flavours, where the guest can choose how they would like it cooked, along with the wide variety side dishes to choose from. The Beef Cheek Pastrami gives Chef the ability to use a cut that usually is not normally used, thus, the section "Nose to Tail" on the menu and the utilization of the whole animal. Hailing from New York City, Chef Justin's Beef Cheek Pastrami will take diners on a journey to his home city, with its unique taste and stand out cuts of meat.
CUT's interior has also been refreshed, with the private booths, tables and banquets rearranged and spaced throughout the restaurant. Planters have been added for a warmer and fresher feel.
Mondrian Doha's Executive Assistant Manager, Sadbir Sharma, said, "CUT is now set to welcome our guests in a renewed and warm setting, but also with an upgraded and diversified offering. We are particularly proud of CUT becoming more locally rooted through established collaborations with Qatari and regional producers, and the enhanced use of fresh Middle Eastern flavors. CUT's menu now has a bit of everything for everyone, satisfying the most discerning palates and those who are in quest for a new gastronomic journey".
CUT Doha's Executive Chef Justin Yu added, "With the new concept, we wanted to create a sense of place by using local and regional ingredients and flavors. We wanted to make the menu more modern and accommodate different tastes. By making a few changes on the menu, rearranging the restaurant for a fresh feel, guests are able to come to CUT and forget about the outside world, even just for a moment, and enjoy the sharing of good food, have good conversation with good company".
CUT maintains the highest standards of service, proper to all CUT outlets in the world and cherished by Mondrian Doha. Through the showcasing of the steaks, the tableside service, and the diversified menu, CUT Doha strives to provide Qatar residents with memorable experiences.
In line with the government guidelines, CUT applies strict safety, hygiene, and social distancing measures. Guests are required to show a green tag code on their Ehteraz App at the entrance to the hotel, and to wear a face mask when entering or leaving the restaurant. Contactless menus will be available for all guests. A safe distance between tables will also be guaranteed; groups of more than six, except for families, will be seated at separate tables. All the tables will be regularly sanitized with electrostatic sprayers. Portable hand sanitizers will also be available on all tables.
For reservations, guests are invited to call 4045 5999
For further information about Mondrian Doha visit www.mondriandoha.com