I AM A PALESTINIAN AND I CREATE MY DESIGNS FROM MY ROOTS, THE PALESTINIAN CULTURE, AND THE INFLUENCE OF THE ARABIAN HERITAGE "Neven El Kady"
Neven carried Palestine with here wherever she traveled and tried to reflect the Palestinian identity and its continuity through the most beautiful way, which is fashion.
I started with the Palestinian embroidery, to show its richness with a modern touch, and reached to the Arabian heritage to make unified designs. What made my designs popular is the strong attachment with the Palestinian and Arabian heritage and to presented with a modern appearance, as we have a lot of gorgeous things to show, especially that the Palestinian dress is full of deferent shapes which is rooted into our land and people.
All of my designs are made for the Arabian women and taken from our heritage presented in a modern style to preserve our identity and culture.
Neven alkady is a fashion designer, her mission is to preserve the Palestinian heritage fashion we would like to know about your beginning?
I started early when I use to watch my grandmother and my mother creating there dresses with embroidery and after that I started with Palestinian women association in Egypt where I learned techniques and I found that your creating an art peace on a cloth material even though I went to low university but my passion was for fashion design where I took courses in an Italian institute and from an early age I found out that a women that spends so many months creating her dress as a women that cares about fashion and since my family owned a clothing retail shop I decided to make my own line of fashion for men which was a success under the name of vino, getting married got me away where I moved to Qatar and USA I hold my dream for my family and when my children became old enough I decided to come back to my dream . During my stay in different places, it created my awareness about different cultures and its perspective of fashion.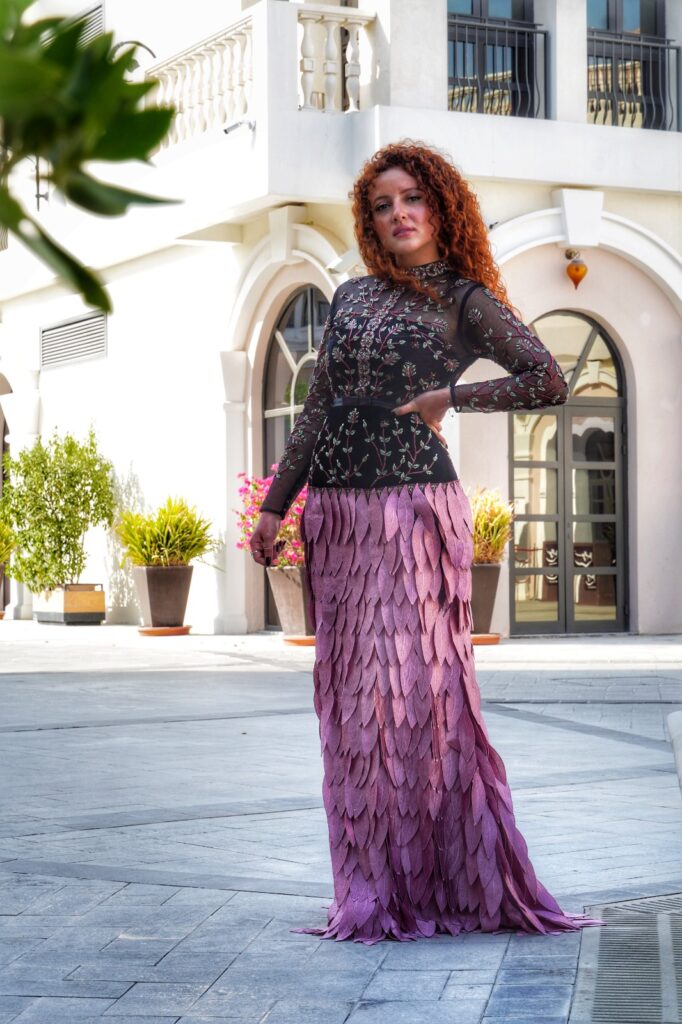 In a time that a lot of fashion designers try to get a name in so many ways you have chosen the hard way that depends on intellectual and cultural bases, why?
The way I was raised in a family with nation roots my father was a nationalist Palestinian figure and my association with the Palestinian women movement effected my thoughts and believes and I tried to but all of that in my fashion designs and the most important point to deliver the love of fashion to the new generation and my kids had the most impact on me to teach them about their heritage and culture
In your opinion what is the relationship between fashion and culture?
Culture determines the type of fashion any nation where and reflects the way they live so environment dictate the fashion of each nation
Your last collection [welada] which mean birth, birth of what?
Welada was during corona and Ramadan and taking the vaccine which gave us a new hope for a new start
You started late in time which had so many challenges tell us more about difficulties that you faced?
Starting at this age was not easy a lot of people think its too late to start something like this specially in middle eastern society my personality and persistence I want to send a message to all women at any age there is no late time and you have to go after your dream and passion I was very lucky to get all the support I needed from my family my children and friends where my biggest supporters the hardest challenge I faced was in the market and the Arabic society which is tiled to western fashion to accept me and my designs into the fashion map and the new way of presenting traditional fashion what makes your designs different from others my designs has the spirit of Palestinian embroidery and Arabian heritage touch with an acnes
What your message to all women with unborn projects?
My message follow your dream listen to your heart and sharpen your tools
How do you describe your relation with culture and design?
Is the relationship between passion with identity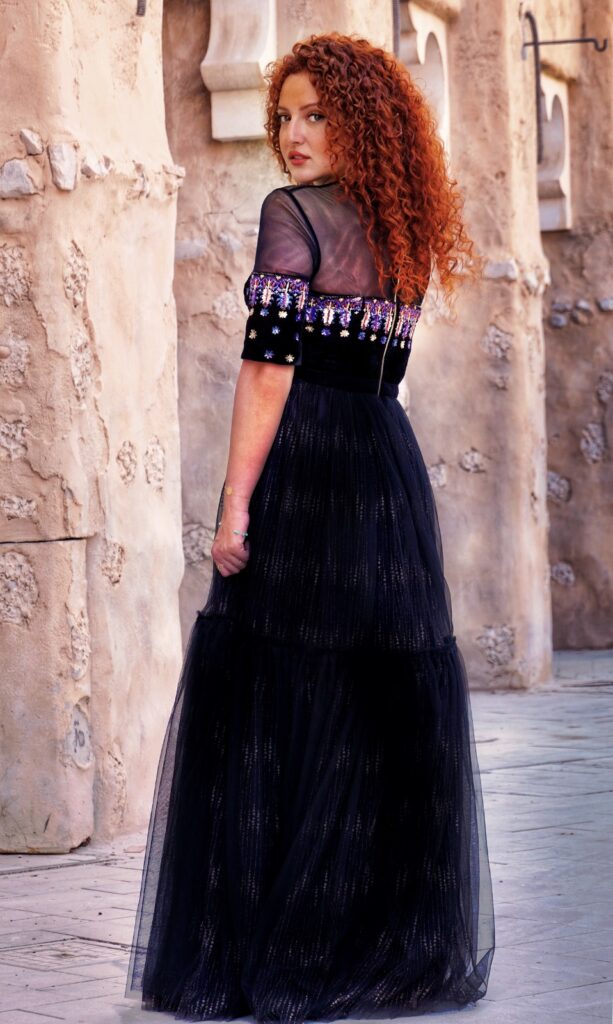 A dream you would like to accomplish
To see the Palestinian fashion on the global stage our fashion is rich with beauty and our heritage should be presented to the world because we were deprived of showing our heritage to the world with my dream for the Arabian women to have an amazing place in the global fashion map and I want to become an idol to any women that have passion and a Couse with message-+