With the recent unveiling of the new rear-wheel drive model, Porsche Centre Doha, Al Boraq Automobiles, completes the sports saloon model range, now offering four fully electric models in its Taycan range besides the Taycan 4S, Turbo and Turbo S variants. The new Taycan provides an entry into the world of sports luxury electric performance motoring from QAR 344,700 with the option of two battery sizes for added efficiency and performance to suit the individual's need.
The new entry-level model features rear-wheel drive, is available with two battery sizes and delivers up to 408 PS (300 kW) with the Performance Battery or up to 476 PS (350 kW) with the Performance Battery Plus.
Welcoming its arrival, the Chairman and CEO of Porsche Centre Doha, Salman Jassem Al Darwish said that the Taycan now offers Porsche customers and performance car enthusiasts even more choice to enter the world of electrification with this latest model: "Porsche's constant support and commitment to sustainability initiatives like the Taycan continues to flourish as we move through 2021. Starting with the 4S, Turbo and Turbo S last year, this new derivative of Taycan will attract a new generation of customer to Porsche who are passionate about environmental initiatives, are tech-savvy and who are always looking to future trends and innovations for inspiration. Porsche has always been about innovation and engineering perfection and since Taycan was released last year, it has received global accolades including 50 international awards for its performance and green credentials."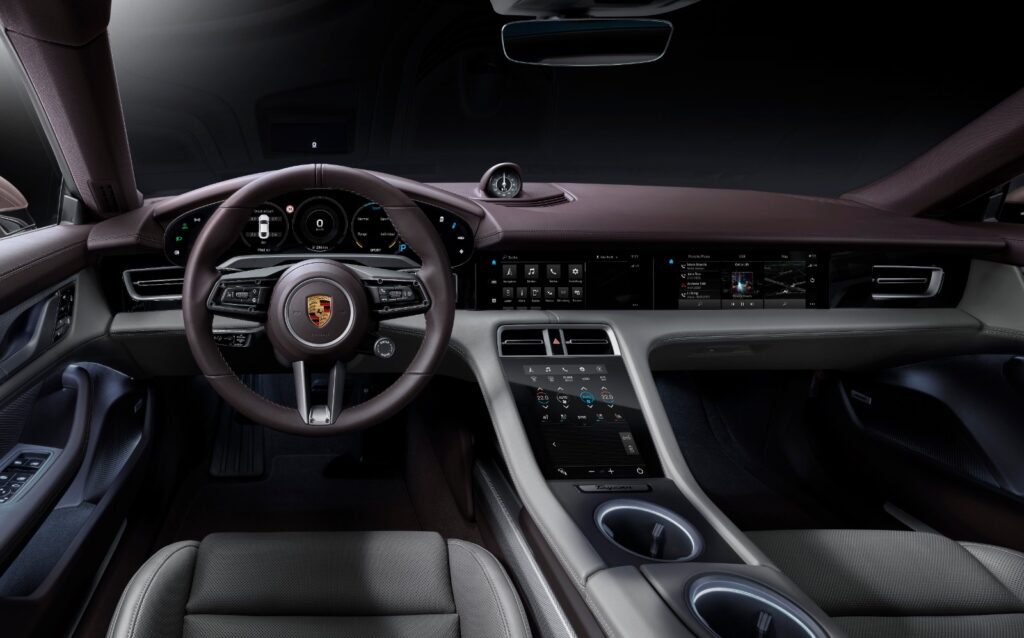 The new Taycan features a permanently excited synchronous motor on the rear axle and like its all-wheel drive siblings, also includes a two-speed transmission as well as excellent aerodynamics of just Cd 0.22 that makes a significant contribution to its low energy consumption and range.
In line with WLTP standards, Taycan has a range of up to 431 km from the single-deck Performance Battery with its gross capacity of 79.2 kWh and 484 kms from the optional two-deck Performance Battery Plus that has a gross capacity of 93.4 kWh. Regardless of battery, the entry-level Taycan accelerates from zero to 100km/h in 5.4 seconds and on to a top speed of 230km/h.
Externally, the new Taycan differs from other models with new 19-inch Aero wheels over black anodised brake callipers. The front apron, side sills and rear diffuser are also in black while LED headlights are standard. Inside, it features a partial leather interior with eight-way electrically adjustable front seats. Taycan is also the first Porsche to offer an entirely leather-free interior featuring recycled materials as an alternative. Like the 4S, Turbo and Turbo S, the rear-wheel drive Taycan includes two luggage compartments with 84 litres of stowage in the front and 407 litres in the rear.
Both steel-spring suspension and the optional adaptive air suspension with three-chamber technology are also available. The optional air suspension is supplemented by the PASM (Porsche Active Suspension Management) electronic damper control system and is equipped with a Smartlift function that memorises recurring locations such as road humps or garage driveways and automatically raises its ride height.
The newest member of Porsche's electric vehicle family is on display alongside the rest of the Taycan range at the Porsche Centre Doha in the heart of The Pearl-Qatar Medina Centrale.