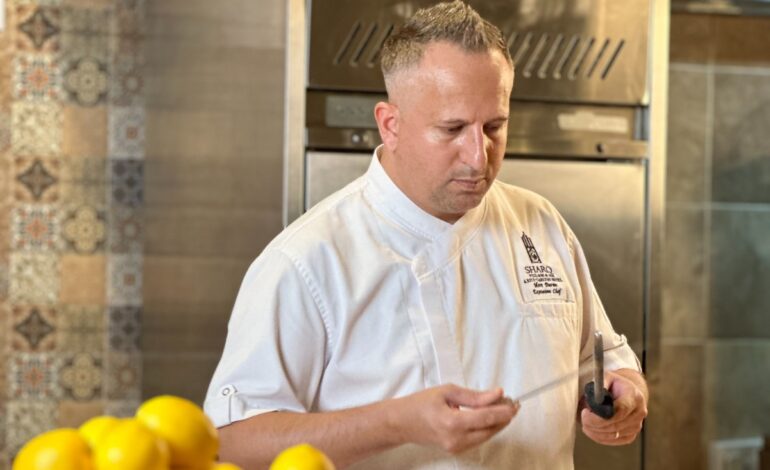 admin
Nov 15, 2023
938

7 minutes read
Embark on a gastronomic journey as Sharq Village & Spa, Ritz-Carlton Hotel welcomes the culinary virtuoso, Chef Mert Duran. In an intimate conversation, we delved into the chapters of his culinary narrative that have brought him to the heart of Qatar's culinary scene.
Chapter 1: Roots of a Culinary Maestro
Editor: Let's start at the beginning. Can you share a bit about your journey as an Executive Chef?
Chef Mert Duran's story unfolds in 1999, where his kitchen odyssey began as a trainee in Turkey. After graduating from Tourism Occupation High School in 2000, he further honed his skills with an Associate Degree in Professional Food Technique at Bolu Abant Izzet Baysal University. The plot thickened in 2005 when he embarked on an international escapade in Dubai, collaborating with over 100 chefs, including Michelin luminaries.
Chapter 2: Culinary Genesis
Editor: What sparked your initial passion for becoming a chef?
The genesis of Chef Duran's culinary passion lies in his father's influence. However, it was the vibrant and dynamic world of cooking revealed during his time at Tourism Occupation High School that truly ignited the flames of his culinary love affair.
Chapter 3: The Palette of Inspiration
Editor: What fuels your passion for crafting innovative dishes?
Chef Duran's culinary canvas is painted with a desire to surpass guest expectations. He draws inspiration from local cultures, infusing them into his creations. His creativity, much like a mosaic, blends the flavors of Turkey, Levant, Mediterranean, and Europe.
Editor: How do you breathe life into your culinary creations?
Duran's creativity is an alchemical process, experimenting with flavors from various countries. His nationality serves as a muse, allowing him to compose distinctive tastes from familiar ingredients.
Chapter 4: The Alchemy of Flavors
Editor: Share with us your culinary philosophy when crafting a new dish.
Chef Duran unfolds his culinary philosophy, placing a spotlight on the paramount importance of high-quality and fresh ingredients. The delicate balance between tradition and innovation is found in his immersive experiences, exploring local markets, trying traditional dishes, and soaking in the cultural tapestry.
Chapter 5: Symphony of Inspiration
Editor: Where do you find inspiration for your dishes?
Duran's culinary symphony is composed of notes from travel, culture, ingredients, and diverse experiences. His creative mind is a perpetual melody, always ready to compose, much like a maestro with a timeless score.
Editor: Can you recount a moment that significantly shaped your culinary journey?
In this chapter, Duran reflects on his father's influence and the motivating force of a close friend from Tourism Occupation High School.
Chapter 6: Culinary Masterpieces
Editor: Do you have a signature dish that holds a special place in your heart?
Chef Duran takes pride in the joy of his guests, crafting dishes that leave a lasting impression. The pear salad marinated with grape & pomegranate molasses emerges as a star, a delightful dance of fresh greens, goat cheese, and a symphony of sweet and sour notes with hazelnut.
Editor: Is there a story behind a particular dish that captivates your culinary journey?
The slow-cooked lamb shoulder with smoky eggplant puree is a culinary tale inspired by Ottoman Cuisine, a testament to Duran's commitment to weaving tradition into his innovative creations.
As Chef Mert Duran takes center stage at Sharq Village & Spa, Ritz-Carlton Hotel, Qatar anticipates a new chapter in its culinary story. An evocative blend of tradition, innovation, and an unwavering passion for creating culinary masterpieces awaits discerning diners. Bon appétit!
Thank you, Chef Duran, for sharing the chapters of your culinary tale. Congratulations on this exciting new chapter at Sharq Village & Spa!