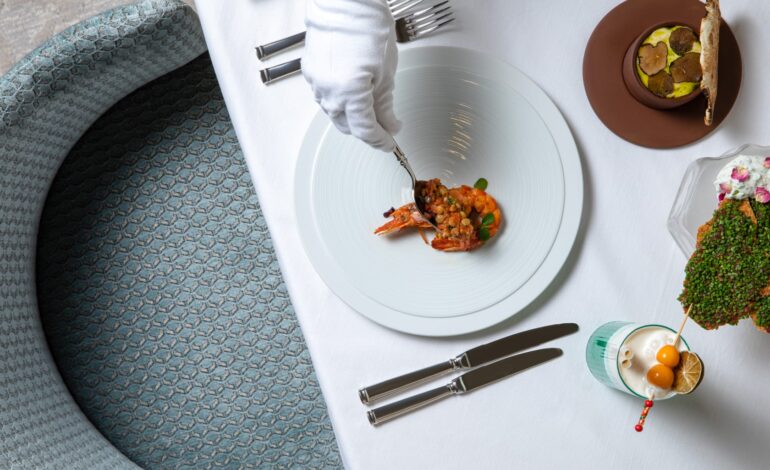 admin
Sep 5, 2023
494

4 minutes read
From the land where tradition meets modernity, an idea of a space that has a different story to tell was born. Steeped in history and embracing contemporary ideals, Sanad is a unique concept that delivers a unique experience in the heart of Doha. It beautifully weaves the rich tapestry of heritage and tradition with a modern Arab perspective in a country that values its past while keeping its sights on the future. Arabic in all its aspects, from the original concept to the interior design elements, everything you will hear, see, smell, taste and touch at SANAD is a proud modern representation of our Arabic roots.
Sanad Private Members Club stands proudly in the heart of Doha's vibrant downtown Msheireb, offering an unrivaled personalized and modern experience of Arabic hospitality. The club's mission is to support and elevate the lifestyle of its discerning members through exclusive amenities and services, echoing the mission of Msheireb in providing a modern lifestyle rooted in tradition within Doha.
Members can revel in the opulence of premium lounges such as Dar Sanad, the members only lounge space. Dar Al Hareem, the female-only private lounge within Sanad which accommodates the needs of the local traditions. As well as indulge in the luxury of private rooms for special occasions such as business launches, client entertainment, and birthdays. With access to these beautiful private spaces, every event becomes an unforgettable experience. Asfor aficionados of the cigar culture, the Sanad Cigar Lounge (Salat Al Alia) provides an unmatched experience. The lounge offers a carefully curated selection of premium cigars from around the world, curated by a team of experts, ensuring an exquisite and luxurious atmosphere for connoisseurs to enjoy. Furthermore, to complement the lavish offerings, Sanad's dedicated concierge team is committed to providing exceptional support for every aspect of their members' lifestyle. Whether it's assistance with reservations, priority services, or access to exclusive benefits, Sanad ensures that every moment spent within its walls is nothing short of extraordinary.
The identity and experience of SANAD is elevated further through the contemporary interior design as well as the commissioned artworks by regional Arab artists and designers, where both the design and art influenced by Arabic identity. Through collaboration, SANAD proudly supports and showcases the works of local and regional artists and designers crafted exclusively for SANAD by the likes of artists such as Ahmad Al Bahrani, Shouq Al Mana, Jassim Al Nasrallah and Reema Abu Hassan, all of whom delivered the story of SANAD through their work by embodying the Arab identity, heritage, and culture
One of the highlights of Sanad is its outstanding SAWA Restaurant, where Levantine cuisine is reimagined with a modern touch. Diners will be treated to a delightful interpretation of authentic regional flavors presented with contemporary flair, taking their taste buds on a nostalgic journey. The sharing concept of SAWA reignites gatherings and creates new memories, echoing the goal of SANAD.
Sanad Private Members Club is set to offer a one-of-a-kind Arabic experience in Qatar.
For more information on applying for membership and experiencing the epitome of refined luxury, please visit our website at www.sanaddoha.com or reach out to Info@sanaddoha.com.