TOMMY HILFIGER PUTS SUSTAINABLE TWIST ON FALL 2020 TOMMYXMERCEDES-BENZ CAPSULE COLLECTION
Tommy Hilfiger, which is owned by PVH Corp. [NYSE: PVH], announces the launch of the Fall 2020 TommyXMercedes-Benz men's capsule collection, which spotlights more sustainable production methods and materials. This fourth collaborative collection capsule builds on the Tommy Hilfiger's multi-year strategic partnership with the six-time champion, Mercedes-AMG Petronas Formula OneTM Team. The collection will launch globally online at tommy.com, in select Mercedes-Benz dealerships, at select TOMMY HILFIGER stores and at select department stores starting October 1, 2020.
Expanding upon Tommy Hilfiger's sustainability mission to create fashion that Wastes Nothing and Welcomes All, the Fall 2020 TommyXMercedes-Benz capsule features more sustainable cotton, Sorona®-filled parkas and suit bombers, and Ecodown® quilted vests. These sustainable materials are the latest to be added to the growing portfolio of more sustainable TOMMY HILFIGER products.
Innovation sits at the heart of the Fall 2020 capsule, which blends the TOMMY HILFIGER brand's classic American cool sportswear heritage with the technical expertise of the six-time Formula One™ World Champions. Timeless styles including the utility jacket, bomber and leather jacket are elevated with a sophisticated, tailored twist and technical elements, such as climate control finishes, perforations, rubberized tapes, seamed seals and Velcro® adjustable closures. The red, white and navy color palette is enhanced with pops of burnt orange, light grays and olives, and the iconic TOMMY HILFIGER flag and Mercedes-AMG Petronas Formula OneTM Tri Star are elevated through subtle execution. The signature TOMMY HILFIGER stripe continues its minimalist approach on hems and cuffs, and TriStar linings add an unexpected twist to classic outerwear. The collection is clean and sophisticated for the modern Tommy man.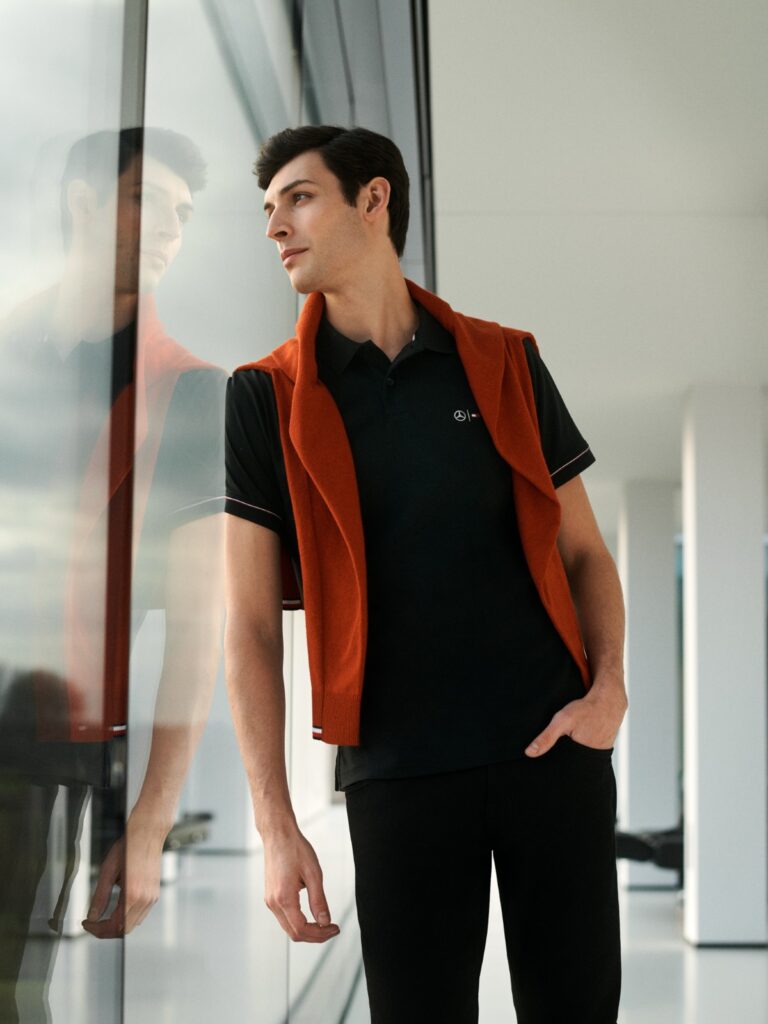 Starting in the 2018 season, TOMMY HILFIGER became the Official Apparel Partner of the Mercedes-AMG Petronas Formula OneTM Team, building on the sport sponsorship heritage that Tommy Hilfiger has embraced since first founding his brand. The partnership with the world's top Formula One™ team and leading automobile innovator underscores Tommy Hilfiger's vision to continuously elevate and expand the brand in key markets for a new generation of TOMMY HILFIGER consumers.
Friends and followers of the brand are invited to join the conversation on social media using #TommyHilfiger, #TommyXMercedesBenz and @TommyHilfiger.