Abdullah Abdulghani & Bros. Co.
(AAB), the exclusive distributor of Toyota and Lexus in Qatar, received three prestigious awards from Toyota Motor Corporation (TMC) in recognition of their superior performance in the year 2019.
These awards were presented during a virtual ceremony held recently.
AAB's After Sales Division received the Customer Delight Excellence Award for the 8th consecutive year after scoring the requisite number of points based on the criteria set to qualify for the award.
The Sales & Marketing Team received the Toyota Marketing Award for Excellence (Vehicle) for their outstanding sales, increase in market share as well as for achieving the target for selling Hybrid Electric Vehicles.
AAB also won the Toyota Marketing Award Overall for their excellent performance in Customer Service and Vehicle Sales.
Dr. Nasser Abdulghani Al Abdulghani, AAB Chairman along with Senior Managers received the awards from the senior management team of TMC.  In his acceptance speech, Dr. Nasser Abdulghani Al Abdulghani acknowledged the contribution of every single team member of AAB that made the achievements possible. Given the extraordinary times due to the Coronavirus pandemic,
Dr. Nasser highlighted that every situation is an opportunity to rediscover, re-invent and re-align the company's direction. 
The commitment and dedication of the AAB team to keep the company productive and operational during such times and despite its challenges, has been brought to fore and reflects AAB's commitment towards Customer Delight.
Thanking TMC members for their wholehearted support and guidance,           Mr. R. K. Murugan, Acting CEO added that AAB will adapt our self, align our self and transform AAB to be totally in line with TMC's vision on CASE (Connected, Autonomous, Sharing and Electrification), MAAS (Mobility As A Service) and Best In Town strategies.
This will include all operational enhancements for customer delight and internal processes for its employees. With our customers and employees being the key focus, this will create the sustainable growth for the company.
Mr. Murugan further emphasized AAB 's commitment towards its customers and highlighted that the company will do the necessary to always exceed customer expectation.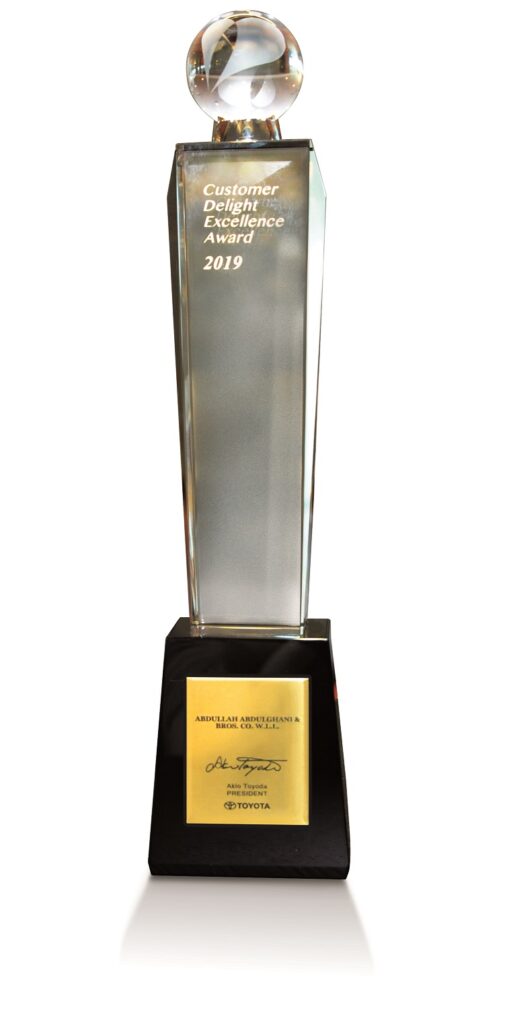 Abdullah Abdulghani & Bros. Co.'s customer orientation is part of their DNA. The Core Value of FIRST exemplifies their standards. The 'FIRST' principle which it uses across all customer touch points which stands for F: Fairness; I: Integrity; R: Respect; S: Superior Performance; T: Teamwork, these values which Abdullah Abdulghani & Bros. Co. strictly inculcates on a continual basis to the customer and to each other as colleagues.
In an initiative aimed at promoting Healthy Living, AAB & TOYOTA launched HADO AR game in their Toyota Showroom at Al-Abdulghani Tower in collaboration with Japanese start-up MELEAP.
AAB is the first Toyota distributor in the world to tie up & launch this technologically advanced AR game in their Showroom.
To provide the best after sales support, AAB is continuously expanding its service network across the country.
Currently, AAB has 11 Service Centers in addition to Mobile Service Vans which will help their customers to service their vehicle at their doorstep and convenience. 
AAB also implemented TMC global projects related to BIT (BEST IN TOWN) initiatives, Lexus Flex – first of its kind subscription programs related to MAAS (MOBILITY AS A SERVICE), unique best practices related to SYI (START YOUR IMPOSSIBLE) and preparations to introduce special technology such as Connected Display Audio (CDA) & Data Communication Module (DCM) connectivity into our Toyota & Lexus vehicles.
As a responsible corporate citizen AAB has been regularly supporting many Government supported events be it sports, traffic, cultural & philanthropic. AAB has collaborated with Qatar University and the Traffic Department for the 1st National Traffic Safety Awards to promote Traffic Safety in Qatar. Winners of the awards will be announced later this year.
In coordination with Hamad Medical Corporation, the company organizes Blood Donation Campaigns to support the Qatar's Blood Bank, another significant community initiative. In addition to the above, as a responsible corporate citizen, AAB actively runs their Corporate Social Responsibility programmers by participating in community activities related to their 3 CSR pillars namely the Environment, Education and Health & Sports.
Sports is another area which AAB has been passionate about. From being the Exclusive Automotive Partner of Qatar's premier Football events, Qatar Stars League, the Qatar Cup and the Emir Cup to promoting and supporting Horse Racing and Camel Racing, the Company is actively associated with Sports in Qatar.
Abdullah Abdulghani & Bros. Co.
has always recognized the vital value of nurturing happy, motivated performers and the fact that keeping up the success momentum requires the active participation of its employees.
In line with this attitude, the Company continually implements numerous employee happiness programs to enhance employee morale and provide a good work-life balance.