admin
Jan 4, 2023
2298

7 minutes read
Tis' the season of festivity, love, light, and a whole lot of glitzes, glam, and party! It's that time of year when we all enjoy winters, holidays, festivities, and of course, New Year Nite.
When you think of festive makeup, your mind probably wanders to looking up glamorous makeup for a celebration. However, there is more to be said and done for the shimmer and perfect flicker look for a party night!
The Senior Makeup Artist Emilia Subaih knows exactly what you'd want for your breezy night glam looks. So, we asked her to give us this season's most celebrated ones from her signature makeup styles.
"Regardless of how you celebrate, what we more likely would be looking for is radiant skin, a little glitter thrown in with perfectly defined eyes and lips to get in the festive mood". Emilia told us.
"So, if you need some of my signature glam inspiration, I'm sharing this winter glam makeup look to help you get into the festive spirit."
Luminous Skin
"Skin prep is the secret to achieving luminous skin," Emilia explains. "I prep the skin with soft wipe soaked in micellar water, then I go with a hydrating moisturizer and extra illuminating face balm for priming the face. Once all this sets in, I moisturize lips with a hydrating lip balm, and under the eyes with an undereye serum. I make sure to give it enough time to set before moving on to the foundation.
Emilia gave us complete details of creating this gorgeous look, read on to get it from the makeup Diva herself.
---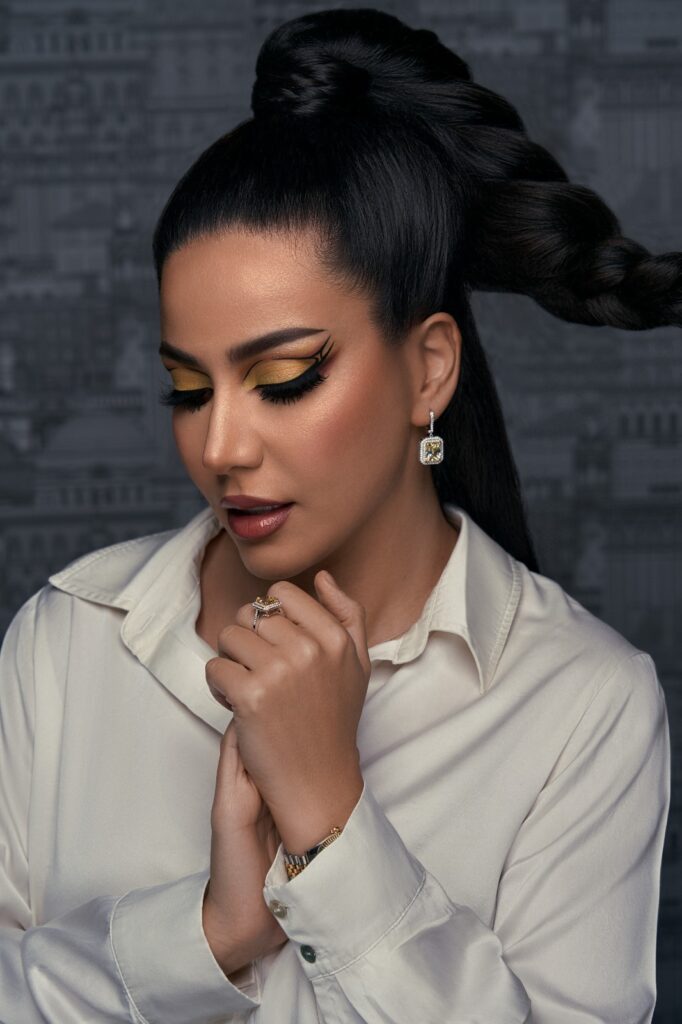 Natural-looking foundation technique
Give perfection to your complexion with a tinted balm foundation infused with firming serum. Build up the base as you desire to make it flawless with perfect blending. Set it up with loose powder to give a radiant, lightweight finish.
Gold Cut Crease Eyeshadow with Glowy skin
Gold eyeshade is jovial on its own. Thanks to its high-glitz and glided finish. When done in a cut crease technique, gold features a dramatic contrast of colors that make your eyes pop. Use neutral peach and brown to prime your lids and outer corners, then cut the crease of the whole lid with a concealer and apply a gold shimmery color to carve out the shape of your crease.
That Perfect cat eyeliner
To keep up with the dramatic eye story, use waterproof eyeliner in black to draw a wing on the upper lash line and take it up to the eye crease. Complete it with a few coats of voluminous mascara on your lashes.
Sculpted Face and Brows
Keeping a clean and defined aesthetics, Emilia religiously bronzes the face on all under points of the face and highlights with shimmer on all the high ones.
"I just love the final touch of blush after sculpting the face and brows to achieve the rosy cheeks finish". She told us.
Luscious Lips
To get a clean canvas for lips, I recommend lip scrub and hydrating lip balms.
After which, set your lips with the foundation. It will pop the lip color out beautifully.
Emilia explains,
My favorite way to create a jaw dropping pout is outlining the lips just a bit outside the natural lip line with a bronzer shade. Add some shimmering highlighter on the lips, and fill it with a nude lip color.
For a perfectly classic finish, gloss it up with a glittery lip gloss. Emilia says.
We are pretty sure that your takeaway for this winter glam look will win the hearts of many. Create this heartthrob look this season to bring out the fashionista in you. Don't forget to tag us and Emilia Subaih on it!
Makeup artist: Emilia Subaih
In Frame: Setareh Raeisi
Photography: Robert Grys