Fall-Winter 2020 Men's Collection
The Men's Collection draws its inspiration from the evolution of urban landscapes and the dynamism that characterizes the hustle and bustle of modern towns. Cosmopolitan and multicultural, cities are able to morph and breathe new life into elements from the past, convert functions and aesthetics, nourish and stimulate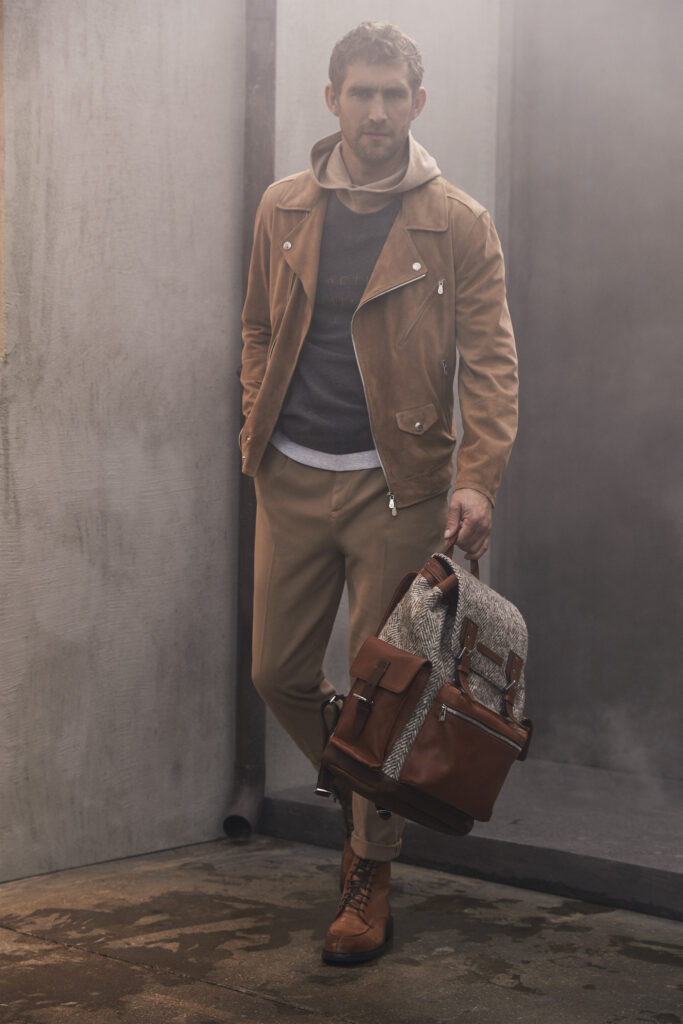 the genius loci, and connect vintage vibes with avant-garde accents.
The style of the contemporary man reflects this ability to evolve, to reflect an ever-changing identity and join tradition with modernity. His wardrobe is able to reinterpret elegance and functionality, harmoniously place details in unexpected settings, and blend contemporary with classic
in a unique, well-balanced and innovative way.
Combinations
Innovation lies in a modern take on shapes, materials and details, in a skillful mix that enhances inspiration, putting it in a new light. The design of iconic pieces is revisited with new materials, while details from the past are reinterpreted with a contemporary twist, and a modern style lends balance to any look.
All wardrobe items reveal their own personality, reaching their full potential when mixed together. Combinations of materials, inserts and colors with unique contrasting and modulating effects lend a dynamic flair to every element, giving life to harmonious and versatile matches that create the perfect ensemble. The sartorial design of the blazer, which is the undisputed star of any combination, is paired with soft and loose-fit volumes, for a modern appeal.
Color
Intense and refined specks of colour brighten up a precious and harmonious color palette.
Pomegranate, carrot, corn and aubergine enhance the rich collection of neutral colors that favors beige, presented in all its shades, from warm tones of camel and mink to algid nuances of sand, ecru and panama. A variety of metropolitan grays and lavish blues complements the color scene with a touch of modern and well-balanced style.

Overview
As always, the blazer offers a close to the body fit that highlights the male physique, but is now showcased in a new style that nods to the world of outerwear. Suits are enriched with fine fabrics and features relaxed-fit pants that convey a modern appeal and enhance versatility, for everyday wear.
The wide range of coats, pea coats and parkas is designed to complement looks for any occasion and provide tailored protection throughout the entire season. A new, slightly looser and straighter fit enhances the design of classic coats, offering the same comfort as the enveloping silhouette of knitted cardigans. The fit of the trousers adds a contemporary note to any look, especially to classic styles, with their timeless comfortable fit. Pockets and details define the sportier pieces, while handcrafted techniques embellish the celebrated Japanese denims.
Materials
The new fabrics for suits and blazers are characterized by patterns that stand out with their strong yet discreet color, adding a hint of urban sophistication to a balanced outfit. For the sports-inspired outerwear, ultra-lightweight technical fabrics alternate with soft materials made from noble natural fibers, whose properties are enhanced by special membranes and finishes that optimize protection.
A multitude of soft and precious leathers offers endless options to wear as the season evolves. Along with soft nappa leather for iconic styles and light but warm shearling coats, the collection is further enriched by innovative padded jackets, offering the warmth and natural protection of down in an innovative, thin and versatile design.
Knitwear
The knitwear collection expresses new colors and details that give character to classic stitches: cable knits, flat rib and English rib stitches are enlivened by color-block patterns and contrasting nuances that enrich the dialogue between colors.
The ample selection of fine natural yarns is perfect for any temperature of the season. The knitted outerwear capsule complements the collection with designs that combine the cozy feel of cashmere with the protection of modern fabrics and soft down padding.
Accessories
The accessories collection is constituted by a dynamic reinterpretation of classic elements, specifically designed to complement any look, any occasion and any time of the day, from casual elegance to contemporary formal attire. Fine leathers are exalted by skillful handcrafted techniques that make every element distinctive and unique.
An essential complement to any outfit, the footwear collection features a variety of styles,
with a special focus on designs that bring out the modern spirit in classic and formal constructions: combinations of materials, new detailing and innovative shapes add appeal to the urban and contemporary identity of any look. Mountain wear-inspired Hiking, Outdoor and Hill Boots feature premium leathers, while the new sneakers optimize winter protection, striking the perfect balance between comfort and modernity.