City Center Doha, Qatar's leading shopping destination, started its 20th anniversary celebrations on the 13 December 2021 with a press conference at the mall in the presence of Sheikh Faisal Bin Qassim Al Thani, Chairman of Aamal Company Q.P.S.C., Sheikh Mohamed Bin Faisal Al Thani, CEO and Managing Director of Aamal Company, and Mr. Baris Sezen, City Center Director. Also in attendance were several of Doha's leading media and influencers.
  
To celebrate this historic milestone, City Center Doha will host a program of activities over a period of 20 days, with festive decorations, social media activities, competitions and prizes.

Sheikh Faisal bin Qassim, Chairman of Aamal Company Q.P.S.C., commented:
"When we first embarked on this huge project in the late 1990s, it felt like an impossible dream to achieve, but with the ambition to deliver something extraordinary to our beloved country, and with the encouragement we received from our partners and the Government, the impossible became a reality and we are gathered here today to celebrate an amazing landmark that in some way has touched the lives of everyone in Qatar. We will continue to invest in City Center Doha to maintain its market-leading position as we always aim to deliver the best to our community and beloved country."
Sheikh Mohamed bin Faisal Al Thani, CEO and Managing Director of Aamal Company Q.P.S.C, said:
"Today marks a special occasion for us and for Qatar's retail sector. Since its opening in 2001, City Center Doha has added great value to Qatar's business landscape and has been the catalyst for the development of the West Bay area, Doha's premium business district. City Center Doha is now a beautiful space that has attracted top regional and international retailers to Qatar, boosted the job market and supported the local community. Ongoing investment by its owners, Aamal Company, ensures that City Center Doha maintains its ability to offer a unique shopping and leisure experience to Qatar's residents, as well as staying abreast of all the latest retail trends. Through its magnificent architectural design and the continuing upgrade of its facilities and tenant mix, City Center Doha is well positioned to continue be Qatar's leading shopping destination."
"City Center Doha is a sentimental place for many of us, with lots of memories shared with loved ones", said Baris Sezen, Director of City Center Doha. "We are thrilled to celebrate our 20th anniversary with the community. We look forward to welcoming guests young and old to share their memories and enjoy the activities, whilst reflecting on all the progress the mall has made over the last 20 years."
The 20th anniversary celebrations wrap up a season of growth at City Center Doha, which has welcomed more than 50 new tenants this year, including English Home, Adidas originals, Levi's, H&M, Sushi Library, Jamie Oliver's Pizzeria, Tea Time, Krispy Kreme, &deli, Topazz, Stenders and more.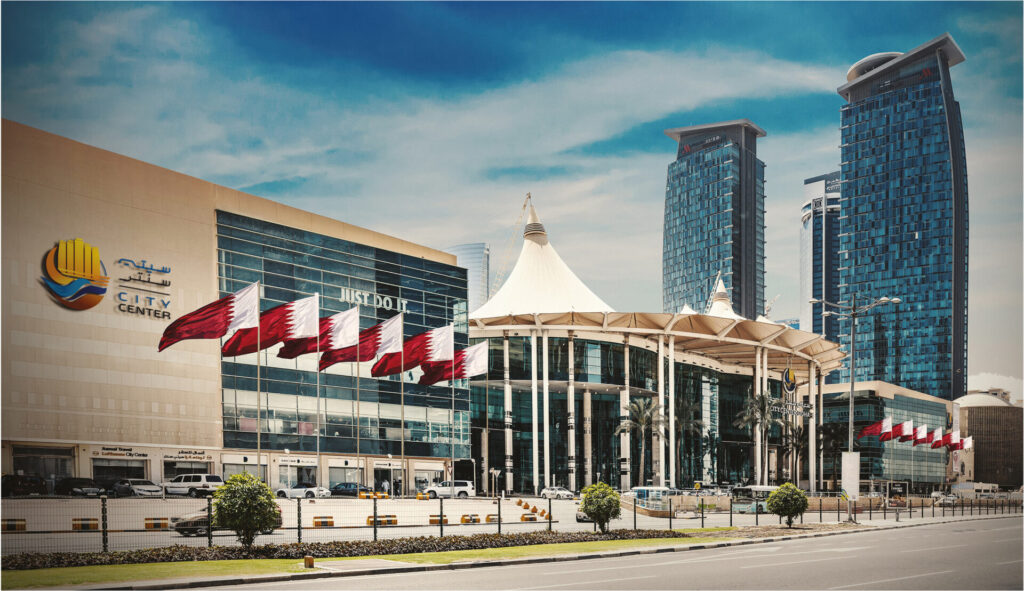 The mall has recently undergone a series of upgrades. A new outdoor area, Soho Square, has been constructed at the front of the mall, and will feature premium coffee shops and restaurants all with outdoor seating overlooking an eye-catching new fountain.

More than 15 new restaurants, including Pizza Box, South Street Burger, KFC, Chef Alfareej and Cheese Fountain, have opened in a new food court area on the east side, as well as a kids' playing area.
A new extension on the second floor allows easy access to the adjoining hotels, Marriott Marquis, JW Marriott, and Rotana City Center, and parking facilities have been upgraded, further enhancing the overall visitor experience. It has also introduced several renown brands, such as BRANDS, RED TAG, Mumuso, Defacto, Flo and more.

An upcoming gold market will also be launched soon, introducing new gold shops coming Doha from different parts of the region.

Since its launch in 2001, City Center Qatar has been at the forefront of Qatar's retail scene, bringing an outstanding shopping experience to the people of Qatar. With its exceptional location at the heart of the city, the mall has become Doha's leading destination for residents, visitors and tourists for shopping, dining, and entertainment.