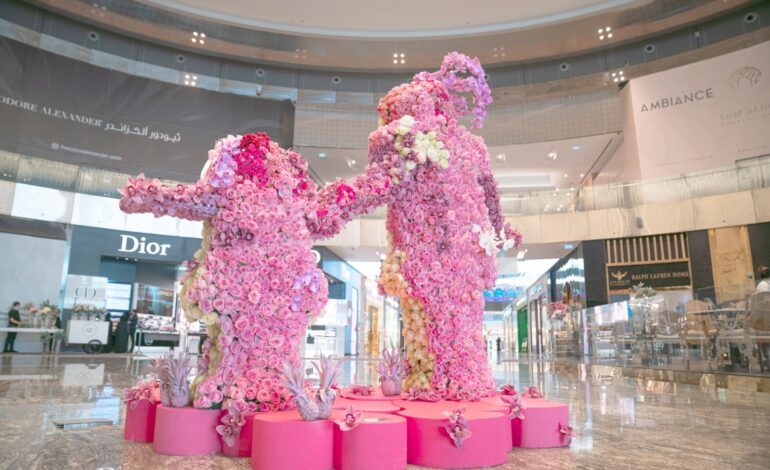 On this special occasion, the Mall will display an exclusive art piece, in collaboration with acclaimed celebrity events designer, Adam Afara, to showcase the beauty of motherhood.
Doha Festival City, Qatar's one and only choice for shopping, dining, and entertainment, celebrates Mother's Day this month, with a unique art installation, offering visitors memorable moments and a one-of-a-kind engaging experience.
In collaboration with Celebrity Event Designer, Adam Afara, Festival City will create a flower arrangement art piece by the entrance to the Luxury Area, occupying space of 2m x2m.
The art piece will be created with 5000 roses of different colors of pinks, in addition to 20 pink Vanda orchids, and 20 pink Cymbidium orchids.
Adam Afara is Beverly Hills Celebrity Event Designer and has designed occasions for world-renowned celebrities including Lady Gaga, Beyonce, Brittany Spears, Jennifer Lopez, Johnny Depp, Selena Gomez, Mariah Carey, Charlie Sheen, Denzel Washington, Haifa Wehbe, Paris Hilton, and Kim Kardashian, amongst others.
Starting 21st March, the exclusive art piece will be available for 5 days, where visitors can enjoy the beauty of this art, and take gorgeous pictures next to it.
Robert Hall, Doha Festival City General Manager, said: "We would like to greet all mothers and women during this special day, and show our appreciation towards them through this exclusive art piece. Since its opening, Doha Festival City became the partner of choice for world-class collaborations. Reflecting the beauty of motherhood weaved through its design, we would like to invite all our visitors to revel in this stunning flower arrangement, enjoying this unique experience that goes beyond shopping".
Adam Afara said: "I am thrilled to showcase my work of art at Doha Festival City, to the people of Doha. We both share the passion for exclusivity and for creating memorable experiences for our clients. I wish all mothers in Doha and around the world a very happy Mother's Day and I look forward to bringing joy and beauty to all through my creations.".
Furthermore, Doha Festival City will dedicate a special FFTV episode for this occasion, to be shared on the Mall's social media channels on 21st March to mark the celebrations.
Doha Festival City opening hours are Saturday to Wednesday from 10am to 10 pm, and Thursday to Friday from 10am to 11pm. In line with the preventative measures set out by the authorities, Doha Festival City has introduced stringent health and safety measures throughout the mall for its staff and visitors. This includes a thorough mall disinfection treatment on a weekly basis, robust cleaning, and sanitization operations during mall trading hours, 127 hand sanitizing stations installed in the areas that have commonly touched surfaces.
At the entrance to the mall and all shops, visitors must show their green Ehteraz QR code, and should wear a face mask during their whole time in the mall. Physical distancing stickers in common queuing areas, such as ATM machines, banks, telecommunication kiosks and branches and various retail shops were installed to help shoppers keep the required physical distance as set forth in the guidelines by the authorities. Stores will provide sanitizers on entry and at cash points to ensure the highest level of hygiene.