admin
Apr 4, 2023
1723

5 minutes read
British jewellery house Garrard reimagining its iconic Fanfare collection staples styles in a special Ramadan 2023 capsule
Ramadan is a month of challenges, growth, and togetherness. This unique time brings people from diverse backgrounds together to focus on acts of kindness, discipline, and personal reflection. It also brings plenty of opportunities to spend time with loved ones. The longest serving jeweller in the world, Garrard, offers a variety of glamorous jewellery pieces and inspirational designs in its limited Ramadan collection. These pieces can make any woman look elegant for such an auspicious occasion.
Earrings are not just an attractive accessory that adds a spark to your outfit but can also highlight your personality and individual style. They draw attention to your face, accentuating your features and highlighting your beauty. The fanfare Symphony Diamond earrings have the power to transform your entire look, adding a touch of glamour and sophistication.
The Fanfare Symphony earrings are a modern take on the Fanfare motif, which is elegant and effortless to wear. It has a round diamond at the center that adds charm to the refreshing contemporary design. You can wear these earrings alone as a statement piece or pair them with the matching Fanfare pendant and bracelet for coordinated contemporary jewelry.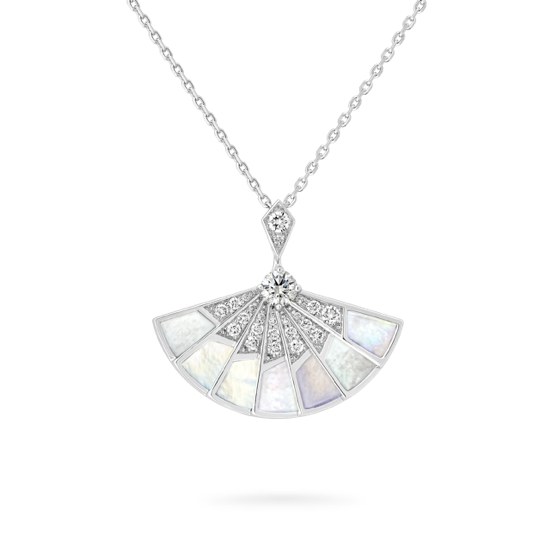 The Fanfare Symphony pendant, made of white gold, has diamonds arranged in a pattern that imitates the pleats of a fan. It has a modern interpretation of the Fanfare design, suitable for regular use. The design is off-centered, making it visually striking, and it has a round diamond at the center, adding to its sparkle. You can wear it alone as a statement piece or with the matching bracelet and earrings for a coordinated look. You can also layer it with other Fanfare Symphony pendants to create a layered appearance.
deep blue sapphire and diamond accents. Fanning the finger in an enchanting display of colour, the playful asymmetry of the fan is refreshingly contemporary.
A stylish, richly colourful bangle that interprets the graceful pleats of a fan in striking lapis lazuli inlay edged with pavé diamonds, the hinged design of our Fanfare Symphony bangle is designed to sit with exquisite comfort upon the wrist. Wear one bangle alone or layer with our turquoise and malachite Fanfare Symphony bangles for a boldly elegant statement.
The Fanfare Symphony bangle is a fashionable and vividly colored accessory that takes inspiration from the delicate pleats of a fan. It features a stunning lapis lazuli inlay that is surrounded by pavé diamonds, and its hinged design ensures a comfortable fit on the wrist. You can wear a single bangle as a statement piece or layer it with our turquoise and malachite Fanfare Symphony bangles for an impressive and stylish look.
Garrard jewellery are a timeless accessory that can be passed down from generation to generation, making them an investment in both fashion and sentimentality.