admin
May 16, 2022
3156

11 minutes read
How does Mondrian Doha continue to position itself as one of the key luxury destinations despite the fluctuations in guests' demands and hospitality sector perceptions?
By innovating continuously, capitalizing on our eccentric identity, and reinforcing the experiential side of the guests' journey!
At Mondrian Doha, we strive to offer our guests an extraordinary experience, combined with world-class service, and a personalized approach. We continue to innovate and evolve to provide the most unique exceptional stay!
We achieve this by bringing new concepts to Qatar and the region, diversifying our F&B and entertainment options, and first and foremost, by putting our guests' expectations above everything else.
Mondrian Doha is created with a mission to evoke the emotions and stimulate the senses, filled with passion, to grant guests their most exciting dreams to come true.
Art and design are part of our bold identity. Designed in collaboration with world-renowned Dutch designer, Marcel Wanders, Mondrian Doha takes its design inspiration from One Thousand and One Nights, a collection of Middle Eastern folk tales and stories, in a mixture of signature designer features along with influences from the local culture and landscape.
Mondrian Doha is keen to position itself as 'The place to see and to be seen,' through regularly bringing the hottest names of world's show business and cinema, expanding the hotel's radiance to global audiences and fans. Since its opening, the hotel hosted an array of A-list celebrities, including Jennifer Lopez, Paris Hilton, Omarion, Fat Joe, Sean Paul, Maluma, Katy Perry, Shay Mitchell, and idolized Indian actors Shah Rukh Khan.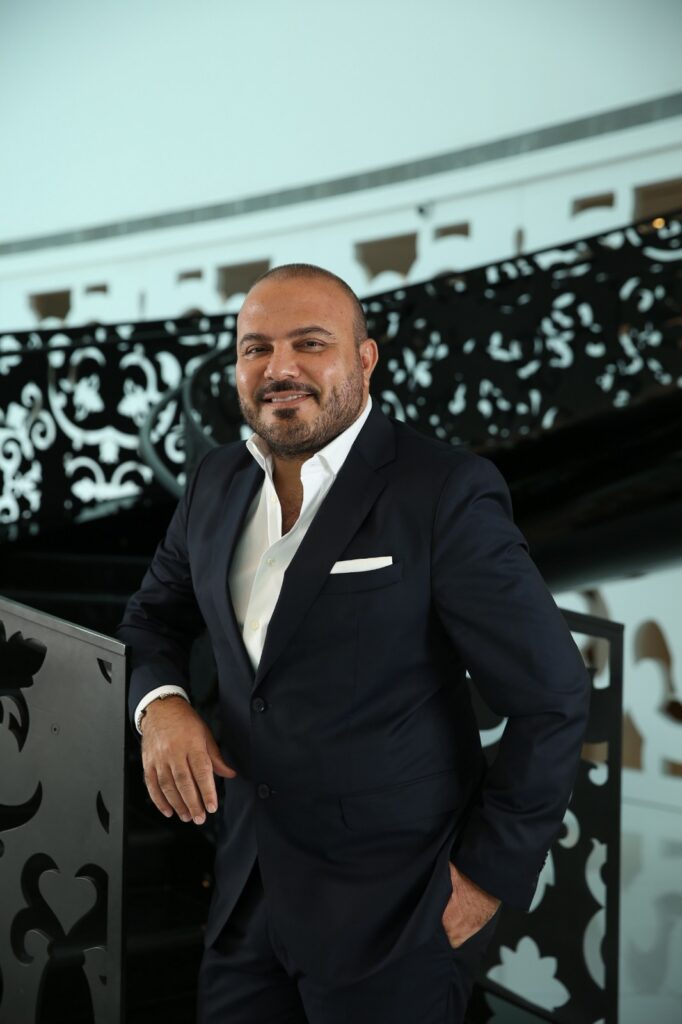 Tell us more about the latest F&B openings at Mondrian? Any upcoming new launches?
Our latest F&B opening was 12 Chairs, our luxurious Caviar bar. At 12 Chairs, we are pushing the boundaries on Caviar and fine dining. Our guests have a chance to live a truly interactive experience, synonymous with the omakase style. It is very much one on one, a very personalized and intimate experience.
Our techniques are very modern and innovative in preparing our dishes. We use the best ingredients from the top suppliers. Everything at 12 Chairs is made in house including the pastry.
Being at the epitome of luxury, our main aim at 12 Chairs is to create a unique experience that was never seen before in Doha, and to elevate the thriving local food scene.
With its newly opened terrace, what distinguishes Walima from other Middle Eastern contemporary restaurants?
Walima is unique for its authentic middle eastern flavors that echo our nation's spirit while embracing influences from the world.
Guests at Walima are welcomed in true Qatari fashion with abundant generosity reflecting Qatar's Modern hospitality and service.
With its newly opened terrace, Walima's outdoor beautiful terrace is home to traditional Arabic tents, offering a casual warm dining ambiance boasting panoramic views of the Lusail skyline and The Pearl- Qatar as the sun sets over West Bay Lagoon. Walima brings together magical elements from Alice in Wonderland and Arabian Nights. With east meets west, Walima's menu includes a wide selection of Cold & Hot starters combined with a selection of Mains from the BBQ grill and seafood dishes including their Grilled Seafood mix, Persian Style Lamb Shank, Chicken Majboos & Lamb Majboos.
With the business and leisure visitation set to rise with summer season, any prominent offerings/ packages that Mondrian Doha will offer?
With the summer season coming up witnessing the rise of staycations, we are lining it with a set of offers and packages for business and leisure visitation that puts everything the city has to offer at the doorstep of our guests. We have an array of exclusive planned experiences to enlighten our guests' journey and personalize their stay. From unique culinary offerings to entertainment spaces to unforgettable wellness and Spa treatments to exciting wedding and big events packages.
At Mondrian Doha, we seek to elevate our guests' experience so that they can leave with unforgettable memories, offering them a selection of the cream of the crop facilities.
The hotel offers 270 distinctive rooms; including the Penthouse and Deluxe Terrace Suites spread over twenty-four floors. All rooms feature bespoke miniature artworks, luxurious custom-made furniture, and Swarovski crystal chandeliers, and are complete with 24-hour room service and concierge service.
ESPA is one of the world's finest, with distinct and standout design features, along with a team of the world's top experts offering an unrivalled choice of spa, complimentary alternative therapies, fitness, beauty treatments as well as a hair and nail salon.
Mondrian has a variety of meeting rooms to cater to all needs, a 95 sqm boardroom, and offers the possibility to privatize any of our F&B venues. Our versatile events and meeting spaces can fit up to 300 guests and is one of the biggest ballrooms in the country – with the possibility to accommodate up to 1,500 guests. With an access to a diversity of our emporium of culinary offers as well as complimentary Wi-Fi, in room desks, and a business centre, Mondrian has everything covered even for the most discerning business traveller.
What would differentiate Mondrian's nightlife & dining experience from other luxury hotels?
Nightlife and food & beverage are the most exciting part of Mondrian's exquisite experience-focused journey. Mondrian's nightlife offering is truly eccentric and vibrant. Surrounded by gold-framed mirrors, two bars and an oversized DJ booth, Black Orchid is the place to be seen and see Doha from a perfect perspective. With Doha's hottest cigar lounge, 'Smoke & Mirrors' boasts a selection of the world's finest cigars. For those looking to indulge in Shishas as the sun sets over West Bay Lagoon, the outside terrace at Walima is their perfect choice. Sports lovers – can also indulge in watching a game in Hudson Tavern sports bar while enjoying the vibrant nightlight vibes.
Mondrian's culinary offerings brings world-renowned restaurants to Doha for the very first time: Morimoto, a Japanese restaurant by celebrity Chef, Masaharu Morimoto with stunning design and artwork by artist Hiroshi Senju, and Chef Morimoto's acclaimed menu; a recently revamped CUT by celebrity chef for the stars, Wolfgang Puck highlighting his signature international and steak dishes. Mondrian also pays tribute to the Middle Eastern and Qatari heritage with Walima, while Hudson Tavern features the finest New York-style burgers, in addition to EllaMia, a coffee brand that transcends the ordinary with its exclusive blends.
With its most recent addition, 12 Chairs, an ultra-luxurious caviar and champagne bar is set to take guests on the finest gastronomy experience.
How does Mondrian's bespoke interior design and architecture contribute to offering a truly holistic, and memorable experience for its guests?
The hotel was designed by world-acclaimed Dutch designer Marcel Wanders, who was inspired by the traditional Middle Eastern folk tales and stories and influenced by the essence of One Thousand and One Nights.
Mondrian Doha's ethos is built around experience – bespoke magical interiors and a setting that is designed to immerse our guests in a wonderland of eccentricity and luxury. The fantasy and whimsy of the space is articulated across every corner and across each touchpoint, without ever comprising on its five-star opulence.
The beginning of the fantasy and surprise starts at the lobby and the atrium and continues to the distinctive rooms, dining outlets, and entertainment spaces. Each space possesses its own unique identity, with a story unfolding as guests travel from one to another indulging them in a holistic experience that cannot be forgotten once they leave.