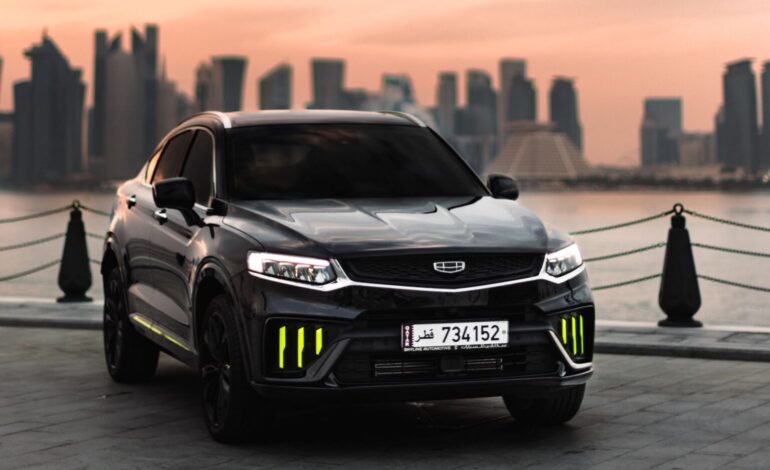 The new Geely Tugella is now available at the expanded Geely showroom on Salwa Road
Skyline Automotive, a company of Jaidah group has introduced the new Geely Tugella in Qatar. The 2023 model is currently displayed at Geely's cutting-edge newly expanded showroom on Salwa Road, where drivers can experience the new Tugella, discover the Geely range of vehicles and the latest and greatest technologies from the leading manufacturer.
Tugella's new features include improvements and additions to its exterior, such as a thunderbolt accumulation front face, thunderbolt claw, star shuttle trim, four exhausts, a black top & shark fin, and a revamped interior and configuration.
The sporty car also boasts a front bumper with three powerful scars that help reduce or prevent physical damage in case of low-speed crashes. The strips on the exterior are imprinted with the word 'CMA', showcasing the vehicle's Modular Compact Architecture. The car's sport tail also provides wind resistance for further on-road stability and the interstellar cockpit's asymmetrical design comes with an electric-optic green dynamic package for a comfortable feel. The ambient lamp around the car's center console features eight colors that automatically switch with the speed of sound and the car's BOSE multi-speaker surround-sound system features 12 speakers, ensuring that drivers can enjoy an immersive audio experience.

Tugella's configuration also provides additional driving assistance functions, such as blind spot detection, rear collision warning, rear crossing traffic alert, lane change assist, head-up display, and door open warning. A three-millimeter wave radar has been added for scanning to minimize the blind area and to ensure driving safety. When reversing at low speed, pedestrians and vehicles approaching laterally can be detected in real-time, warning when a collision may occur.

All the current unique features including CMA, powertrain, active safety function, passive safety function, and BorgWarner's 4WD have been retained. The existing smart engine 2.0TD has high performance with a maximum horsepower of 175kw. The four HD wide-angle cameras on all sides collect real-time information about road conditions around the vehicle, and seamlessly splice 360°real-time monitoring images.
Tugella recently surpassed the global auto industry reliability verification standards, derived from performance tests conducted in 57 environments.
Skyline Automotive has recently completed a sizeable extension of its Salwa Road showroom to enable it to display more Geely models. The extension will also cater to the company's anticipated further expansion of the Geely range, enabling it to exhibit more vehicles and give ample space for customers to comfortably inspect them.