Hosting royalty and treaty-signings from within their storied walls, Switzerland's palatial Belle Époque hotels remain at the top of the class to welcome today's cultured travellers
The history runs deep in Switzerland's region of Vaud (Lake Geneva region), where the cities and towns in and around the Alps and Lake Geneva brim with century-old stories. The best way to immerse yourself in this is by booking a stay in one of the region's historic hotels, which are filled not only with rich character, but also world-class comforts, making guests feel as though they're part of the history.
Beau-Rivage Palace © – Sitting right on the shore of Lake Geneva in Lausanne-Ouchy, Beau-Rivage Palace boasts a 10-acre park of lush greenery that leads to the water's blues. Originally opened in 1861, this five-star hotel stands out with its regal Art Nouveau architecture, and within its walls such important events as the 1923 signing of the Treaty of Lausanne. Merging the historic with the modern, the rooms have recently been renovated by acclaimed designer Pierre-Yves Rochon, bringing in the pastel tones and mirror accents that help put the hotel in a class of its own.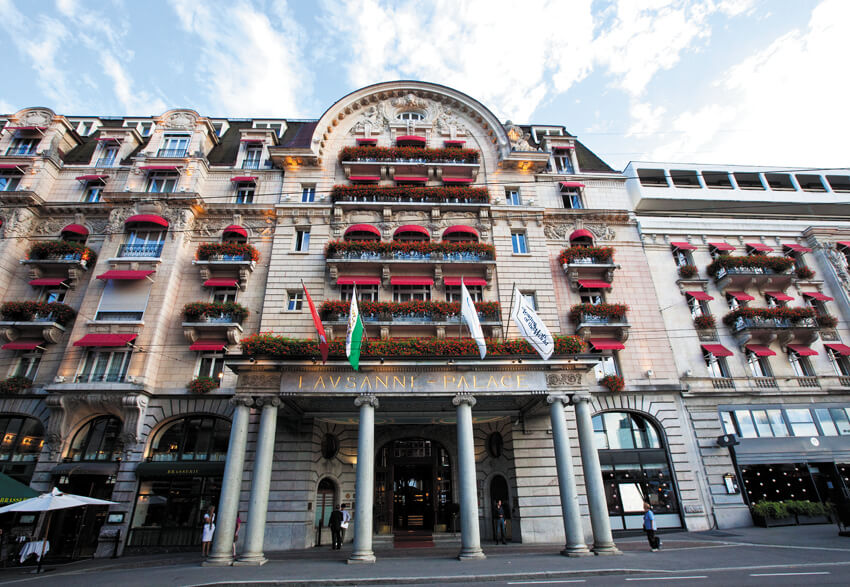 Lausanne Palace © – Sitting at the heart of the capital city it's named after; Lausanne Palace is perched on top of a hill overlooking the streets of Le Flon where it has been welcoming guests with its signature sumptuous style since 1915. Fittingly for the Olympic Capital, this Belle Époque-style hotel has been the residence of three presidents of the International Olympic Committee over the years. Hotel guests can experience plush modern guest rooms and suites and be spoilt for choice with its five world-class restaurants and an expansive spa.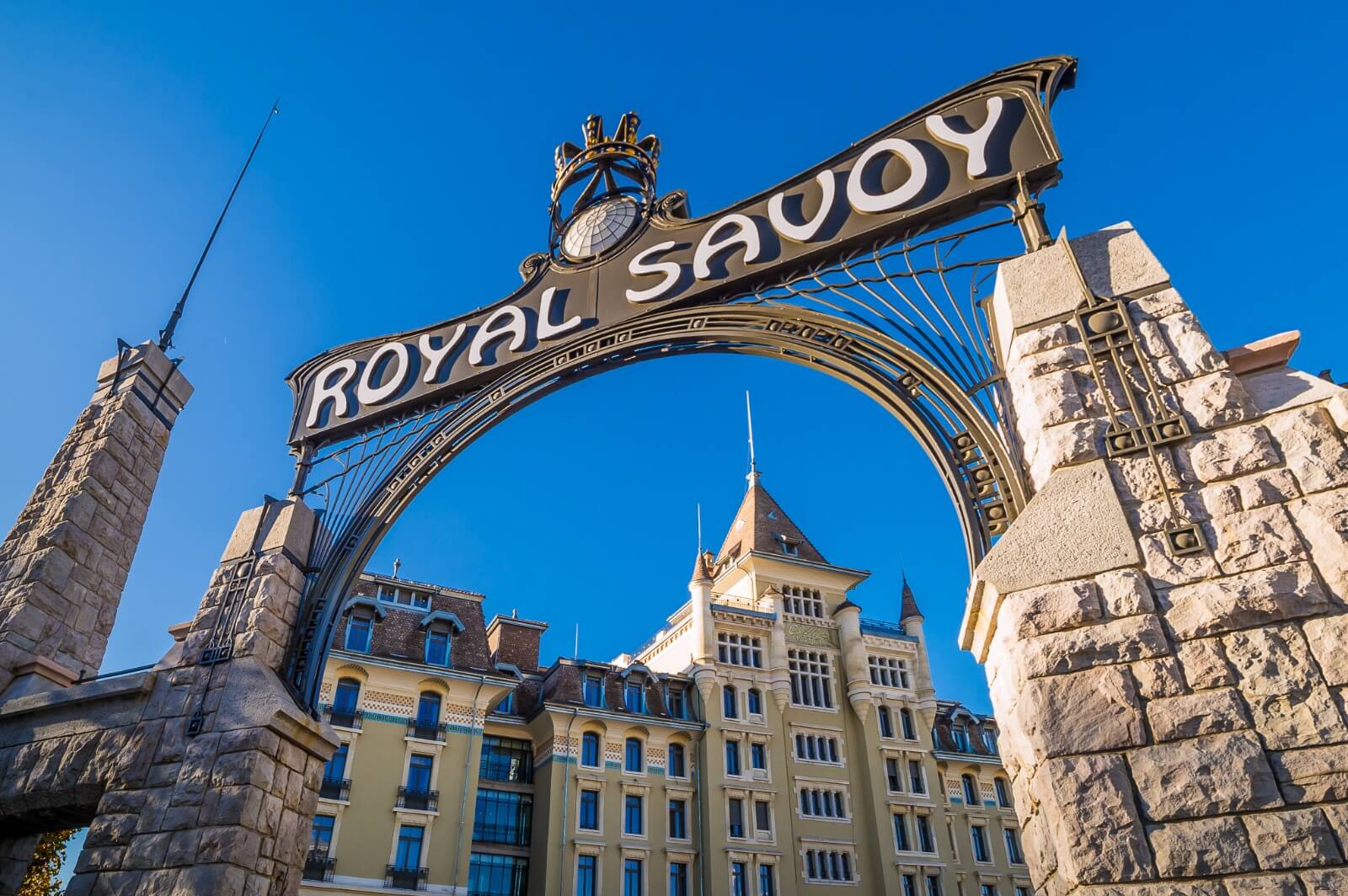 Royal Savoy Hotel & Spa © – A home-away-from-home for royalty since 1909, the aptly named Royal Savoy Hotel & Spastylishly melds the Art Nouveau and the contemporary near the banks of Lake Geneva in Lausanne's Ouchy district. Legendary for its castle-like appearance and incomparable service – the Spanish royal family has called it home, as has the Thai king. It's new sky lounge and brasserie have become haunts for the chic set, where regional recipes are reinterpreted into exciting fine dining experiences where panoramic views compete to steal the show.
Hotel des Trois Couronnes © – This one's for the artists. Luxurious Hotel des Trois Couronnes may have hosted royalty, but even more creatives seem to have been enchanted, since it's grand opening in 1842. Built on the foundations of an old Swiss castle (head to the spa to see its vaults, which still remain), the likes of musicians, writers and movie stars such as Tchaikovsky, Camille Saint-Saëns and Henry Miller have checked in. Located in Vevey, and just five minutes from the UNESCO Lavaux vineyard terraces and a short drive to Montreux, there is nowhere better to be situated for an inspired and indulgent holiday.
Fairmont Le Montreux Palace © – With its pretty Belle Époque façade accented by cheery yellow awnings, you can't miss Fairmont Le Montreux Palace. Built in 1906, this hotel has held on to its allure over the years, initially welcoming the global elite who came for its impressive modern amenities. Now listed as a cultural property of national importance, guests can find respite in its storied rooms and enjoy the hotel's seasonally inspired restaurant menus as well as the cultural offerings of the surrounding town.
About the region of Vaud (Lake Geneva region), Switzerland
Located in the southwestern part of Switzerland in its French-speaking region between Lake Geneva and Lake Neuchâtel, the region of Vaud is a dream vacation destination. The region is served by Geneva international airport, which is a short 40-minute train ride away from Lausanne. The region boasts a strong infrastructure including luxurious and affordable accommodation and a well-connected transportation system. The region features beautiful towns such as Lausanne, the Olympic Capital and Montreux Riviera, all steeped in centuries of history and culture. It has influenced and inspired many artists over the years from Lord Byron and Audrey Hepburn to Charlie Chaplin, David Bowie and Freddie Mercury. Vaud region is best known for its art of living, local and internationally renowned events, outdoor sports activities, world class gastronomy, traditions, and culture. For more news about the canton of Vaud, visit the www.region-du-leman.ch/en/Z5192/media-corner