admin
Sep 24, 2021
1053

10 minutes read
Meet The Chef: James Warnica –the Chef de Cuisine of the most popular New York Steakhouse in Doha, Qatar
By Elias Haddad
The Canadian chef James Warnica has been casting his culinary dexterity over the New York Steakhouse –one of the most spectacular restaurants at the Marriot Marquis City Centre, in the heart of Doha, Qatar.
The proud recipient of a professional cooking diploma from the renowned Southern Alberta Institute of Technology has worked his way up to become the finest chef de partie, sous chef, and chef de cuisine in the leading luxury hotels situated in different parts of the world.
Chef James Warnica talks about food, the rapidly changing food scenario in the country, and his future plans in an exclusive chat with LLQ Hospitality. Let's find out about his fine flavors and ambition to make his food 'le plus Populaire' on Qatar's culinary map.
On the Stove with Chef James Warnica
The Inspiration and Influences
Reaching new highs starts with pure inspiration and getting influenced, so we asked James about his.
"I entered the industry almost by accident. I got a summer job at a restaurant that my school friends were working at and was immediately captivated by the fast pace and intense environment." James told us.
Besides the early Anthony Bourdain books and cooking programs, James is highly influenced by some finest chefs like Chef Satish Yeramili, Shannon Bennett, and Alex Chen to excel in the culinary field.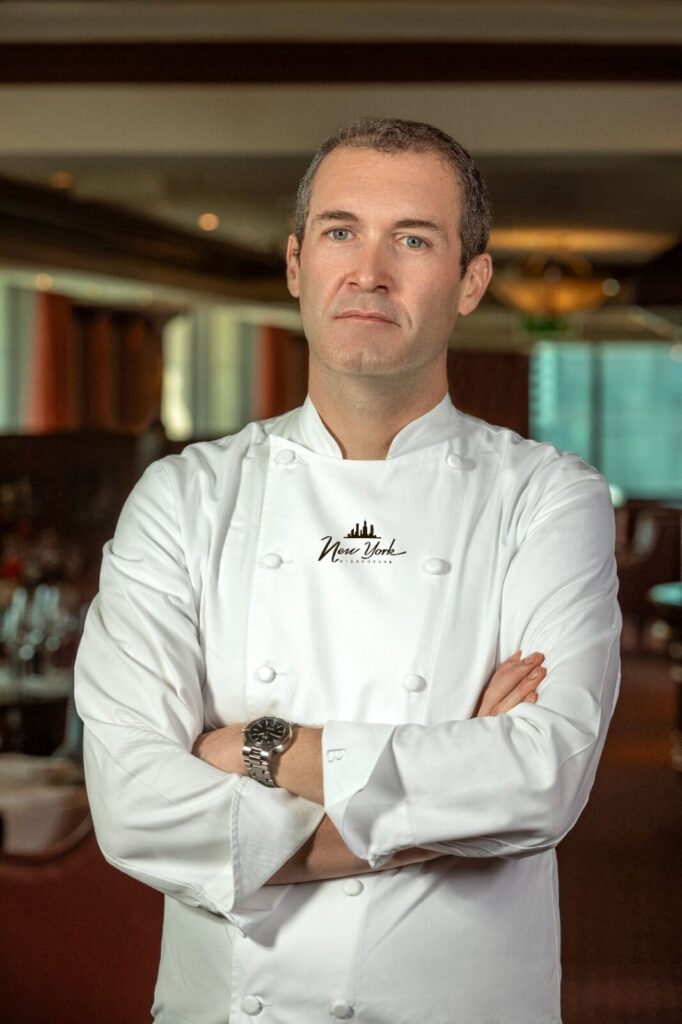 About the Menu
Crafting the menu is the most important consideration of a professional chef. We asked how James do it right. Well, he's more into considering the seasonal availability and the overall direction of the menu along with the personal preferences. However, product quality is his single most important consideration.
The signature cooking style of James Warnica is very simple!
"I like to choose high quality products and showcase them," James told us.
Favorite five ingredients? We asked.
"I don't know that I could pick five!" He replied.
"At home, I love tougher meat cuts such as lamb shank or beef cheeks that if prepared properly are absolutely delicious. Some fresh "ike jime" style fish, heirloom tomatoes, peas, and carrots fresh from the ground are some of my favorites." James told us his favorites.
Top baking and cooking trick? We asked.
"Plan ahead! Make sure all the elements necessary are in place before beginning anything. In the kitchen, this is called mise en place." James spilled the beans.
Since Arabic food is simply love, we asked James about the most underrated Arabic food right now.
"Haven't been exposed to all the wide variety of Arabic cuisine, for now, I'd say Kabsa, it's delicious!"
Working during Pandemic
Pandemic, quarantines, and lockdowns have badly affected the culinary industry. We asked James how he copes up with the restrictions.
"The lockdown restrictions have been challenging for everyone." James continued.
"The service industry as a whole has struggled as we have been unable to welcome guests into our restaurants and hotels at levels we were used to pre-Covid. We are very happy that we have recently been able to begin doing so again."
Managing a Winning Team
A pro chef also needs good management skills to run the restaurant's kitchen professionally. James has hands-on techniques to run the most popular restaurant in Doha. We asked him how he does it.
"It's absolutely important to have a good relationship with your team that's based on mutual respect," James revealed.
"I cannot accomplish anything without them. I am very fortunate to have an extremely talented and strong team here in Doha."
Talking the Latest Trends
What trends are you seeing in dining out today, and which are you most excited by?
James answered this amiably. He is really excited to experience the transformed emphasis on local products. The newly created dairy industry of Qatar and growing more local produce is the most agitated new trend in the Qatari culinary industry that is making a stir.
The last question made us excited, even before we asked it. Will any of the dishes you discovered be making their way onto your restaurant menus?
However, James didn't open up about it. "Time will tell! You will have to visit us at the New York Steakhouse in the Marriott marquis Doha to find out."
Well, let's find out James Warnica's signatures at the New York Steakhouse. Would you be joining us?
PHOTOGRAPHY: PHOTO PHACTORY BY PRADEEP